Letter from the editor from the January 2021 issue of 48° North.
2021, we're counting on you! If ever we needed a fresh start, it's this new year. The burning desire to turn the page is evident even among we sailors and boaters — a population that has had the ability to enjoy our chosen activity more than most throughout the pandemic.
While working on this year's Seattle Area Race Calendar (SARC) with our collective of race organizers around the region, I was struck by the unwavering positivity within that group. Had 2020 hurled rough seas at event planners and sailors? You betcha. Will there be challenges and cancellations in 2021? Yes. Is this dedicated group nonetheless unbridled with enthusiasm at the prospect of providing a full calendar of events and helping others have rich, varied, safe, and fun experiences on the water? Heck yeah they are!
Laying out the calendar for the coming year left me feeling fueled by the boundless possibilities of the new season of sailing and cruising, even within the bounds of lingering pandemic related restrictions. It reminds me of how every sports fan is pretty sure their team will win before the season begins. The difference… we boat folk can all win, or at least we can have an unambiguously good time along the way.
Even if the world is not entirely your oyster and you can't go wherever you want with whomever you want just yet, think of what 2021 could hold. Trip planning itself is almost as good as venturing out to do something epic. How much time will you spend on the water? What will be your longest, farthest, or wildest cruise? Will you try your hand at something different like night sailing? What races will you be sure not to miss, and how will you prepare for them? Will you buy a boat for the first time, or upgrade or downsize to one that better fits your needs?
What skills will you acquire this year, through effort, education, or experience? Will you learn to fly a spinnaker shorthanded, or even singlehanded? Will you teach yourself to splice your own halyards, docklines, or soft shackles? Will you learn how to trim your sails for another two degrees of point that makes a huge difference on a race course? Will you pursue something ancient like celestial navigation or something cutting edge like connecting all of your boat's electronics systems into a new-fangled wireless display? Will you practice sailing on and off your anchor? Will you start tuning your own rig, or doing your own engine maintenance?
And presuming (desperately hoping, anyway) that we can have increasing contact with friends over the course of the year — who will you bring into the wonders of life afloat? Who will you invite to join you for a long weekend cruise? What young person will you teach to steer the boat? What new friend will join your regular crew? Who will be your buddy boat(s) or tuning partner(s) this year? What old friend might you encounter on a quiet island dock during some idyllic post-Covid August evening? The community of boaters has been impressively unrattled by the pandemic, but we're no less anxious to feel the freedom and joy of togetherness once again.
So cheers to the new year and its wondrous possibilities. Whatever it may hold for you, may it bring you joy, connection, and fulfillment as only playing on the water in the Pacific Northwest can.
Photo by Jan Anderson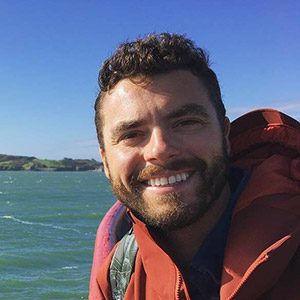 Joe Cline has been the Managing Editor of 48° North since 2014. From his career to his volunteer leadership in the marine industry, from racing sailboats large and small to his discovery of Pacific Northwest cruising —Joe is as sail-smitten as they come. Joe and his wife, Kaylin, welcomed a baby girl to their family in December 2021, and he is enjoying fatherhood while still finding time to sail, make music, and tip back a tasty IPA every now and again.