We're always curious to see what our friends at the Northwest School of Wooden Boatbuilding(NWSWB) are up to and this latest dispatch by Molly Tyson provides interesting insight into one of their newest projects…
The Northwest School of Wooden Boatbuilding has embarked on a project to build CLEAN BAY, a 26-foot electric-solar work boat that will provide free pump-outs, initially to boats in Port Ludlow Bay.
"This project is exciting at so many levels," says NWSWB Executive Director Betsy Davis. "It aligns with Boat School goals of teaching craftsmanship and preparing students for work as boat builders and marine technicians. It aligns with the state-wide Maritime Blue initiative by modeling effective use of zero-emission systems for work boats. And it's an opportunity to collaborate with local experts on design, material sourcing, engineering and operation. "
Naval architect Tim Nolan, based in Port Townsend, is developing the design. Turnpoint Design, based in Port Townsend, will use CNC technology to cut forms. Students at NWSWB, based in Port Hadlock, will build the hull, deck, house and install marine systems. And Port Ludlow Marine will operate the pump-out boat, offering free pump-out services to any vessel in Port Ludlow Bay.
"CLEAN BAY is an ideal teaching project for NWSWB because it provides experience with cold-molded construction, vacuum infusion, foam core construction, and other skills and techniques that are central to the school's Contemporary Wooden Boatbuilding program," notes Instructor Bruce Blatchley.
This will also be a good opportunity for the students who are studying to become marine technicians to engineer/design and install a variety of cutting edge marine technologies. Students will perform load calculations for propulsion, energy storage, and sizing of solar modules, which will all meet the goal of zero-emission systems. "When I think of zero emissions, I can't help but think of all the metals that we have been dumping into our marinas and waterways as we try to prevent corrosion on boats," says NWSWB Marine Systems Lead Instructor Kevin Ritz. "Sacrificial anodes, commonly referred to as 'zincs', release aluminum, cadmium, copper, lead, and other metals, to prevent corrosion of the vessel's underwater metals. We need to consider this as part of the zero emissions in the form of Impressed Current Cathodic Protection which puts zero metals into our environment."
The idea of a boat carrying an environmental message that functions for its cause and that is constructed and operated using cutting edge sustainable technology inspired Jim Ward and Alice Anda of the Institute for Law and Systems Research to provide a leadership donation of $100,000.
"Pump-out boats typically have names such as Down-Winder, Headhunter, and Captain's Log, which are funny, but the boat we imagine will exemplify not what it does, but the impact it will have on environmental quality," says Anda. "Our hope is that CLEAN BAY will serve as an exemplary prototype for zero-emission work boats and open up the conversation to a multitude of topics that underlie environmental stewardship."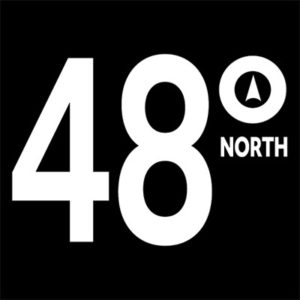 48° North Editors are committed to telling the best stories from the world of Pacific Northwest boating. We live and breathe this stuff, and share your passion for the boat life. Feel free to keep in touch with tips, stories, photos, and feedback at news@48north.com.