A great option for fun, learning, and exploring different types of boats, the Anacortes Boat and Yacht Show featuring Trawlerfest is right around the corner. The Boat Show is May 18 – 20, 2023; Seminars run May 16 – 20, 2023.
The Northwest Marine Trade Association (NMTA) and Anacortes Chamber of Commerce are once again teaming up with Trawlerfest for the 2023 Anacortes Boat & Yacht Show featuring Trawlerfest, May 18 – 20, 2023 in Anacortes, Wash.
The event will feature in-water and on-land displays with hundreds of boats at Cap Sante Marina and neighboring boatyards, plus the return of Trawlerfest's highly regarded 25+ seminars and educational classes that will take place May 16 – 20 at the nearby walkable locations of Seafarers' Memorial Park and the SVC Marine Technology Center. The show will also feature shoreside displays including trailerable boats, marine accessories, electronics, destinations, and service providers.
NMTA, also the producer of the Seattle Boat Show, is the nation's oldest and largest regional marine trade association representing more than 550 companies in the recreational boating industry.
"Last year's show was everything we hoped it would be with our new partnership," said NMTA Boat Show Director Katie McPhail. "The Trawlerfest programming helped elevate the show and we are thrilled to be back with an exciting in-person event again in 2023."
Trawlerfest is owned and operated by Active Interest Media (AIM), a media company that produces consumer and trade events, websites, and magazines including boating publications such as Power & Motoryacht, Soundings, SAIL, Yachts International, Anglers Journal, Soundings Trade Only, and Passagemaker. Trawlerfest is AIM's series of boat shows and educational events designed for cruising enthusiasts and has previously taken place at other locations in Washington including Bremerton and Seattle.
"We're thrilled to continue the partnership with NMTA and the Anacortes Chamber of Commerce to have Trawlerfest return to the premiere cruising destination of Anacortes," said President of AIM Marine Group Gary De Sanctis. "There couldn't be a better setting to bring our education and community together in an intimate, rendezvous atmosphere and we look forward to bringing our first-class education & demonstrations experience once again to this fantastic boating event in May."
Since 2018, NMTA has co-produced the Anacortes Boat & Yacht Show with the Anacortes Chamber of Commerce, with the event being virtual in 2020 due to COVID-19 protocol.
"I said it last year and I'll say it again," said NMTA President & CEO George Harris. "Nothing beats a day on the water in Anacortes shopping for boats. It really is one of the best boater destinations in the country."
Anacortes is conveniently located between Seattle and Vancouver B.C. and as close as you can get to the San Juan Islands. Known for its maritime roots, the town has 40 marine-related businesses to cover every boater's wants and needs. In addition, its beautiful downtown streets adjacent to the show boast an incredible variety of dining, shopping, and educational opportunities.
"The Anacortes Boat & Yacht Show serves as a powerful catalyst for the local economy," said Anacortes Chamber of Commerce President & CEO Jesica Kiser. "Becoming renowned for its impressive selection of boats and wide range of exhibitors providing comprehensive boat-related services, the show continues to expand in size and success with each passing year."
Join the fun at the Anacortes Boat & Yacht Show featuring Trawlerfest this May!
More information will be coming soon to www.AnacortesBoatandYachtShow.com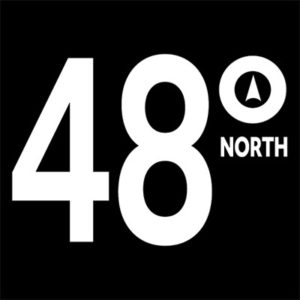 48° North Editors are committed to telling the best stories from the world of Pacific Northwest boating. We live and breathe this stuff, and share your passion for the boat life. Feel free to keep in touch with tips, stories, photos, and feedback at news@48north.com.