Educating and Inspiring the Next Generation of Sailing Coaches
On February 1, 2020, 80 passionate sailors from Washington and Oregon converged at Mt. Baker Rowing and Sailing Center in Seattle for a day full of networking and learning at the annual US Sailing Coaches Clinic. This group of committed individuals spanned the generational spectrum and included coaches, college sailors, program directors, junior sailing board members, sailing instructors, and volunteers. These folks are some of the most instrumental actors influencing, growing, and promoting youth sailing; and they have a tremendous impact on the future of sailing in our region.
Each year, the Coaches Clinic represents a unique opportunity for programs and coaches to share ideas and best practices, and, as always, there were excellent special guest presenters. This year's presenters included Jen Guimaraes (US Sailing), Blaine Pedlow (former varsity college coach), and Kerry Poe (North Sails Oregon). This cast was rounded out with local experts Dick Rose (The Sailing Foundation), Sarah Hanavan (Olympia Yacht Club), Seth Muir (Executive Director at Sail Sand Point), and Andrew Nelson (The Sailing Foundation).
Andrew Nelson, an ambassador between all Pacific Northwest youth sailing programs in his role at the The Sailing Foundation reported, "Attendees had a great time and there were a lot of important takeaways. The program is tailored so that attendees can choose which talks to attend. Some went to coaching/racing talks, while others chose to attend presentations geared towards program management or development."
As a US Sailing event run by The Sailing Foundation, much of the structure of the subject matter reflected the work US Sailing has done to create a new youth sailing model to maximize effectiveness and participation. As such, there was an emphasis on creating lifelong sailors by illuminating the connections between youth and adult programming, including through such initiatives as "Junior Big Boat" sailing and mentorship opportunities.
Lively conversations about data collection and utilization occurred in both large- and small-group settings. Discussion topics centered around what data should be collected, which tools might be most useful, and how the data can be interpreted to help an individual program and youth sailing as a whole.
And, as you might expect, there was some excellent guidance about coaching as well as sailing and racing technique. Kerry Poe gave a presentation titled, "Thinking of Sail Trim Like a Sailmaker." Blaine Pedlow's presentation on Team Racing Fundamentals was an audience favorite. And local guru, Dick Rose, share his ideas for "Teaching the Rules" to new sailors.
The Sailing Foundation has put on the Coaches Clinic annually for the past 15 years. It started with just a handful of volunteer coaches and local college sailors, and has evolved into one of the largest gatherings of its kind in the nation. It's a good thing too, as youth sailing is booming in the Pacific Northwest—participation in the youth racing circuit has more than doubled in the last five years, and the number of high school sailing programs in the district has gone from six in 2005 to 56 in 2019. The region needs qualified coaches, and this clinic is a terrific point of connection and growth for coaches and those who may be hiring or recruiting coaches in the near future.
Nelson concluded, "It's a huge benefit for the youth sailing community, and it wouldn't be possible without the generous support of Mt. Baker Rowing and Sailing Center, who has been providing an exceptional meeting place for the better part of the last decade. Thank you MBRSC staff and Sailing Foundation Board members for making it happen!"
For more information on youth sailing in the region, visit: http://nwyouthsailing.org/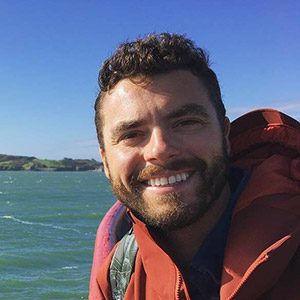 Joe Cline has been the Managing Editor of 48° North since 2014. From his career to his volunteer leadership in the marine industry, from racing sailboats large and small to his discovery of Pacific Northwest cruising —Joe is as sail-smitten as they come. Joe and his wife, Kaylin, welcomed a baby girl to their family in December 2021, and he is enjoying fatherhood while still finding time to sail, make music, and tip back a tasty IPA every now and again.