Siebel

 Sailors Program Expands to Oregon and Washington
US Sailing's new and growing youth development program is expanding to include the states of Oregon and Washington. US Sailing recently announced the following Primary and Supporting Siebel Centers, which play an important role in the development of youth sailing in the Pacific Northwest and around the nation.
Sail Sand Point (Seattle, Wash.) has been selected as the Primary Siebel Center for the Pacific Northwest. The Center for Wooden Boats (Seattle, Wash.) and Gorge Junior Sailing (Hood River, Ore.) have been selected to serve as Supporting Siebel Centers. Learn more about these Siebel Centers.
In April 2019, US Sailing announced a new nationwide community sailing program made possible by a major donation from the Thomas and Stacey Siebel Foundation. The purpose of this ground-breaking Siebel Sailors Program is to increase diversity and opportunity in the sport of sailing by providing resources and support to youth sailors at public access sailing centers across the country. This is a national US Sailing program that is executed locally by Siebel Centers with adaptations for regional needs across the country.
Most Siebel Center programs across the country have been on hold for several months this spring due to COVID-19, but are now beginning to return to the water for the summer. US Sailing will be closely following state and local government guidelines to determine when to open programming safely with our Siebel Centers.
Sail Sand Point – Seattle, Washington
Since their incorporation in 1998, Sail Sand Point has grown by leaps and bounds, transforming from a small neighborhood program into a flourishing boating community that serves people of all ages, backgrounds, and abilities from around King County. Beyond providing learn-to-sail camps and classes, race team coaching, rentals, group programs, and boat storage, Sail Sand Point also has a robust outreach program in place. They award thousands of dollars in program scholarships, and are immersed in building out a comprehensive STEM curriculum to incorporate into all our youth camps and classes, as well as developing our adaptive sailing program, where a boater with a physical disability can come sail or paddle.
Over two decades later, Sail Sand Point has expanded to exceed all expectations, and more than 16,000 members of the community had access to boating in 2019 because of Sail Sand Point's programs.
"Sail Sand Point is honored to partner with the Siebel Sailors Program to create opportunities to share the sport of sailing with new audiences in our Seattle community," said Thandi Onami. "We would like to thank US Sailing and the Tom and Stacey Siebel Foundation for this generous grant which will enable us to significantly expand and continue our efforts to grow our community and share the joy and life-enhancing benefits of sailing. We are delighted to join our partner centers in this work and look forward to developing this program over the years to ensure the sport of sailing reflects the diversity of the Pacific Northwest and continues to grow and thrive in the future."

"The Siebel Sailors program is a perfect fit for Sail Sand Point because it is a catalyst for an initiative that we've already been developing and growing at Sail Sand Point for more than five years," said an enthusiast Seth Muir, Executive Director at Sail Sand Point. "The Siebel program provides critical resources that help us expand our existing outreach programs and further enables our commitment to helping underprivileged kids get on the water. I want to acknowledge that while we are truly proud of what we've already done in this way, we have a long way to go. We are listening and learning actively, and the Siebel Sailors program helps continue to grow and evolve. One aspect that's particularly unique about the Siebel Sailors Program is that, while each center has significant influence with regard to finding and bringing these new audiences to sailing, US Sailing helps ensure that kids who come through the program aren't just coming for a day, or even a week. The goal is to help inspire lifelong sailors. In addition to Siebel Sailor Northwest Coach, Michael Cornew, who will help part time at each center, this program also provides RS Feva Sailboats, which are really exciting — Fevas have a planing hull and a spinnaker, but they are extremely accessible for a wide variety of experience levels. There are details still being worked out, but it looks like there will be six Fevas at Sail Sand Point as a part of this program, and a total of 12 in the Pacific Northwest. This is an exciting next step — we were already a US Sailing Program, we were already very committed to outreach, and we already valued inclusiveness…this partnership helps us do even more." 
Gorge Junior Sailing – Hood River, Oregon
Gorge Junior Sailing (GJS) was established in 2005 with the mission of promoting the lifelong sport of sailing in a safe, fun, and educational environment to the Columbia River Gorge community. With a focus on teaching sailing, the program also fosters growth in life skills such as sportsmanship, teamwork, independence, and responsibility. The GJS program supports summer learn-to-sail classes for youth of all skill levels between the ages of 5 to 18. Additionally, GJS hosts weekly evening "Open Sail" events that are free and open to anyone in the community. This year GJS expanded its educational outreach through supporting local schools to teach the US Sailing Reach program for STEM education as an elective.
"GJS is elated to be bringing the Siebel Program to our diverse Gorge community," said Jaime Mack. "The Siebel grant of boats and educational resources provides GJS the infrastructure needed to give the experience of sailing to an even greater demographic of Gorge youth."
The Center for Wooden Boats – Seattle, Washington
The Center for Wooden Boats (CWB) has been promoting northwest maritime heritage through education, interpretation, and hands-on experience in building, maintaining, and using historic small craft since 1979. They aim to create equitable access to empowering maritime experiences, and they do this each year through free boat rides offered every Sunday on historic small watercrafts, providing free admission for all to our maritime museum and historic exhibits, offering scholarships to our general woodworking, boat building, sailing classes and camps, welcoming school groups for field trips, and hosting the free-admission Lake Union Wooden Boat Festival every fall. The organization is built around bringing people together to engage in maritime activities.
"We're thrilled to partner with US Sailing in the Siebel Sailors Program," said Josh Anderson, Executive Director. "This program greatly enhances our capacity to introduce youth to the world of sailing which otherwise would not be available to them."

"The benefits of being able to reach a new diverse community is important to our mission of getting youth on the water, and the free programming is especially valuable for reducing barriers," said Nora Gallogly, CWB Youth Programs Manager. "This completes our sailing programs to be able to provide opportunities to learn to sail at any age at CWB. This class of boat will help kids learn how to sail and race in teams, which we haven't been able to offer before!" 
Introducing Michael Cornew – Siebel Program Coach for the Pacific Northwest Region
Michael Cornew is a passionate sailing coach hailing from Chicago, Illinois. Michael is a US Sailing Siebel Coach for the Pacific Northwest Region and brings a wealth of dinghy coaching experiencing to this program, specifically in the high school and college coaching ranks.
Cornew was born in Mexico City, but moved to Chicago when he was only a year old. He learned to sail very early on but only got hooked after joining the New Trier High School team and fell in love with team racing. Michael moved on to Northwestern University where he was captain of the sailing team for two years. He also took up windsurfing outside of practice and managed to graduate with a degree in Economics.
Cornew has served as the 420 head coach at the Chicago Yacht Club, head coach for the Northwestern University Sailing Team, and the Head Coach for the Willamette Sailing Club in Portland, Ore. He is a US Sailing certified Level 3 Head Instructor and is passionate about developing youth sailors as well-rounded people as well as their sailing skills. Pushing sailors to develop soft skills as hard working and respectful individuals has brought Cornew immense joy in his years of coaching sailing.
He will be based out of Sail Sand Point on Lake Washington in Seattle with travel to the Center for Wooden Boats on Lake Union in Seattle and Gorge Junior Sailing on the Columbia River in Hood River, Oregon.
As a coach for US Sailing's Siebel Sailors Program, Cornew hopes to strengthen and grow participation across the Pacific Northwest, while focusing on both inclusion and diversity. He also knows the importance of engaging parents and sailors to foster continued participation and breed lifelong sailors. Cornew is very excited to be a part of US Sailing and the Siebel Sailors Program, and looks forward to motivating, inspiring, and igniting our Junior Sailors' passions while promoting a safe and positive learning environment.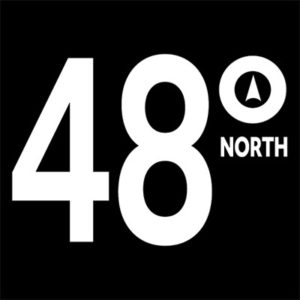 48° North Editors are committed to telling the best stories from the world of Pacific Northwest boating. We live and breathe this stuff, and share your passion for the boat life. Feel free to keep in touch with tips, stories, photos, and feedback at news@48north.com.