From the July, 2020 issue of 48° North
When you've got a solid background in sailboat racing, it stands to reason that buying a thoroughbred race boat to live aboard would be an appropriate option. Enter Jake Newton and Molly Howe's 1985 McConaghy-built Farr 50 Great Expectations (GE).
Before meeting, Molly and Jake were raised racing and cruising on the coast of Maine with their parents. Jake owned various boats growing up including an Islander Excalibur and an International 110.
They met in 2011 while attending Maine Maritime Academy where they were both on the sailing team and raced on the dinghy, keelboat, and offshore teams. Since moving to Seattle for work in 2015, they have been sailing and racing as often as possible—most of which has been on Moore 24s and their Melges 24, Millennial Falcon.
Molly and Jake bought Great Expectations in 2016 and have been living aboard and cruising her since. They have slowly been getting GE back into casual racing trim and will hopefully be mixing it up soon from their homeport of Shilshole Bay Marina.
About Great Expectations
Tell us about your boat's name.
She was launched as Great Expectations in 1985. In 1988, she underwent a refit and was renamed Yeoman XXVII. She retained that name until 2016 when we purchased her. For two 20-somethings buying a boat this big, the name Yeoman 27 didn't resonate, but her original name did.
Tell us the story of how you found your boat and what makes it special to you.
In 2016 as our lease ended, we were looking to move out of West Seattle. We quickly realized buying a house in the area was beyond our level of commitment. We joked about buying a boat and living aboard. Jake, a serial classifieds browser, got right on it.
While at work, he would send Molly multiple ads a day, most of which could be filed under "outlandish and unreasonable". The Farr 50 in Lake Union somehow found its way out of that folder and we went to take a look. Jake grew up racing on a mid 80s Farr 43, so this era Farr spoke to him. Despite the four spreader (plus jumpers) runner dependent fractional rig, a 24 foot boom and the seven massive three-speed winches, it only took stepping aboard; it was over, the boat was sold. Something about her felt right, this is a special boat.
What's the history of your boat? (Where's it been? Who built or designed it?
 

Has anyone famous owned it before you?) Tell us its story.

Great Expectations  is a Bruce Farr Custom 50 (design #155) launched at McConaghy Boats in Sydney, Australia in December of 1985. She was commissioned by Olympic Gold Medalist David Forbes of Sydney. Her design brief included a full interior in a boat that could race at a Grand Prix level, no small task. She is constructed using a vacuum bagged Kevlar/epoxy layup with Divinycell core, and finished with a lightweight but very comfortable and complete interior.
Ultimately, Mr. Forbes decided he wanted an all out racer and had GE's step sister, Great News built (design #155m) using the same hull design but carbon layup, a more traditional deck layout and, a stripped out interior. Great Expectations sailed to Hawaii and raced in the Pan Am Clipper Cup where she raced against Great News. It was then sailed back to Sydney for more local racing. She was sold to the Aisher Family of Yeoman fame in 1988 and was refit by Hamble Yacht Services, Overseas Division that spring and christened Yeoman XXVII (27).
In 1989 Yeoman XXVII had an unsuccessful bid for the British Admirals Cup team, and was chartered to Team Norway that same year. While in Team Norway's care she was called Elkem Yeoman and had, admittedly, disappointing results. In her defense, by the late 80s she was considered an old lady in the IOR 50 fleet. The new boats had seen five years of competitive development resulting in boats that were as close to perfect as IOR would allow.
As with most race boats—as their days in the spotlight wane, and they become less competitive in their original fleet, Yeoman found herself on the hard in Florida awaiting a new life. Sometime in the early 1990s, a few local Puget Sound sailors found her, purchased her and brought her through the Panama Canal and up the west coast to Seattle. She raced around Puget Sound for a handful of years before more or less retiring to cruise Mexico to Alaska. (If any locals have more details or info about her days racing in the Sound please reach out, we would love to hear about it). The owners we purchased her from loved this boat and took meticulous care of her until health issues got in the way and ultimately forced the sale of the boat.
What do you like best about your boat?
Beyond her amazing sailing characteristics, Great Expectations seems to bring people together. Her unique cockpit layout is wonderful for both entertaining and racing. In the few Duck Dodges we have done, she has quickly become a hub at the raft up.
What do you know now about your boat that you wish you'd known when you bought it? Would that have changed your mind?
The one thing that really sticks out as a physical "wish we had known" is the condition of the standing rigging. Shortly after buying the boat we had the rigging inspected—it was not good. Many months and dollars later, she has all brand-new rod rigging.
There are many other things about Great Expectations that we wish we had realized before buying her, most of them are faults in our line of reason, not in the boat itself. We recognized the fact the boat has a complicated rig for a cruising boat, but we didn't fully appreciate the hassle a runner-dependent rig would cause under full sail while double handing. Generally speaking though, her systems have been working great since purchase. Would a more thorough inspection of the boat and our goals stopped us from buying her? Probably not. Maybe, but probably not.
What's your favorite story involving your boat?
There have been multiple occasions when Great Expectations has been used as the support boat for other racing adventures aboard the Millennial Falcon. Notably, the 2018 Around Bainbridge Race where half the team raced the Falcon to Bremerton on Saturday and the other half brought Great Expectations. We had a wonderful night of good food, company, and accommodations. On Sunday the crews switched. We all had a great day on Puget Sound making our way back to Shilshole. It sure helps to have friends you trust.
Describe the most challenging situation you've experienced on your boat and how it performed.
A few summers back, while heading up to the San Juan Islands to meet some friends, we had the great idea to fly the asymmetrical spinnaker for the second time ever. Double handed.
"We did at Duck Dodge that one time, it should be fine."
All was well until it was time for the take down; as in classic Puget Sound form, our leisurely downwind sail was rapidly changing to a challenging upwind mission. With one person driving and the other trying to wrangle the kite, and handle the halyard and sheet, the kite found the Sound and let's just say we were lucky not to catch any salmon.
Again, Great Expectations was not at fault in any way and did her best to keep us in one piece. Both people and the boat came out unscathed, the kite needed a trip through the sewing machine, but was far from ruined. After a few deep breaths, the jib went up and off we went, Great Expectations doing her thing making 8 knots upwind with one hand on the wheel, cast iron pans banging around the galley.
Where do you plan to take your boat? Do you have a dream destination?
We haven't had a dream destination yet for our boat because of getting our careers in order and the boat's major projects taken care of. Right now, it's just getting beyond the San Juan and Gulf Islands. We would love to cruise Alaska and beyond.
If you could have any other boat, what would it be and why?
Something in the 45-foot range that is easily cruised doublehanded, has PHRF of sub-20 with comfortable liveaboard accommodations, and is aesthetically to our liking. There are not many boats that fall into those parameters. The Club Swan 42 comes to mind.
What didn't we ask you about your boat that you wish we had?
Q: Is she for sale?
A: Probably not. Maybe, but probably not.   
SUBMIT YOUR OWN MY BOAT! Whether it is a beloved cruising sailboat, powerboat, racing boat, wooden boat, work boat, tug boat or even a kayak or old Laser, we want to share your boat's story for 48North.com's "My Boat" series.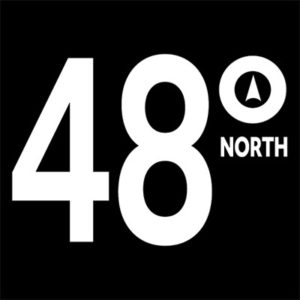 48° North Editors are committed to telling the best stories from the world of Pacific Northwest boating. We live and breathe this stuff, and share your passion for the boat life. Feel free to keep in touch with tips, stories, photos, and feedback at news@48north.com.