The teams competing in Clipper 2017-18 Round the World Race set sail from Seattle on Sunday, embarking on a race that will take them down the coast to Panama. The intense 4,000 nm "Race 10: The Garmin American Challenge" is one of two stages in Leg 7 and is expected to take the crews approximately 26 days to complete.
All eleven Clipper Race teams were sent off by loved ones and Seattle locals at The Port of Seattle's Bell Harbor Marina. After a week in its home city, the Visit Seattle team had the honor of leading the Parade of Sail, with the boats showing off their team colors. This farewell celebration included a water cannon guard of honor by the Seattle Fire Department.
Going into Leg 7, the penultimate leg of the 2017-18 edition, Sanya Serenity Coast is leading the overall standings, and is followed by follow Chinese team entry, Qingdao, which is in second and Visit Seattle in third.
First placed Sanya Serenity Coast Skipper Wendy Tuck, from Sydney, Australia, is leading a team for her second consecutive Clipper Race. On departure, she said: "After the Mighty Pacific Leg, Race 10 might seem a little gentler but it can still be tough. We are still in the North Pacific so we can still get big low-pressure systems coming across, so conditions are likely to be very varied."
On departure, all teams competed in a short inshore circuit in front of Seattle's impressive skyline. After two laps around Elliott Bay, the winning team was, very fittingly, Visit Seattle. The results determined the starting order for Race 10's Le Mans start which will take place after the crews have passed through Puget Sound and into the North Pacific Ocean.
And that's where things will start to get interesting, as Clipper Race Director Mark Light explains: "It's going to get very tactical as the fleet heads south to Panama.  If they stay inshore, there might be help from some tide and current but further offshore will generally will provide much stronger winds. Teams will need to think ahead – where do they want to be in three days' time and how are they going to get there."
The drysuits and thermal layers of earlier legs will gradually be replaced by sunscreen and shorts as the temperature rises near Mexico.  The end of Race 10 will feature one of the highlights of the Clipper 2017-18 Race – the Panama Canal. Transiting this engineering masterpiece will be a once in a lifetime moment for the majority of the Clipper Race crew.
The fleet arrives into Panama between May 23 and 27. After a short respite, the second race of Leg 7 will see the yachts travel North from the coast off Panama City, to New York City.
As well as competing in the race, the Visit Seattle yacht will also be engaging in pioneering scientific research after it was fitted with a special sensor for monitoring the effects of ocean acidification around the US Coast.
The Clipper Race is working with the Port of Seattle, National Oceanic and Atmospheric Administration (NOAA) – an agency within the US Department of Commerce – as well as the University of Washington, Sunburst Sensors and Visit Seattle to raise public awareness of its Ocean Acidification Program, which studies changes in ocean chemistry in response to increasing carbon dioxide (CO2) in the atmosphere, associated with climate change.
_______________


If you're curious about what life is like aboard a Clipper 70, open tours are being offered April 24 through the 27 from 10:00 a.m. to 7:00 p.m. at Bell Harbor Marina in downtown Seattle.
Crew members will be on hand to walk visitors through the vessels and will share a bit about what the challenge of racing around the world is all about.


________


After almost a month at sea, the Visit Seattle team arrived into its home at the Port of Seattle today, Saturday 21 April, to a heroes welcome. Arriving in brilliant sunshine, the team was cheered in by locals, supporters and members of Visit Seattle including President and CEO Tom Norwalk.
The team crossed the finish line at 20:30 UTC on Friday 20 April after completing the gruelling 5,600 nautical mile race across the North Pacific Ocean and despite finishing in eighth, Visit Seattle remains in third place on the overall race standings.
The four Seattleite crew members racing on board Visit Seattle, including Shannon Dean (54, Nurse, RTW*), Andy Farnum (37, photographer, Leg 6), Marek Omilian (53, Consultant, RTW) and Javier Roca (58, Creative Director, Leg 6), had even greater motivation to get into port with friends and family waiting to greet them.
For Shannon Dean, who was inspired to take part after seeing the race arrive into the city just two years ago, it has taken some 30,000 nautical miles of racing to reach home. Speaking dockside, Shannon says: "We had a great, great, great crossing, we had such a great time!
"I loved the storm and the thing is that it built, so it wasn't like we suddenly got hit, we had 50s, 60s, 70s. We were prepared and Nikki [Visit SeattleSkipper] is so capable, we were never out of control. Then we just hunkered down. We had waves breaking over the boat, we had half the boat under water, it was incredible, I have never seen waves like that in my life."
Continue reading at ClipperRoundtheWorld.com.
______
It's been slow going due to a wind hole sitting between the leading teams of the Clipper Race fleet and the finish line, but the end of the epic 5,600 nautical mile race across the North Pacific Ocean to Seattle is at last in sight.
At this stage, barring any errors, Race 9: The Race to The Emerald City is Qingdao's to lose. The team currently has an approximate 50 nautical mile advantage over Sanya Serenity Coast and Unicef, in second and third respectively.


But with winds to remain light and variable right to the finish line, QingdaoSkipper Chris Kobusch and his team won't be celebrating until the result is official, saying: "We found another wind hole just before the finish but managed to keep the boat moving and are now about 55nm from the finish line. Everyone is super focused not to lose ground to Sanya Serenity Coastor Unicef on the last few miles. Fingers crossed the wind will stay with us for another few hours!"
With Unicef currently just 2nm astern, Sanya Serenity Coast Skipper Wendy Tuck knows the finish is going to be tight, commenting: "Unicef is sneaking up behind us, usually with a tad more speed, and we've just got to try and keep them at bay."
Despite being at sea for 27 days and racing approximately 5,600nm across one of the most remote oceans on earth, the fact that it will be yet another close and competitive finish is not lost on the Clipper Race teams, with Unicef Skipper Bob Beggs adding: "Every race has a beginning, a middle, and an end, and our end is very reminiscent of our beginning; drifting along within AIS range or in sight of one another."
The wind hole has also resulted in the compression of the chasing pack; there is now just 22nm between the fourth placed HotelPlanner.com and Garmin in seventh.
It is especially tight between HotelPlanner.com and the fifth placed PSP Logistics, with both teams currently neck and neck and pushing for as many points as possible out of this race. HotelPlanner.com Skipper Conall Morrison says: "Another day of ticking off the miles to Seattle. The wind on the beam is gently easing off and we are closely monitoring the course and speed of nearby PSP Logistics on AIS. Sometimes we are faster and sometimes it is them."
Whilst Dare To Lead remains in AIS view of both HotelPlanner.com and PSP Logistics, damage to the mast track and two kites means the boat is struggling to keep its competitors in check. Dare To Lead Skipper Dale Smyth says: "PSP Logistics and HotelPlanner.com have caught us up and we wanted to have one last attempt to see if we could fix our issues but unfortunately, we haven't been able to and it will have to wait until port.
"We're all disappointed about our fate at the end of this race, but it doesn't take away from the crew efforts and great sailing we have experienced this leg."
The crew on board Garmin meanwhile had cause for an early celebration yesterday after being informed that they were fastest in the Elliot Brown Ocean Sprint, with the win adding three crucial bonus points to the team's overall tally. Visit Seattle was second quickest and will collect two bonus points, whilst Qingdao was third and will collect one point.
To follow the fleet's progress to the finish and Seattle, keep an eye on the Clipper Race Viewer. You can also read the Skipper Blogs in full in the Team Pages section of the website or find out the latest from the crew in the Crew Diaries.
The latest Estimated Arrival Times into Seattle to both the finish line and Seattle can be also be found on the Clipper Race website. The ETAS will be regularly updated and please note the time difference between crossing the line and arriving at Bell Harbor Marinain Seattle. All times are local unless stated otherwise.
Update courtesy of ClipperRoundtheWorld.com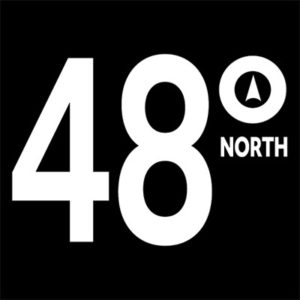 48° North Editors are committed to telling the best stories from the world of Pacific Northwest boating. We live and breathe this stuff, and share your passion for the boat life. Feel free to keep in touch with tips, stories, photos, and feedback at news@48north.com.