Billed as the "toughest race you'll ever love", Anacortes Yacht Club's Northern Century saw its racers get around the challenging 100-mile course quickly this year.
Northern Century is growing up. What started as a fledgling doublehanded race for locals has expanded into one of the highlights of the summer, drawing bigger fleets from shores as distant as the South Sound. Shorthanded sailing is still celebrated at Northern Century, and more than half of the boats attempting the challenging 100 mile course were sailing doublehanded. The same was true for the handful of boats selecting the 50-mile course option.
Northern Century begins in Anacortes near Cap Sante, and sends full-course racers first to the Red #4 Buoy near Point Roberts, then south to the Green #1 Buoy at Hein Bank, before they head back to A-town. The race begins on Friday evening and must be complete by noon on Sunday.
The 2021 edition started in light breeze and the fleet made moderate progress north under spinnakers with a smoke-blanketed sunset. Things were quiet, but not for long, as the breeze built; and, as the eventual fully-crewed winners on board Iain and Allison Christenson's Farr 36, Annapurna exclaimed, it was "full send to Point Roberts!" Crewmember Regan Edwards recalls, "18 knots of breeze means weight back and planing Annapurna past the islands in pitch black conditions. The water was thick with phosphorescence: our wake was glowing and the keel was lit up like a glow stick."
That was a fair bit of breeze for the doublehanded crews, but the good news is that it helped most boats finish before needing to spend a second night on the water. Jeanne Assael Goussev, skipper of Sail Like a Girl, was racing on her other boat, Lyman Morse 40, Gray Wolf, and said that they were pleased go finish mid-afternoon on Saturday, a quick trip propelled by "more wind this year."
Once the breeze came up, the biggest slowdowns across the fleet were some pesky kelp traps that seemed to have magnetic pull. Emre Sezer and crew Marc-Andrea Klimaschewski won the 100-mile doublehanded Division 2 on Emre's J/80 Reckless. A Northern Century veteran, Emre thought that this year was a particularly good race, and was happy to say, "We managed to stay out of the race-ending kelp beds." In a fun twist, Marc's boat, Moonshine, was being sailed by their friends Taylor Joosten and David Rogers, who raced the boat to a 3rd place finish in the same class. So, as Emre put it, "Marc placed twice, in a way."
Jonathan Cruse, who was sailing his zippy Aerodyne 43, Freja, wasn't quite so fortunate with the aquatic vegetation and found "some very sticky kelp on the last leg that [they] weren't able to clear until reversing under power (after the race)." But it wasn't all bad, he also added, "Overall, it was nice sailing though; especially the spinnaker run to Point Roberts and return to Boundary Pass."
Jeanne elaborated that, though Annapurna legged out on the run to Point Roberts, Gray Wolf and a few others in their class made good overall gains on the south-bound leg by electing to go west of San Juan Island instead of through the islands. She told me, "Kahuna, Freja, and Gray Wolf — amazingly all Rodger Martin Designs — stuck together outside San Juan Island. We went closer to Canada than the other two, which paid off massively for us."
One of the most fun stories coming out of this year's Northern Century is the fact that Melissa Davies won her class. Many in the racing community will already know Melissa, whose enthusiasm has been pretty much unparalleled as she has gotten into the sport of sailboat racing on her San Juan 24, Miss Mayhem. Well, Melissa has herself a new ride, a J/30 she's named Ghetto. And wouldn't you know it, she won the fully-crewed Class 2 on the 100-mile course this year.
Congrats to Melissa and crew, congrats to the rest of the class winners (Farr 36 Annapurna, F25c Makika, J/80 Reckless, J/109 Hravn, and Quest 30 Alsek), and really congrats to all the sailors and organizers for keeping the fun and the love alive for this unique event — one that's surely here to stay!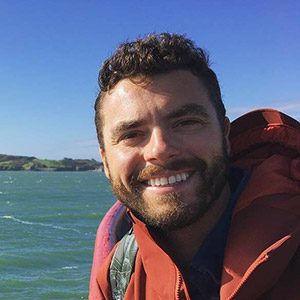 Joe Cline has been the Managing Editor of 48° North since 2014. From his career to his volunteer leadership in the marine industry, from racing sailboats large and small to his discovery of Pacific Northwest cruising —Joe is as sail-smitten as they come. Joe and his wife, Kaylin, welcomed a baby girl to their family in December 2021, and he is enjoying fatherhood while still finding time to sail, make music, and tip back a tasty IPA every now and again.