Three Seattle J/80 owners have combined forces to charter a boat and bring some of the fun J/80 fleet spirit in the Puget Sound region to world-level competition for the 2021 J/80 Danish National Championship and the J/80 World Championship in Denmark.
What can we say…? We're jealous. Impressed. Excited. Definitely living vicariously!
Emre Can "John" Sezer (J/80 Reckless), Lek Dimarucot (J/80 Underdog), and Ryan Porter (J/80 Jolly Green) are living the dream. They've put together a Seattle-based crew for the J/80 Worlds in Denmark and are calling their team Jolly Reckless Underdog. This week, they've been sailing in the pre-worlds event, which is also the Danish Nationals. After a disappointing day one, they have started to dial in their chartered J/80 and notched two top-five finishes (two 4th places) on day two. More importantly they're having a load of fun and learning a lot. The fleet doubles in size next week for Worlds.
Lek told us in a recent chat: "So cool to be racing J/80s overseas and seeing how much more of the world loves our sport and feeling part of a bigger community. Super interesting seeing what things people do differently here, and yet we have a ton in common too." If that isn't perfect and inspiring, we don't know what is.
From Ryan on June 29:
The J/80 Open Danish Nationals start tomorrow, with 25 boats registered. Racing will happen north of Copenhagen in the Øresund, which connects the North and Baltic Seas and separates Denmark and Sweden. Seattle has sent the only team from the U.S. We'll be chartering a club boat from the Royal Danish Yacht Club and calling ourselves Jolly Reckless Underdog (a collection of our individual boats' names). The Nationals are our chance to turn a group of skippers into a team. The real fun starts with 46 boats on the line for the Worlds on Monday. Yippee Ki Yay.

From Lek on June 30:
Team Jolly Reckless Underdog earned a merit badge packing race sails for air travel to Worlds. We took battens out, flaked the sails, rolled the jib around a 4" plastic pipe (lighter than PVC), then rolled the flaked main starting at the leech end around the jib, and stuffed the whole Dacron burrito inside a sail bag and into a 12" wide concrete form tube. The whole package was just within the airline's 50lb weight limit, and we somehow finagled half off the oversized baggage fee. The only hiccup was a baggage handlers' strike in Copenhagen that delayed unloading.

From John on June 30:
So far all the Danish people we met have been very friendly. We were lucky to be around the marina as the local J/80 fleet was returning from their Tuesday night racing. Met the chair of the J/80 class association as well as the vice chair, Annett the event organizer, French and Irish competitors, as well as a Spanish sailing team. We also had a chance to meet Lukas, a local sailor who will be joining us for the Danish Nationals. Hopefully we can learn a thing or two from him.
Our little AirBnb is out of a storybook and we found a local French bakery right by it to start our day.
From John on July 1 – Day One of Danish Nationals:
Today was the first day of the Danish Nationals and it's clear we have our work cut out. Our best finish was 13 out of 21 boats. We struggled with the starts and with boat speed. Our rig was out of tune and we could not tune it on the water.
There were some upsides though. First, we were pretty fast downwind, overtaking a few boats. Second, we were able to figure out the rig tuning after the race. It's a contraption I hadn't seen before, built in handles to tune the rig. Turns out there are locking screws that need to be eased first. We got the rig to a base setting and should be able to fine tune it on the water tomorrow. Finally, our maneuvers were pretty solid, hoists douses and gybes.
On another note, we haven't seen the bottom of the boat yet. Cheap diver and a brush is the best we can do for now. Hopefully we'll have her out of the water for a good scrub before the worlds.
Out for now. I'm swaying like crazy. It was a tough day with four races in 14-18 kts breeze. Tomorrow's forecast is lighter. Cheers for now.

From John on July 2 – Day Two of Danish Nationals:
Day two of the Danish Nationals was much better. It was a lighter day today, ranging from 6-12 kts. We were able to fix a couple of the issues on the boat, especially finding a way to secure the instrument brackets.
We were a lot more in the mix and got into a couple of binds in mark roundings. In one race we had to do a 720. That was our worst finish at 16th. The other races were 4, 4 and 6. We finished 13th overall but we are very happy with the progress. In the picture, notice in some of the boats are behind us
Another interesting thing is the the Danish sail in and out of the marina almost exclusively.
After the race, we hoisted the boat and gave it a good pressure wash and also sanded it down with 320 and then the gray 3M pads (approximately 600-800 grit). It's got a lot of orange peel that we can't fix, but we're hoping it's better than it was.
Don Sarin (our fourth crew member for Worlds) made it to Denmark all safe and sound. Tomorrow we'll go out practicing with our full Worlds crew.
CYC Seattle and STYC burgees are on full display! Cheers all.
All photos and posts courtesy of Emre Can Sezer, Lek Dimarucot, and Ryan Porter.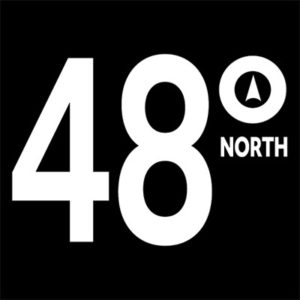 48° North Editors are committed to telling the best stories from the world of Pacific Northwest boating. We live and breathe this stuff, and share your passion for the boat life. Feel free to keep in touch with tips, stories, photos, and feedback at news@48north.com.