I've got a serious case of Vendee Globe Fever!
Man, I may be a little late to the party here … but I've never been so interested in the Vendee Globe Race. There are so many layers to it, and literally scores of articles have been and could be written about it, so I won't scratch the surface here. Nonetheless, I wanted to tell you a little about what's captivating me, and what I'm watching, reading, and seeing. Mainly, I encourage you to check it out and follow along, too.
For those who wonder what the heck I'm talking about, the Vendee Globe is the world's premiere singlehanded, non-stop, unassisted, round-the-world race. The race is sailed in IMOCA 60 monohulls. This year's event has IMOCA 60s of several generations, including 19 of the 33 boats built with the outboard lifting foils. The foils are clearly faster in many conditions, but how much faster overall is a point of some debate. Eight of those 19 foilers are brand new IMOCA builds for 2020 (four distinct designs). For lots of great details, updates in text and video, and the all-important race tracker, the Vendee Globe website should be your first stop.
Weather
I've been pretty enthralled by these first five days of racing, in part because of the fleet and in part because of the weather. I'll talk a bit about the fleet shortly, but the reason to watch closely in the next 24 hours is that the fleet is attempting to cross a developing doldrums and get clear above and then onto the west side of tropical storm Theta where they will have great breeze and downwind sailing. It looks clear at this point that the lead boats, and especially the faster foiling lead boats, should make it. What happens with the rest of the fleet remains to be seen. If they get stuck in the doldrums, they may have to go east and face several days of heavy air upwind sailing followed by an unknowable number of light air days working back toward the trades. Worse, some could get sucked close to the center of the storm.
Tactically, the prospect of splitting the fleet is obviously fascinating, but so is some of the calculus about how close to push the center of the low pressure system (where the wind will be strongest) even for those that make it to the downwind side. This is particularly fascinating because history has shown us that part of success in the Vendee Globe is keeping the boat in one piece. The addition of foils makes the boats faster, but also more vulnerable to breakage. All racing is a bit of a dance between how hard to push it and staying in control, but in a three-month round-the-world-race, this balance has immense consequences for race outcome and racer safety. One variable may be fun for at-home followers and terrifying for those on the water — the assertion from Amsterdam-based sailor (and YouTuber doing some of the best armchair Vendee coverage), Florian Rooz, that weather predictions worldwide are suffering from a data shortage because of how few planes are in the air. Planes take and submit weather data, and the vast reduction of flights due to the pandemic is leaving the weather fore-guessers in an even tougher spot. Already in these first days of the race, we've seen systems develop in reality quite differently from the forecast.
Rooz's coverage of all types gets a very strong recommendation from me. He digs into boat tech nerdery if you go back a few videos. More importantly, his daily analysis is more freely (and in my opinion, intelligently) speculative about weather and substantive about tactics, when compared to what's coming from the Vendee media shop. Here's his most recent video, though those looking to geek out will want to explore his other Vendee vids too.
Fleet
I could go on and on about intrigue amongst the fleet of boats and skippers. Current leader Alex Thompson, the British skipper of Hugo Boss, was second in the previous Vendee Globe, even though he sailed the second half of the race with only one of his two foils. He's on one of the new boats, but one that is comparatively under-tested because of structural damage suffered in qualifying events. There's also the fact that only six women have ever finished the Vendee Globe, and this edition alone has six female skippers. The odds-on favorite among them is another Brit, Sam Davies, who finished fourth in the 2008 Vendee. In one of the most fun stories, Davies is sailing against her life partner Romain Attanasio, something the New York Times reported about on Tuesday. Jean Le Cam is the oldest skipper in the race and is currently in second place. He's sailing a Farr-designed IMOCA 60 from 2007 in this, his fifth, Vendee Globe. Le Cam's wisdom and cunning had him leading for most of the first four days, and he's proven that in various conditions, he can put his boat in the right position to be competitive with the newer, faster boats.
Lots of the good information about the race is coming, obviously, from the racers themselves. Vendee media helps push a lot of their content, but many of the sailors have their own social channels too. It's worth exploring them, and for some of the most fun and candid information that's also genuinely entertaining, check out German skipper Boris Hermann.

As for the boats themselves, I have heard and read some musings about whether the newest generation of boats will actually prove faster than the previously designed boats. Some think that the previous version IMOCAs will be better in non-foiling conditions due to their hull shape. That doesn't seem to be bearing out just yet, but it's still early, and the Southern Ocean looms large. Especially if there is widespread gear failure across the fleet, it seems more likely that more planing-oriented hull shapes of the previous generation boats may start to look a little more successful. If you're interested in the new designs in particular, Scuttlebutt had a nice presentation reviewing some of the design basics (actually sourced from the Vendee Globe, historian Jacques Taglang and designer Francois Chevalier).
All in all, there's more fun in following this race than there is time to keep up with it all. Check it out, and enjoy! It'll continue for several more months, but it's hard to imagine it will be more intriguing than it is right now!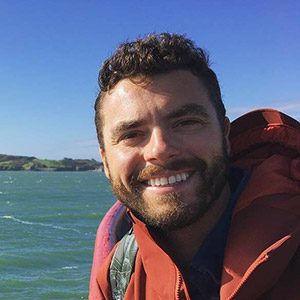 Joe Cline has been the Managing Editor of 48° North since 2014. From his career to his volunteer leadership in the marine industry, from racing sailboats large and small to his discovery of Pacific Northwest cruising —Joe is as sail-smitten as they come. Joe and his wife, Kaylin, welcomed a baby girl to their family in December 2021, and he is enjoying fatherhood while still finding time to sail, make music, and tip back a tasty IPA every now and again.