Much to sailors' delight, the annual Rum Run on Puget Sound gets a new earlier date this year — Saturday, September 30.
The start line will be between the committee boat and the white event mark outside of the Shilshole Bay Marina breakwater. There will be two marks set on the east side of the shipping lanes, Meadow Point and West Point and there will be an upwind start to the first mark, downwind to the second mark, and a reach across the sound to Port Madison. The finish line will be between the committee boat (off of Point Monroe) and a bearing directly north, extending approximately 100 yards; there may or may not be a buoy set because of the depth.
Remember, this time of year can bring heavier winds and a heavier sea state to the Puget Sound. Sailing Rum Run is voluntary and the safety of your crew and your boat are your responsibility.
Mark Rounding and Starts:
Round West Point to Starboard, round Meadow Point to port!
There will be 4 starts:
11:00 – First – Fast, racy race boats
11:05 – Second – Fastish and skilled sailors
11:10 – Third – Slower boats flying spinnakers
11:15 – Fourth – Slower boats NOT flying spinnakers
There is no dinghy start.
From the race organizers:
In regard to dinghies participating, this is a tough call. We don't have any "rules" around what boats may or may not participate in the event. That said, we do not have a dinghy start for this event because it is on Puget Sound in a time when weather can be nasty.
The safety of our sailors is paramount. If you are sailing in the event, you are doing so voluntarily and must assess your own risk. We do not have a chase boat or a safety boat. Duck Dodge is not an official organization, we are a bunch of sailors just trying to make a bunch of sailing events happen. As such, we do not have insurance to help protect the organizers or participants. If you want to bring a boat out that is not self-righting in possible inclement weather, you do so agreeing that you do not hold any Duck Dodge organizers, event administrators, committee crew, or other event participants liable for damage, injury, or loss of life. Please don't participate if you are inexperienced on the Sound with a non-self righting boat.
We will raft up in Port Madison, but remember that our days are short this time of year. Plan your trip back across accordingly and make sure your navigation lights are legal and operable. Should you need to leave the raft earlier than the boats on either side of you, make sure you arrange with the respective boats to run lines around in front or in back of your boat so that we can suck the raft back together after your departure.
We will be crossing the Vessel Traffic System (VTS) lanes for this event. Commercial traffic has right of way, no matter what. If you get 5 horns for being a dumbass in the way of commercial traffic, you will be AUTOMATICALLY DISQUALIFIED. Trust me, your fellow participants will narc on you. Disobeying this may also result in revocation of our future permits. Don't duck this up.
On the water communications will be handled over VHF channel 72. It is wise to also monitor 16 (USCG) and 14 (VTS).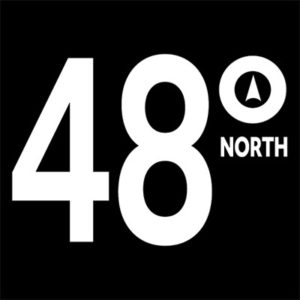 48° North Editors are committed to telling the best stories from the world of Pacific Northwest boating. We live and breathe this stuff, and share your passion for the boat life. Feel free to keep in touch with tips, stories, photos, and feedback at news@48north.com.