UNIDEN ATLANTIS 155 VHF RADIO
Having a handheld VHF radio aboard is a must in many situations on the water in the Pacific Northwest, but you don't need to break the bank to stay safely connected. With their new Atlantis 155, Uniden continues their tradition of providing tough and reliable handheld radios at a good price. The 155 features all NOAA weather channels, as well as all USA, International, and Canadian marine channels. It also meets JIS8 submersible waterproof standards and has a bright backlit LCD display to make it easy to use, day or night in a variety of situations. Designed to float, the radio also features Triple Watch mode to monitor channels simultaneously, and Weather Alert Watch mode, which mutes the radio while it monitors a preset weather channel and sounds an alarm if there are broadcasts on that channel.
Price: $79.99 » www.uniden.com
ROCNA MKII ANCHORS
Rocna's well-known roll-bar anchor has recently undergone a major redesign that sets the bar high for those looking to upgrade their ground tackle. The new Rocna MKII anchor incorporates refinements to the original design, which has built up a reputation for reliably quick setting and high holding power over years of real-world experience and feedback from thousands of boaters. The MKII uses a patented technology shared with Rocna's Vulcan anchor, the I+V™ shank, which helps make the Rocna MKII the toughest of all Rocna anchors. The MKII features an all-new patented Roll-Foil™, a sculpted variation of the original roll-bar that has a series of unique shaped profiles to further assist the anchor's critical self-righting behavior and help during setting for deeper penetration and additional holding power. The anchor's fluke also has had a major redesign which optimizes the original Rocna pattern for greater surface area and improved weight distribution.
Price: $2,036.99 » www.rocna.com
ZHIK TECH HOODIE
Perfect for the Pacific Northwest mariner or adventurer, Zhik's new Tech Hoodie strikes the balance between comfort and utility. This essential hoodie delivers a combination of ultra-warm fleece and waterproof three-layer fabric for adaptable performance. Stylish yet functional, the hoodie has an active fit, three-layer paneling in the hood and upper sleeves to prevent wind and water spray from entering the jacket in these critical areas. The internal fleece provides warmth and allows body moisture to evaporate during vigorous activity. For extra protection, it can be worn under a waterproof shell or on its own in wind, light rain, and spray. The Tech Hoodie is available in men's and women's versions with three color options: Black, Platinum, and Provincial Blue.
Price: $159.99 » www.zhik.com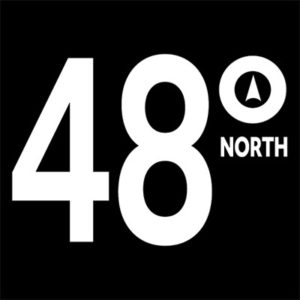 48° North Editors are committed to telling the best stories from the world of Pacific Northwest boating. We live and breathe this stuff, and share your passion for the boat life. Feel free to keep in touch with tips, stories, photos, and feedback at news@48north.com.