This 48° North Interview by Joe Cline originally appeared in the October 2017 issue.
As many fabulous programs and learning opportunities exist around the Salish Sea, I'm not aware of any that are nearly as committed to performance multihull sailing as Compass Adventure Ocean Sports in Comox, BC. The Kiwi Cup Champions may be planning the next America's Cup in monohulls, but high performance multihulls are the fastest boats on the water and will continue to represent the sport's cutting edge. Giving interested sailors a foundation of skills to go along with a huge dose of fun and adrenaline on boats like their heroes are sailing is core to the mission at Compass Adventure. And I, for one, am 100% in support. I recently got the chance to chat with Stuart Robinson, Compass Adventure's Owner, Co-founder, and Head Coach.
48° North: Give me some background on Compass Adventure. You've been in business for 25 years, that's basically since you and your brother were kids?
Stuart Robinson: Yeah, I grew up at Compass Adventure. I learned to sail when I was really young, and I started teaching at 13 or 14. I've been a business partner for 20 years now. Our big thing is that we've been trying to share our passion for performance sailing and for exciting sports on the ocean since we were founded. A lot of the time, that passion comes from doing the sports ourselves. We've competed in different classes of boats and other on-the-water sports.
While there was always a focus on performance sailing, has it always been multihulls?
It's interesting – we didn't start with multihulls. We had Lasers and FJs and Laser 2s, but we were always trying to find that cutting edge. Even as a kid, I would modify our Laser to try to make it faster. There's a family story about the Laser 1.5, which was a boat we just hacked apart and put on a bowsprit and all that stuff. It's neat now to come full circle and to be sailing on real high performance boats, growing a fleet of them for others.
We made the switch to multihulls 20 years ago. The thing we love is that we can get any person going fast on those. If we were sailing monohulls, we'd probably be sailing skiffs or something, but the barrier to entry with a boat like that is much higher. People think there's a barrier because it's performance, but multihulls make it so much easier. We've always been pretty obsessed with sharing this passion; coaching and teaching are a big part of our mission.
Our goal is to set it up where kids or adults, of any level, can jump in and enjoy this kind of sailing. We do programs with the local school districts to educate kids about water safety and ocean stewardship – both things we really care about. Connecting those principles with going fast and having fun, which everybody loves to do, that was just a no-brainer for us. We do six sessions in those programs, and every day they're on the water. By the end, they're skippering a performance catamaran. We're seeing kids in the valley around Comox choose sailing as their sport, which is rare in a community where it would most likely be hockey or soccer.
What boats are you using for the beginners, and what is the progression through your boats as kids get more experienced?
We've experimented with a ton of boats over the years, but we've found that the best tool for what we do and for the progressions we teach is the Hobie Wave. You can take a class of beginners out and you can teach performance catamaran technique too.
From there, you can progress to the other boats in our program. We have training boats called the Hobie T2. And then our new boat, which is the one my brother Andrew designed, is called the R18. It's based on an F18 platform, like the Hobie Tiger, but it looks exactly like a miniature Marström 32. It just uses the mainsail and the spinnaker. Three kids sail it, and they can be as young as twelve years old. They race against adults in the F18 class. We refit existing F18s with the package that my brother designed. We take off the trapezes and we put on hiking racks. We have two of these, and we're working on the third, and so the kids are learning some match racing skills, but they're also getting experience sailing in teams. We coach different teams on different days; and when we race, we do round robins, just like they do on the World Match Racing Tour.
Was it your intention to focus on match racing?
It's not just the match "racing" side of things, so much as it is sailing boat to boat. In a way, that's just a reality of any sailing program. For us as a fairly small school, by doing rotations and round robins, we can get way more kids involved – we have 6,000 visits per year. We take a pontoon on the water during the racing, and all the kids that aren't racing on the course are watching and learning. They switch off out on the water. It makes for great coaching opportunities.
For as long as you guys have been training kids and coaching sailors, do you have people who have gone through your program that have gone on to do bigger things in the world of sailing?
Yeah, one of the things that's most important to me is that we've had a lot of kids who have just stuck with the sport. That shows a lot about our success. At least six times, we've had kids purchase their own boats at a young age and go sail around the Pacific. We've had other kids that have raced internationally in multihull championships. There are so many opportunities when you have those sailing skills. One of Andrew's crew on our new Diam 24s, that we brought out for leg one of Race to Alaska (R2AK) and Van Isle 360, went through our programs and is now a sponsored athlete for Helly Hanson Canada. He doesn't have all that much to tout in the way of racing results, but he's great about sharing his story. That's part of the success of the R2AK, in my mind – that the stories are more important than the results.
Speaking of those two Diam 24 trimarans, how did you come to choose those boats in particular?
We looked around and for the price, it's a great package. As much as I love foiling, it's expensive. We were out training on a friend's foiling Phantom, and one of our teams clipped a piece of wood and that cost us $3,000. You can spend 20 grand in a weekend with a fleet of foiling boats.
Ultimately, it just fit our methodology to have a simple boat that is essentially as fast as the foilers, but that can help us get more people sailing. Plus, we can safely have a youth team of four on the Diams.
Tell us about the experiences at R2AK and Van Isle on the Diam 24s.
Pretty amazing and epic adventure for us to do both. We did the first leg of each race. It was definitely an undertaking getting the boats ready and down there – we did it all in a very short amount of time. The welcome at R2AK was pretty awesome. We were putting the boats together in the middle of the street the day before the race, I've never had so much interest – people coming up to chat with us and ask about the boat – as I did there. Just getting the boats put together was kind of a head-to-head battle between me and my brother, which was also true on the race course.
And who came out on top?
Well first, a 5am start was something new for us, as it would be for most sailors. And I had a terrible start – I think I was still eating my oatmeal. You kind of forget that you can paddle, being mostly a sailor. My brother, Andrew, took off on us for a little while, and then we paddled and tried to sail together for most of the first seven hours. There was some decent pressure way right on the course, and you're hoping for that westerly much later in the day. We got ahead for a little while, and they went way out to wait for the westerly. We decided to sneak up the inside and sail close hauled right into Victoria. We had the more direct approach, but the breeze came in, and they were able to get in ahead of us. We were both in the top seven sailboats.
Had you guys done some testing on the boats prior to that?
Yeah, but not much. One of my crew had only sailed the boat twice, and collectively maybe we'd sailed it six times. We were learning on the way. If it's less than 5 or 6 knots of wind, the boats are quite slow. But that threshold is so narrow, when you get to 6 or 7 knots, they go from really slow to really fast.
What characteristics or behaviors of the boat flipped that speed switch?
The boat just livens up. One hull is already out, but you can start to get the second one to come out of the water a little bit. You're just lit up. You go from doing maybe 4 or 5 knots to doing maybe 14 knots of boat speed.
The boat has rudders on the amas?
Yeah, a large center board – a 7' dagger in the center – and two smaller rudders on the amas. Basically, when the transom on the center hull lightens up a little, the boat just takes off. The center hull is more of a planing shape, whereas the outer hulls are so narrow, they're kind of designed to be underwater anyway. The bow design of the amas creates a negative pressure area when they're underwater, you're actually building lift. So, you're wanting to drive that bow underwater and then bring it upwind. It kind of negates the needs for additional lateral resistance (boards) in the amas. Tuning the boat is very specific, and it's helpful having two boats.
And how about Van Isle?
Van Isle is similar to R2AK in the spirit of adventure, but the competitors are way different. We were the only multihulls and the only open boats in the first leg. It is a challenging leg, that can have some light winds and a lot of current. I redeemed myself after my bad start at R2AK. It was cool to be mixing it up with boats that were in their perfect conditions – many of those boats have a lot of sail and they point really high in those conditions. Our boats are challenging if we're below that baseline speed threshold. I was impressed with how well we could point – we had to foot off a little, but we had great tacking battles up the shore. In the middle of the course, the wind shut off. We had pulled quite a bit ahead of my brother's team, but they caught us when the breeze quit.
We hung out near each other for a bit, and then the wind picked up a bit later in the day. We were able to head out toward Lasqueti and catch a little breeze to bring us to the finish. We finished around 4:30pm, which we were really happy with.
We were glad to get in at that time, because we hosted the Van Isle participants that night… the ones that made it in time, anyway. About half of the fleet didn't make it until around midnight.
What were your takeaways from those racing experiences on the Diams?
The whole idea of this little tour of racing the Diams in these two great events was get the word out there about what we're doing at Compass Adventure, and to promote Comox as an amazing sailing destination. We are so committed to performance sailing, and the Diam 24s are the flagships of what we do. It does not require a whole lot of work to get into performance sailing on a boat like this. We were psyched to get these exciting, accessible boats in front of the broader sailing community!
Other than those events, what else have you been working on this summer?
For what I believe is the first time in Canada, Compass Adventure started running stadium-style sailing racing for the public to come enjoy as spectators. The races are only 500 meters long, with reaching starts and finishes. Our shortest race to date was less than eight minutes. You start and finish coming toward the audience, like many of the America's Cup races. F18s and R18s race without handicaps, and our other boats race too. We do match racing demonstrations on the Diam 24s. We've had coaches versus athletes and other fun themed races. There's live commentary, a beer garden over the water, and live music. We had over 1,000 spectators attend one of these weekend events, and are floored that roughly 80% of those attendees didn't really know anything about sailing.
Can you talk about the family dynamic with the business, and with sailing being such a great family sport, does that influence your sailors to get involved in sailing with their families?
We have a very unique family. I think that our school being run by a family creates a welcoming environment. When our sailors see Andrew and I racing, having a great time, and learning from each other, we hope they'll look up to us and do the same with their family members.
My dad, who co-founded Compass with me is the inspiration for doing things out of the box. For our family, the innovation side of sailing is as important as the sailing itself. On and off the water, we hope people see how much fun we have working together.
For more information about Compass Adventure programs, or the Diam 24s,
check www.compassadventure.ca
Joe Cline is the editor of 48° North.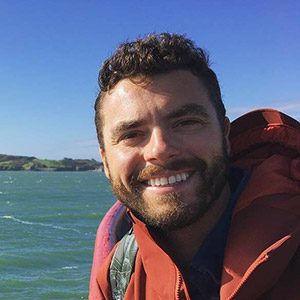 Joe Cline has been the Managing Editor of 48° North since 2014. From his career to his volunteer leadership in the marine industry, from racing sailboats large and small to his discovery of Pacific Northwest cruising —Joe is as sail-smitten as they come. Joe and his wife, Kaylin, welcomed a baby girl to their family in December 2021, and he is enjoying fatherhood while still finding time to sail, make music, and tip back a tasty IPA every now and again.