A Sail Test On An Award-Winning American-Built Cruising Boat
From the April, 2020 issue of 48° North
My first crossing of the Strait of Juan de Fuca was aboard a wing-keel Catalina 42 that bounded comfortably in six-foot-seas and 25 knots—it remains a favorite, formative sail. Roughly 1,000 of these venerable cruisers were built over more than two decades (between Mk I and Mk II iterations). And, as is common with Catalinas, they boast some of the industry's most loyal owners.
However, in spite of my enduring appreciation for the Catalina 42, my personal opinion is that the design has been ready for a modernizing overhaul for some time. Enter the new Catalina 425. Based on my recent test sail experience on the 425 in February and the incredibly positive response it has received from sailors and critics alike, it seems that the Catalina crew have hit a home run in this new generation redesign.
Decidedly Modern with Traditional Elements
While sleek, attractive, and modern, the Catalina 425 is a bit more traditional than it is flashy in its styling. It doesn't have some of the things I associate with many modern production cruisers—there aren't hard chines or a plumb bow, for example. Lead designer, Gerry Douglas, shares his decision calculus for much of this right in the marketing materials, indicating his sentiment that chines often cause hydrodynamic turbulence and reasoning that his chosen 9-degree bow angle maximizes waterline length while providing good protection from anchors. To me, it helps to know why the boat doesn't look just like some of the others, and the reasoning is sound.
The 425 is on the lighter-displacement side of its group of competitors, displacing 17,500 lbs. However, its 7,000 pounds of ballast is more than most similar designs, except for those with significantly heavier displacement. With a sail-area-to-displacement ratio of 21.69, in combination with its lighter displacement and heavier-than-most ballast, the Catalina 425 has construction and performance attributes that make it an ideal blend of American-built tradition and sailing capability, and is a notable step forward in performance from its predecessor.
Easy and Impressive Under Sail
We had a great opportunity to see the range of performance across light-to-moderate conditions during our test sail. We set the in-mast furling main and self-tacking jib in barely 5 knots of breeze. The boat moved but, as most any cruising boat would in breeze that light, it would have preferred more pressure. There are tracks on the deck alongside the cabin top where a larger, traditionally-sheeted genoa would surely have felt like the right sail choice early in our test. The inboard chainplates will allow for proper, upwind-friendly sheeting angles on the genoa.
Nonetheless, I was pleasantly surprised by the boat's get-up-and-go with the stock jib as the breeze trended above 5 knots. By the time we had 6 to 8 knots, it didn't feel irresponsible to be playing with apparent wind angles around 35 degrees while still feeling good power in the sailplan and great feel in the helm. Especially since our test boat was the fin-keel version with a draft of 6-feet 8-inches (instead of the wing-keel arrangement that's popular in shallower cruising areas), I felt that the performance to weather was particularly impressive for a cruising boat as comfortable as this. As the breeze built above 10 knots, I liked the sailing experience more and more.
Familiar Feel On The Helm
Honestly, it was satisfying to drive a cruising boat that had a familiar feel under sail. Elements that are nearing ubiquity for many modern production boats require some mindset adjustment. Almost none of us learned to sail on dual-rudder boats with significant chines. To drive the Catalina 425 felt comfortable, responsive, and intuitive. It was like I knew what the boat needed. Surely, performance could suffer if sailing over-canvased and significantly heeled in big breeze, but smart sail choice and trim should easily remedy those challenges and make for a happier crew.
The twin helms are appropriately sized and adequately spaced. As I switched from helm station to helm station through easy tacks that required only a turn of the wheel thanks to the self-tacking jib. I appreciated the ability to trim both the main and jib sheets form the port-side helm station. The appeal and ease of the self-tacking jib and in-mast-furling main are obvious. These systems typically represent some compromise in performance, but I was pleased with the pliability of trim for the jib and especially the main, for which the rare-these-days inclusion of a mainsheet traveler on a cruising boat made trimming the furling main far more enjoyable. The German mainsheet system has its turning-block terminus closer to the end of the boom than you see on many European-built competitors. This both reduces the risk of a boom-failure and keeps mainsheet loads more manageable because of a better leverage point.
Off the breeze, the beamier aft section contributes to stability. The downwind sailing felt easy and always under control, but the stock jib isn't the ideal sail for downwind cruising. Luckily, the rig is fractional, with room for an asymmetrical spinnaker utilizing either a furler or sock above the forestay attachment.
Space to Spare
A spacious and ergonomic cockpit has long been one of Catalina's strengths, and the 425 is no exception. The saltiest ocean-going cruisers sometimes point to large cockpits as a safety risk, but for 99-percent of sailors 99-percent of the time, a large cockpit is an asset. In this way, the 425 excels. Twin helms make movement around the cockpit easy, the fixed central table provides a great handhold or foot-push and has a built-in fridge compartment, the signature Catalina stern pulpit seats give guests a great view and more seating room, and a starboard bench seat that converts into a double-berth-lounger is a smart and luxurious innovation.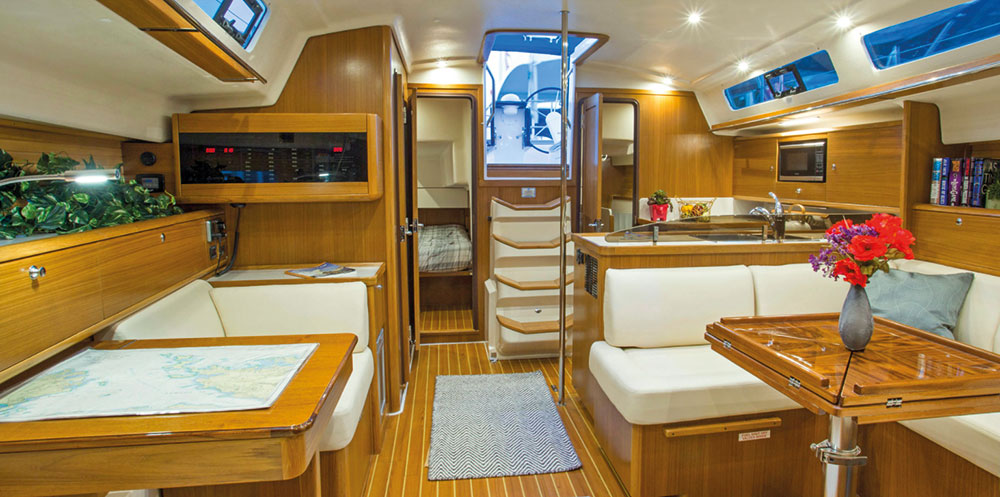 Modern efficiencies can be found in things like recessed hatches and under-deck leads for two lines per side that run to the helm stations. Safety is improved by the extension of the stainless steel stern pulpit further forward than most boats—instead of life lines around the cockpit, you have sturdier, more stable "life bars" as an enclosure. From the helm station, visibility was very good thanks to flat side decks and a low-slung cabin top. All-in-all, life on deck is pretty grand.
Clever and Comfortable Interior Design
It will come as no surprise that the interior of the 425 is very comfortable. Numerous clever details appealed to me. While many European designs offer a host of customizable layout options, Catalina has simplified and innovated. A three-cabin model is standard, but the port double-berth can tilt up clearing space along the centerline—making it part cabin, part garage. Moving the berth out of the way offers convenient, excellent access to the 57-horsepower Yanmar and the steering and running gear systems behind.
The forward cabin is clearly intended to be the owner's quarters, with en suite head and a spacious central berth that can accommodate sailors who are 6-feet 5-inches or taller. This V-berth bed also has a unique lifting system for a more upright reading position and better views out of the hull portlights. Forward of this cabin is a watertight crash bulkhead.
Headroom is NOT an Issue
Standing headroom of a whopping 6-foot 9-inches in the main salon creates an almost vaulted ceiling sensation of space. Along with the wide beam, ample light from numerous portlights and a large overhead hatch, and really nicely done finish work with grain-matched teak, the salon is relaxing, elegant, and spacious. The dinette to port is matched by a settee with a navigation station that can be converted to seating. Unlike some convertible nav stations, the 425's adaptation still has a drawer for tools and chart stowage.
Solid handholds can be found throughout including, importantly, above the galley, which is C-shaped. There, you will find a large front-opening fridge, an additional top-loading fridge-or-freezer on a separate breaker, and another dry-storage compartment that could be used as an icebox if you chose to deploy it that way. That's pretty great flexibility without customization.
From liveability to sailability, the Catalina 425 delivers. It would be an ideal boat for large or growing families; and with its solid performance characteristics and ease of use, it's a sailboat you might sail more during the Pacific Northwest cruising season.  
Thanks to Windworks Sailing and Powerboating for taking me sailing. Photos courtesy of Catalina Yachts.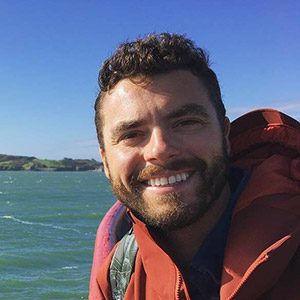 Joe Cline has been the Managing Editor of 48° North since 2014. From his career to his volunteer leadership in the marine industry, from racing sailboats large and small to his discovery of Pacific Northwest cruising —Joe is as sail-smitten as they come. Joe and his wife, Kaylin, welcomed a baby girl to their family in December 2021, and he is enjoying fatherhood while still finding time to sail, make music, and tip back a tasty IPA every now and again.