Letters to the Editor is a regular feature in our print magazine. This month, it's available right here at 48north.com.
Trivia Date Correction
G'day, Joe,
On the same day 48° North April 2020 popped into my inbox, I happened to read the story of Norwegian Antarctic explorer, Carsten Borchgrevink, who most certainly landed on the Antarctic mainland as early as 1896 as part of a whaling expedition, and was leader of the Southern Cross British Antarctic Expedition of 1898-1900. So when I read Bryan Henry's claim in 'Trivia' (p20) that John Davis, an American sealer was the first to land on the Antarctic mainland — in 1921! — a dull thud was heard as I 'dropped the mic'! Perhaps he meant "first American"? Or was the date a typo?
I was reading about Borchgrevink because I'd just finished reading E.E. Reynolds excellent biography of Fridtjof Nansen, published originally in 1932, only two years after Nansen's death. It's clear Nansen advised against Robert Falcon Scott's choice of ponies and motorized sleds. His refusal to accept this advise is probably the main reason he lost his life. Rival Roald Amundsen not only listened to Nansen's advice to use dog sleds, but also used his former Arctic exploration ship Fram as his expedition vessel. We all know the result! Norway = 1, rest of the world = nil!
Cheers
Mark Walker
Sydney (not Sidney)
Australia
Thanks for catching that, Mark. Indeed, the date was incorrect. Mr. Davis reportedly stepped foot on Antarctica in 1821, not 1921.
Response to Patrick Davin's Article "Sailing Away From the Coronavirus" in the April 2020 Issue
Editor's Note: The following responses came into us mostly when a digital version of Patrick's article was re-published at 48north.com during the week the magazine was being delivered. Numerous letters and comments came in quick succession, urging that we take down the digital article. We did. And we published a letter apologizing for the ways we were part of the problem, not part of the solution. Below, we thought we'd share some of the varied perspectives that readers conveyed to us. 
The situation has remained complicated for full-time cruisers regionally and around the globe, as it has for all of us staying at home on land. Our beloved island cruising grounds remain short of resources, medical and otherwise. The cruising community continues to grapple with what good choices exist in this new environment, especially for those who live aboard without a permanent slip as the authors do. Things are still changing rapidly, and uncertainty abounds. Yet, thoughtful and considerate actions have helped us reduce the harm of the Covid-19 pandemic in our region. It's good to remember where we've been as we look ahead to the coming weeks when local day-use boating will reopen as a specifically approved activity. Your efforts have made a difference. Let's all continue to make safe and compassionate decisions. 
Concerned Response
Dear sir,
I am an avid sailor in the PNW. Used to race and done most of the major races for many years even tho I'm just a cruiser now. I cruise extensively in both US and CA waters. I have long loved the 48°N magazine.
I'm going to ask you to take down this article "Sailing Away from the Coronavirus" and send out a correction notice.
Under rule of law in Washington state, persons are directed to stay at home but for essential travel. "Cruising" in a sailboat is not essential travel. This article is advocating breaking the law.
The purpose and spirit of the travel restrictions are to prevent spread of the Coronavirus and covid19. Please heed the governor's intent and directive.
The first center of the outbreak in the whole USA was in Seattle. Extended travel by Seattleites to more remote "safer" places in the state is understandable but is not well received by those remote communities. Why? Well, one we don't really care to share your germs. But more importantly we are being graded here. The economic and personal sacrifices we are all making are not easy. The grade we are going to get is a communal grade, not an individual one. By advocating this kind of behavior you are helping us fail and are potentially causing a lot of economic damage. Stop being so selfish. Stay at home.
Remote areas have no support for you if you develop symptoms. In SJC where I live, we have no ventilators, no ICUs. We have helicopters to take you to the mainland.
Please don't make things worse. Please take down this article and issue a correction and apology. The islands we all love will be here when this is over and we will all love to have visitors in our county again.
Sincerely
Thomas Bridge
Crane Island, WA
---
48° North,
I find this article completely irresponsible and selfish.  These small island and seaside communities have very limited resources. You article is putting whole communities at risk. I ask that you would please take down article. Also the San Juan Islands are closed and under a travel advisory. Than you for your time and attention in this matter.
Lorie Naru
Supportive Response After Our Apology
Joe,
Read your hat-in-hand apology as I looked in on the website just now—which I visit daily.  I don't know who or what prompted this public flogging, but the piece in question was not objectionable. It wasn't about escaping a pandemic from your slip at Shilshole, it was about how people whose boat IS THEIR HOME stay healthy! This smells like a cancel-culture hit; but for what it's worth, there was nothing wrong with your judgement of publishing the article. Sigh.
Allen Gibbard
---
Hey Joe,
No apology needed.  I seriously thought weeks ago "The best place to be right now is crossing a really, really big ocean, thousands of miles away from anyone and everyone!" I get it. No worries.
Sincerely,
Peter Nelson
Executive Director, MY SAIL Foundation
No one should take that article as anything but "sailing amidst a pandemic". You certainly meant to inform and entertain—that's your job. Thanks for explaining your intent, you shouldn't feel so bad!
Linda Byers
Southern Cross
---
From the Author
At the time we issued the apology, I also reached out to the author of the article, Patrick Davin. 48° North had asked him to write about their approach to the pandemic, thus exposing him to to this criticism. He responded thoughtfully and with a cool head. 
Hi Joe,
I was worried this might be coming, given how quickly sentiment has been changing in the last weeks. I didn't see it as advocacy of doing anything, but if people interpreted it that way, I can see the concern. There are very few full-time cruisers in the Pacific Northwest, so most people see cruising as a vacation thing.
I heard from some friends in our cruising club who read the article. They were confused why it got retracted – they found it to be a reasonable reaction for cruisers adjusting to the coronavirus crisis. It's a tough situation all around.
For what it's worth, we've seen a lot of people going out sailing; and yes, some cruising—which in most cases just means going to another place and dropping anchor.
SoSail Distancing
Hi Joe,
I got a few shots from the Langley waterfront yesterday of a solo sailor making good use of the afternoon breeze in Saratoga Passage. Looked awfully nice!
Dennis Pearce
48° North always welcomes your feedback, ideas, and stories. Send it all to editor@48north.com.
Title background photo courtesy of Dennis Pearce.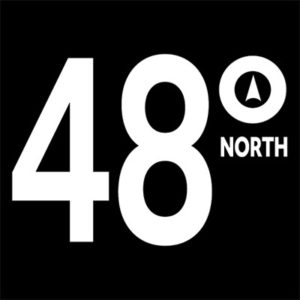 48° North Editors are committed to telling the best stories from the world of Pacific Northwest boating. We live and breathe this stuff, and share your passion for the boat life. Feel free to keep in touch with tips, stories, photos, and feedback at news@48north.com.