SeaSucker Vacuum Mounts

Vacuum mounts have been around for a while to hold small, light things aboard our boats that we don't want to move. But these were mere suction cups compared to SeaSucker Vacuum Mounts that, with their incredibly strong holding power, can be used vertically, horizontally, or even upside down. SeaSucker is now partnering with a variety of vendors and manufacturers to create a wide range of mounts for all types of boating applications. Dry boxes, cameras, fishing rods, cam cleats, smartphones, or even chartplotters can be easily affixed without fear of them moving while underway. SeaSucker's 4.5-inch model secures 120 lbs. to any rigid, non-porous surface for days on end; its 6-inch version, an incredible 210 lbs. Available in black or white with standard or low-profile housings, the UV-stabilized all-weather mounts can be easily adapted to numerous hardware requirements.
Price: Starting at $65 » www.seasucker.com
Glomex weBBoat® 4G EVO Antenna

Whether you're updating software, downloading the latest GRIB files, or sending a quick text message, the need for cellular connectivity has become common on the water. The new Glomex weBBoat® 4G Lite EVO US antenna accomplishes that goal in a compact and lightweight unit that receives 3G/4G cellular and Wi-Fi signals up to 15 miles from shore and distributes them throughout the vessel using an integrated router. Engineered for North American waters, a cellular plan is needed for offshore connectivity, but with automatic APN, it's simple to add a single SIM card from any US-based carrier and connect it without any programming. Up to 24 devices can be securely connected, and if the antenna is using shoreside Wi-Fi and then the boat moves out of that signal range, it automatically switches to cellular data. The antenna can be managed with the Glomex app for Android or iOS, allowing users to configure the device with an encrypted connection, and monitor and control the SIM card. The UV-resistant radome easily fits on a coach roof, radar arch, stern pulpit, or spreader and, at only 2 lbs., it's negligible weight aloft. It has a 10/30VDC power supply with a single lead and draws a mere 500mA at 12VDC.
Price: $799 » www.glomex.us
Shurhold Serious Shine

On our boats, it's often the small stains and blemishes that are the most annoying and difficult to remove. Shurhold tackles the problem with their new Serious Shine Quick Detailer. This one-step spray quickly removes water spots, dirt, grime — even residue left by other cleaning products — for a sparkling, spot-free surface. Made in the USA, Serious Shine is a unique formula that provides a high-gloss, water- and UV-resistant finish without leaving a greasy feeling. It cleans and polishes virtually any surface such as fiberglass, vinyl, isinglass, and stainless steel. It's especially useful for removing the minerals in sunbaked water spots that can damage gelcoat. With anti-static properties, it's perfect for multifunction touchscreen displays and other sensitive surfaces. Application is simple: after shaking, Serious Shine is misted onto the surface from 6-8 inches away. Then, it's wiped with a microfiber polishing cloth until the dirt is removed; the cloth is flipped and the surface buffed lightly until the residue disappears.
Price: $17.98 » www.shurhold.com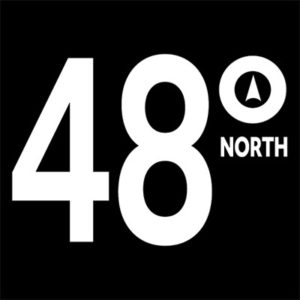 48° North Editors are committed to telling the best stories from the world of Pacific Northwest boating. We live and breathe this stuff, and share your passion for the boat life. Feel free to keep in touch with tips, stories, photos, and feedback at news@48north.com.