Zhik Breathable PFD
Intended for a wide range of water sports, Zhik's new Breathable PFD was designed to be so light you barely feel like you're wearing it. The life jacket's versatility comes from a combination of ergonomic shape to provide maximum upper body movement and ultra breathable construction through large front and rear channels that allow air to flow directly to the wearer's body. Hydration pack compatible, it is fitted with a rear stowage pocket, hose locators and central drinking hose attachment. The vest has a higher cut front and is molded to suit being in a seated position for extended periods, making it particularly comfortable for sailors and kayakers. The simple pullover design is profiled to provide uninhibited arm movement and it's lined with a spacer mesh to increase comfort and reduce chafe. A snug yet comfortable fit is achieved with a four-point elasticated compression system, which is easily adjusted or tightened with one hand. Available in unisex sizes S – XL.
Price: $179.99 » www.zhik.com
Blue Performance Lee Cloth
Whether you're sailing in the confines of the Salish Sea, down the coast, or across oceans, having a secure bunk with a lee cloth is an essential element of onboard comfort. The problem with lee cloths is that they are rarely a one-size-fits-all addition to a boat. The Blue Performance Lee Cloth turns a salon bunk into a sea berth that allows you to get a good night's sleep without rolling off. Made from ripstop nylon material and webbing, including two mesh pockets, it measures 67-inches long by 21-inches wide with 14-9/16-inch long hold down straps. Under-bunk installation is easy with four lengths of webbing that can be cut to size and then screwed into place. The top end of the lee cloth is then attached to available bulkheads with D-rings. When a crew member isn't in the bunk, it can be used to stow larger items in place, regardless of weather.
Price: $70.00 » www.blueperformance.com
Garmin GPSMAP 1243xsv
Multifunction displays (MFDs) continue to innovate at a rapid pace and Garmin's new GPSMAP 1243xsv is no exception. This new high-resolution touchscreen display offers improved sunlight readability and wide-angle visibility over their previous-generation MFDs. One of the most unique features of this unit, though, is its preloaded Garmin Navionics+™ coastal charts, inland mapping feature Auto Guidance+™ technology, and support for optional Garmin Navionics Vision+™ premium map content. Fast and responsive with nearly twice the processing power of previous-generation GPSMAP® devices, this system uses 10 Hz GNSS (GPS, GLONASS and Galileo) for accurate positioning and smooth speed as well as COG data. Built-in Garmin SailAssist features include laylines, race features, set and drift, wind data (requires compatible wind transducer, sold separately) and more. And the "slimline" display borders, edge-to-edge glass and reduced unit footprint, make for easy retrofit in a wider range of dash and helm configurations. Price: $2,999.99 » www.garmin.com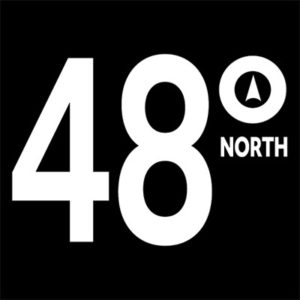 48° North Editors are committed to telling the best stories from the world of Pacific Northwest boating. We live and breathe this stuff, and share your passion for the boat life. Feel free to keep in touch with tips, stories, photos, and feedback at news@48north.com.