Built for an Alaskan expedition, the 1991 Jeanneau 44, Tlingit, has become the perfect family cruiser for owners John and Marcy Baker. With a rotating cast of family and friends as crew, Tlingit voyages the icy waters of Kenai Fjords National Park, Prince William Sound and more from its homeport in Seward, Alaska. In our latest My Boat column, John shares the story behind Tlingit and how the boat remains their family's ideal platform for exploring Alaska.
Our family's sailing and cruising adventures began on a Newport 30 in 1994, two years after our daughter Megan was born. From there, we quickly moved up to a Beneteau Idylle 10.50 when our second daughter, Erin, arrived in 1995. As the girls grew and we started taking their friends and their friends' parents out for weekend trips, we decided a bigger boat would be more comfortable and enjoyable for everyone.
So in 2004, we contacted Dennis Greathouse at Signature Yachts and set up a time to visit Seattle and step aboard some boats. Dennis was the ultimate patient professional, showing us four boats during a three-day trip to the Seattle area. Ultimately, we fell in love with Tlingit. It was the largest of the boats we viewed, with four berths and two heads, and it was in really good overall condition. We were sold.
After purchasing her, we had bottom work done and installed new instrumentation, a heater, and a Max-Prop in Anacortes. With Tlingit ready to go, our family then made a 22-day trip up the Inside Passage and across the Gulf of Alaska to get the boat home to Seward.
But even before that journey home, Tlingit had her own interesting history of sailing Alaska waters. She was one of four Jeanneau 44s that David Rockefeller Jr. bought for his 50th birthday celebration. The boats were built in France, shipped to the East Coast of the U.S., and trucked across the country to Marine Servicenter in Anacortes to be commissioned. Rockefeller named his four boats Haida, Tlingit, Chugach, and Aleut, all First Nations tribes in Alaska.
Rockefeller's goal was to recreate a bit of the Harriman Expedition, which explored Alaska in 1899, with scientists, poets, writers, and family onboard. The original expedition accomplished mapping and naming new fjords and glaciers and helped to chronicle the incredible addition of Alaska to the United States.
Rockefeller's expedition, dubbed Sail Alaska, had rotating crews that spent 10 weeks sailing from Anacortes to Prince William Sound and then on to Kodiak Island. The major sailing magazines of the day covered the expedition, with photos even grabbing coveted front cover spots. I recently located the October 1991 issue of "Cruising World," in which then-editor Bernadette Bernon wrote a feature article while onboard Tlingit.
After Rockefeller's trips in 1991 and 1992, Tlingit stayed in Alaska and became part of the sailing programs offered by Jim and Nancy Lethcoe, authors of "Cruising Guide to Prince William Sound." The other boats went back to the Seattle area and were sold. Tlingit eventually found her way back south to Cap Sante Marina in Anacortes and was also put up for sale.
Now our crew of family and friends sail on Tlingit from April through September, and we've spent at least 60 days out of the harbor every year we've owned her. These adventures have taken us as far west as Geographic Harbor,across Shelikof Strait west of Kodiak, and we've extensively explored Kenai Fjords National Park and just about every nook and cranny in Prince William Sound.
When we arrived in Kodiak, the harbormaster came down to the boat with the original local newspaper article and picture of the four Sail Alaska boats in the harbor in 1991. It was the first time any of the boats had come back, he said, and he was glad to have Tlingit there again.
Tlingit is the perfect Alaska adventure sailboat. She has voluminous storage, abundant water tankage, bunk space for nine guests, a Webasto hydronic heater for the cold and wet days, and a beautiful teak interior that is comfortable and relaxing. On deck we have a Neil Pryde classic mainsail and roller-furling jib, an asymmetrical spinnaker, nine winches, a powerful windlass, and a 10-foot Inmar dinghy with a 9.8-horsepower Tohatsu outboard engine for frequent beach and cove explorations. We love the way the boat sails. We've been in big winds and high seas many times and have full confidence in her to keep us safe.
One of the best parts of owning Tlingit, though, is making so many wonderful memories while raising our girls, when sailing was our main family summer activity throughout their childhoods. Every day out included at least a beach walk, but also often a long hike, dinghy or kayak exploration, and sometimes even snorkeling in a quiet cove. We fondly remember playing games on deck during particularly calm crossings to Prince William Sound. Both girls also improved their reading skills as we took turns reading chapters of each "Harry Potter" book when it was released. We loved having the girls in our laps in the morning and each night as we read books and talked about our day.
I don't think you can find a better way to spend time with your children than being onboard a boat, away from the distractions of 24-hour connectivity. Megan and Erin still come out sailing with us whenever they have an opportunity, and we have a crack crew of friends from all of our time together over the years.
Marcy and I retired two years ago and initially thought we would just cruise Alaska and the Inside Passage. But another plan was hatched during a Prince William Sound trip in 2020, and we decided to sail Tlingit to Mexico with a buddy boat for at least a season or two. We wrote down the improvements we wanted for an extended voyage and started to work down our large to-do list. Alas, in the midst of all the preparation, we decided that we weren't ready to give up summer cruising in Alaska, even if only for two years.
Instead, we ended up buying a Beneteau 49 in San Francisco that we could use to cruise to Mexico. We spent our first winter in Mexico this past year after doing the Baja Ha-Ha rally, and enjoyed being on a boat for seven straight months. We love our retirement lifestyle of cruising in Mexico during the cold and dark winter months back home, and then enjoying the incredible cruising available to us in Alaska during the summer aboard Tlingit.
I'm not sure how long we'll maintain two large boats, but for now, we feel fortunate to have the best of both worlds.
Want to share the story of your boat in a future column? Contact andy@48north.com.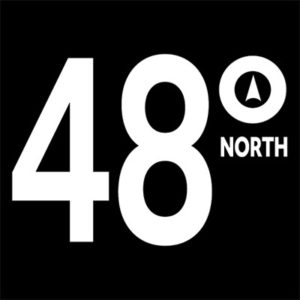 48° North Editors are committed to telling the best stories from the world of Pacific Northwest boating. We live and breathe this stuff, and share your passion for the boat life. Feel free to keep in touch with tips, stories, photos, and feedback at news@48north.com.