Atargatis is a 41-foot 1993 Hunter Legend 40.5 that belongs to the awesome Korwel family from Sequim. They keep Atargatis, which they purchased in May of this year, in Port Hadlock.
The Korwels came into the 48° North universe when they signed up as participants on the 48° North Cruising Rally. From word go, they showed themselves to be keen learners and enthusiastic sailors. After cruising with them in person, they're every bit as bright as they seemed, by every definition of the word. The family of four was experiencing some cruising firsts alongside the cruising rally fleet. The Korwel crew took it all in stride — infusing the good times with lively energy and good humor, and finding silver linings in tough moments like when a significant electrical failure ended their week early so they could seek repair in Friday Harbor.
All four members of the Korwel family, Matt and Elyse, and their daughters Ruth and Ava, are adventurous and well suited to the waters of the Pacific Northwest. They may be early in their big boating journey, but they're doing everything right, in our opinion. We hope you'll help welcome them to the cruising community if you see Atargatis on the water!
Tell us a little about your boating background, have you owned other boats before this one? 
This is our first boat we have ever owned. Growing up in the cornfields of Illinois, there wasn't much in the way of boating. I had a cousin that worked on a coal barge in the Mississippi River, but that's about it. We moved out to the Pacific Northwest seven years ago and have been slowly working our way through all the things we missed out on back there. We all learned to ski and snowboard, spent time hiking and camping on top of mountains, 4×4-ing over boulders, mountain biking and paddle boarding. A little bit of everything. But boating, and in particular sailing, seemed so next level that we kind of intentionally avoided it until recently.
We joined a boat club and spent a year driving, probably poorly, powerboats around Lake Union and out of Shilshole. That was great, but we knew we wanted to take the more eco-friendly route and step up to sailing. We dove into taking classes, both ASA and US Sailing, and took out club boats and tried to start meeting many other sailors and learning from them. When we bought our boat, the insurance company just laughed at our "boating resume". We also spent several months of one-on-one training with Seattle Seafaring to get us up to speed.
Tell us about your boat's name.
Our family is a big fan of mermaids. It just so happens that Atargatis is a powerful ancient goddess of the sea and fertility and was, according to our sources, the first mermaid. Our dinghy is of course named Ariel, the little mermaid.
Tell us the story of how you found your boat and what makes it special to you.
It's a little hard to put it into words, but when we saw our boat after looking at dozens and dozens of others, it just felt like home. We are unabashedly new to boating and were really all over the board in what we were looking for. We knew we wanted a sailboat but we were learning as we looked. Some boats were too small and cramped, some much too large and scary, some were made for things we know we're not ready for. For us, this Hunter had a sweet spot right in the middle of comfortable cruising for burgeoning boaters and still having a little pep in its step for future adventures.
What can you tell us about the history of your boat?
Our boat had its own YouTube channel! The previous owner had done quite a bit of racing, including Swiftsure the last several years, and kept a chronicle of it on YouTube. It was fun to imagine that one day we too could do that with the boat. Also, it was a great way to check in on the state of the boat before we bought it.
What do you like best about your boat?
Every time we take the boat out we find something new and exciting to love. Along with seemingly everyone who comes sailing with us, we are surprised what a nimble creature she is. With a wing keel and oversized rudder, the boat turns on a dime; and in reverse, too. It's a real stress reliever for those of us who are still wracked with visions of playing bumper cars with every boat in the marina.
What do you know now about your boat that you wish you'd known when you bought it? Would that have changed your mind?
As of yet, everything is as advertised. There are, of course, endless boat jobs on any 30 year old sailboat, but so far it's been everything we hoped for and more.
What's your favorite story involving your boat?
It's still a little raw, but we can chuckle a bit. It was the time when I ran out of fuel in the middle of the shipping lanes in the Strait of Juan de Fuca on a windless day, and had to get an expensive tow back because I didn't know that bleeding the lines on the diesel engine was necessary after putting in more fuel when empty. I got to call BoatUS, the Coast Guard, and other boaters on VHF; experienced my first tow; and learned an important lesson about the systems. When it was all said and done, I was thrilled it wasn't an actual engine problem and I got to use a lot of that new boater knowledge.
Describe the most challenging situation you've experienced on your boat and how it performed.
In July we were cruising around central Puget Sound and, after a few days playing at Jetty Island, we were sailing from Everett to Port Ludlow. As new boaters, we're still working on our timing for trip planning, weather, and tides; in this instance, we got it wrong. While crossing near Foulweather Bluff and the entrance to Hood Canal, the northerly winds had crept up to 25 knots. The chop on our beam was breaking over the starboard rail. For new sailors who weren't mentally prepared, it was a lot.
After dropping the sail and stowing the kids below, we motored against 3.5 knots of current, making just 2.5 knots of speed over ground through the chaos. I was more than a little worried we'd drift into the shallows on the lee shore and not be able to break free. Coupled with zig zagging to find the best path through the waves — it was a long, slow, stressful slog into the protection of Port Ludlow. Despite the captain totally getting the weather and tides wrong, the boat was a rock. It never felt out of control, unstable, or unsafe. It built our experience as sailors, but also endeared the whole family to the boat since we all felt she took good care of us.
Where do you plan to take your boat? Do you have a dream destination?
We're hoping to head south next winter and take the boat to the Sea of Cortez. Ideally, we'd find a way to spend a season or two living aboard somewhere between there and the Caribbean. One of the biggest reasons we got the boat was to show our children different perspectives and slow the pace of a busy world. Doing that as a family, learning, and growing as we go explore far afield is our dream destination.
If someone gave you $10,000 that you could only spend on your boat, what would you do with it and why?
What wouldn't we do with it?! Thirty years of boat systems leave plenty to upgrade. Probably we'd spend it on things to make singlehanding easier like electric winches, or some new sails.
If you could have any other boat, what would it be and why?
Right now for us, this is the perfect boat. That said, I can't help but look at some of the performance catamarans and trimarans out there that just scream over the water while also letting the family live in comfort. If money were no concern, the Rapido 50 or Outremer 51 seem to fit the bill. For adventures to the ends of the earth in complete security, probably the biggest goal for our family, I'd have to say the Garcia Exploration 52 seems like the golden ticket. Aluminum insulated hull, centerboard, storage, and systems galore. Thinking about it makes me feel like a kid in a candy store.
Whether it's a beloved cruising sailboat, powerboat, racing boat, wooden boat, workboat, tug boat, or even a kayak or old Laser, we want to share your boat's story in 48° North's "My Boat" series. Email andy@48north.com to get started.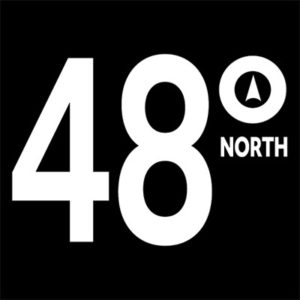 48° North Editors are committed to telling the best stories from the world of Pacific Northwest boating. We live and breathe this stuff, and share your passion for the boat life. Feel free to keep in touch with tips, stories, photos, and feedback at news@48north.com.