When the Dogpatch 26 Moonshine came to Seattle in 2021, it raised more than a few eyebrows from local sailors.
With its retro-cool look, distinctive hard chines and plywood construction, it was easy to see why. Now, owner Marc-Andrea Klimaschewski has big plans for this San Francisco-born ultra light displacement boat (ULDB), and we're excited to have him share more in this month's My Boat column.
Tell us about your boat's name.
Moonshine is the original name of the boat. I generally don't believe in renaming boats and this boat has such a pedigree that I wouldn't dare think about it. When Joe Grieser and Alex Simanis towed the boat up from Richmond, California last year and posted a photo on Facebook, someone commented, "Don't you dare change the name!" — so I won't.
Have you owned other boats before this one?
Moonshine is my second boat. The first boat I bought is the Catalina 38 Image. My crew and I did a lot of work on Image and I still think I may do a Hawaii race on her. In 2019 we raced the Van Isle 360 and according to the race organizers, we were the first boat in the history of the race that managed to successfully sail through Dodd Narrows during the last leg of the race from Victoria to Nanaimo. Great memories.
Tell us the story of how you found your boat and what makes it special to you.
I've been wanting to race to Hawaii on my own boat since 2015, when I took an offshore training class on the Santa Cruz 50 Hula Girl through J/World Performance Sailing School. In November 2020, after almost a year of pandemic craziness, I went on a vacation to Oahu and did a pilgrimage to Diamond Head and Kaneohe and decided it was time to make a commitment, so I signed up Image for Pacific Cup 2022, not knowing how to recruit crew and get the needed prep work done.
Following my Hawaii trip, I spent 10 weeks in Germany with my family and thought a lot about where I wanted to go in terms of sailing. I considered putting money aside and saving for one of the new offshore 30-footers like a J/99, Dehler 30 or Sun Fast 3300. When I was getting ready to come back to Seattle, a Moore 24 came up for sale and it occurred to me that a doublehanded campaign on a ULDB is the quickest way to a competitive Hawaii race.
I talked to Alex Simanis, looking for a lead on a Moore 24, ideally an SC ("sport cruiser" with a slightly higher cabintop and a couple of small windows). He got me in touch with an owner that was looking to sell but also told me that a Moore is a little small for me because I'm 6 feet, 6 inches tall. He then mentioned that there is this "super strong, super fast wooden one-off" in Richmond that may come on the market soon. That boat was, of course, Moonshine. Initially I was skeptical, since a Moore 24 has the added benefit of being a one-design class, but after looking at one I realized that they are a little small for me to go to Hawaii.
It took me a while to convince Moonshine's previous owner, Dylan, to meet up. Moonshine had just gone through a bit of a refit in winter 2020 and was still in pieces. We eventually got together in San Francisco in late March and went for a sail. Seattle weather was pretty bad, but San Francisco Bay was full-on sunshine and the breeze built from almost nothing to 15 knots on our sail from Richmond out of the Golden Gate via Raccoon Passage. The boat was pretty much sold as soon as we turned downwind and put the kite up. I wrote a check the very next day and came back two weeks later to get it ready for the trip to Seattle.
What's the history of your boat? Where's it been? Who built or designed it? Tell us its story.
Moonshine was built sometime around 1980 by Dave Leech in Hank Jotz's sail loft in the Dogpatch neighborhood of San Francisco. She was designed to be similar to Bear Grotto, a boat that Hank Jotz built based on plans drawn by dinghy designer Jake van Heeckeren, but she is a foot longer and has a slightly taller rig. I don't know much about the sailing Dave Leech did on Moonshine, though I found a carbon copy of a PHRF-NW certificate from the 1980s in Moonshine's documents.
In the early 1990s, Bill and Melinda Erkelens bought Moonshine and won the 1994 Pacific Cup overall. Bill Erkelens is now the COO of the 11th Hour Racing team. Eric Steinberg, a marine electronics pro from the San Francisco Bay area, was also a co-owner. After the Erkelens, RB Ward sailed two Pac Cups on Moonshine in 2002 and 2004. She lost her rig during the 2002 Pacific Cup, but RB and his sailing partner managed to cut down the mast, put it back up and finished the race in 14 days and 9 hours. The boat was then sold to Dylan Benjamin, who raced the 2008, 2010 and 2012 Pac Cups and won the division in 2010 and 2012, as well as the Latitude 38 performance trophy in 2012. Since then, she has been doing mostly local shorthanded races around San Francisco Bay until I bought her in April 2021.
What do you like best about your boat?
First of all, Moonshine sails really well and the design works great in the Pacific Northwest. She is light and tender at less than 2,600 pounds displacement and 800 pounds of ballast. (For reference, a Moore 24 carries 1,050 pounds of ballast). The light displacement and the low wetted surface area make her easily driven by a small rig — we're actually using a Melges 24 mast, which makes doublehanding super safe since the sails are pretty small. That being said, we definitely go faster with weight on the rail. When we have too much sail up going upwind, the boat sits on her chines and provides time to reduce sail. Downwind, Moonshine slides through the water and with enough breeze, gets on a plane and goes. We've had her at 15 knots and been fully under control.
The other thing that's cool about Moonshine is that she is a unique boat with lots of history, as mentioned above. It's always fun to talk to people who know the boat from previous races, as well as previous owners. It seems like there is a real community of fans and everybody I've talked to has had nothing but good things to say about the boat.
What do you know now about your boat that you wish you'd known when you bought it? Would that have changed your mind?
Prepping Moonshine for the Pac Cup is a bigger project than I anticipated. I was hoping she'd be mostly ready for the race across the pond since she has done it so many times, but over the last year, there have been many projects. The rig needed a little love, and we installed all new electronics and a new electrical system and built a full set of new sails. Nothing out of the ordinary for a 40-year-old boat that has been in hibernation for almost 10 years, but with only 15 months of prep time before Pac Cup, things are a bit hectic.
The biggest challenge right now is that Moonshine, being a plywood boat, doesn't enjoy the wet PNW winters. She is currently in the shed at Ballard Sails and we are doing an interior refit to protect the inside of the boat from moisture damage. This was a project that I knew had to be done, but I thought it could wait for another year. In California it most likely could have waited, but up here … not so much. No regrets, though; the boat is so much fun to sail and has such an interesting history that all these projects are worth the time, effort, and money.
What's your favorite story involving your boat?
Anna, one of our crew members for Ballard Cup last year, wanted to enter Moonshine in the Sloop Tavern Yacht Club's Women at the Helm race. She didn't have a lot of experience driving boats, so in order to prepare, she helmed a couple Ballard Cup races. In one of the races, Moonshine and Tonic, a boat raced by world-class sailors, wanted to start at the pin on a port tack, but we had timed the start a bit better and were able to shut the door on them by not leaving any room between us and the pin at the start. Tonic had to bail out and ended up having to duck most of the starboard tackers. Of course there were words, but Anna, who was unfazed, drove like a pro. Anna and her crew did really well at the Women at the Helm race, too.
Describe the most challenging situation you've experienced on your boat and how it performed.
The Seattle Yacht Club's Blake Island Race last year was a bit windy and the upwind leg was a slog due to some not-so-great sail choices (we use hanked-on jibs, so sail changes are quite expensive). When we finally rounded the island and had the wind behind us, it had built to 20 to 25 knots with puffs that had some big shifts in them.
After hitting a new speed record somewhere around 15 knots, I managed to round the boat down in a puff and put the spinnaker pole in the water. The good news is that everyone stayed onboard and we only broke our spin pole topping lift, which had weakened after baking in the California sun for so many years. After pulling the kite out of the water, we ended up limping to the leeward mark under jib and finished the race as one of the last boats. I would say the boat performed well, the mast stayed up and we were able to recover the kite with only three people onboard.
Where do you plan to take your boat? Do you have a dream destination?
Pacific Cup 2022 is the big adventure ahead for me and Moonshine. I hope I'll have a chance to sail a bit around the Hawaiian Islands before packing up the boat. After that, I'd love to do some travel regattas and sailing on the Great Lakes and the East Coast — which is much more doable with a trailerable boat.
If you could have any other boat, what would it be and why?
It would have to be a boat with some history. I think Santa Cruz 50s are really cool and I love that they are still racing to Hawaii every year. I'd like to own one at some point, but of course that requires the right kind of network, crew, and budget. The other boat that I really like is the ULDB Ragtime. She seems like Moonshine's big sister with her plywood construction and chined hull, and at 65 feet, she surely has the waterline length to make long-distance races seem a little shorter.
What didn't we ask you about your boat that you wish we had?
You should have asked how I found my sailing partner for Pac Cup! I ran into David and his girlfriend at the Shilshole dry yard when I was looking at a Moore 24. They were working on their van and had already heard that I was looking for a doublehanded Pac Cup boat. David didn't have a Pac Cup ride back then, and within a matter of minutes I had him signed up for a doublehanded entry.
You can follow Moonshine in the 2022 Pac Cup at pacificcup.org.
Want to share the story of your boat in a future column? Contact andy@48north.com.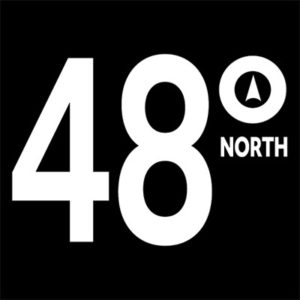 48° North Editors are committed to telling the best stories from the world of Pacific Northwest boating. We live and breathe this stuff, and share your passion for the boat life. Feel free to keep in touch with tips, stories, photos, and feedback at news@48north.com.