My Boat shares the stories of your beloved boats from around the Pacific Northwest
The dream of buying a cruising boat and setting off for adventures up and down the Inside Passage and across blue horizons is a powerful one. When Tamara Miller and Charlie Roberts, along with their two children, started the search for a new dream boat to do just that, they found a 2003 Nauticat 39 that ticked all the boxes on their wish list and these starry-eyed sailors decided on the perfect name — the guiding light, Polaris. 
Homeported at Elliott Bay Marina, here's their story…
About
Polaris
Tell us the story of how you found your boat and what makes it special to you. 
We started actively searching for "The Boat" about three years ago. We knew we needed a boat set up for long-range voyaging, so we started searching primarily for boats over 35 feet to fit our family with two growing kids that would have enough stowage, water carrying-capacity and battery bank to allow us to spend at least a week away from shore power or more. 
Around this time I (Tamara) developed Raynaud's Syndrome, a condition where blood vessels in my fingers and feet constrict in response to cold to the point that I lose blood circulation to them. This, of course, is a big problem for anyone wanting to sail in the Pacific Northwest beyond the summer months. 
On our previous boat, a Pearson 28, I resorted to wearing mittens with disposable hand warming packs tucked inside and then I would quickly throw on my sail gloves if I needed to handle any line or trim sails. This approach was inconvenient and not very effective. Once my hands touched a wet line, they would start freezing up right away. When my hands lose circulation they turn numb, and that's dangerous. I can't do much with them, certainly not handle lines. The more "flares" you have the higher the risk of developing painful sores and even gangrene. 
That's when we started looking at pilothouse sailboats. We began the with Sagas, Sceptres and a series of sailing-focused Nauticats. Ideally, we wanted a boat with an inside steering station so we could actually hand-steer inside if we needed to. Not long after we adjusted our search, a local brokerage listed a Nauticat 39. We jumped on it! 
What's the history of your boat? Tell us its story.
Nauticats are built in Finland, so they are intended for high-latitude cruising. They are known more for their motorsailers, but started a line of pilothouse sailboats in the mid-1980s that have a traditional sailboat hull design and more sail area. 
Our boat had two owners before us. It was called The Polar Express, until we changed the name. Despite the name, our boat has never been up to Alaska, but we plan to take it up there someday soon. 
The first owner was living in Portland when he ordered it, which is a bit of coincidence because we were living in Portland when we bought Polaris. 
Tell us about your boat's name. 
For a long time, we had been dreaming about and looking for a boat that could launch our goal of cruising the Salish Sea and eventually the world. So when we purchased our Nauticat 39, we wanted a name that signified what the boat meant for us and our family. That's how we came up with Polaris — the north star — because working toward getting a cruising boat and pursuing our cruising dream has been guiding our decision-making for a long time, and continues to do so. 
What do you like best about your boat?
Well, the pilothouse, of course. In addition to providing a refuge when it is rainy and cold, we love how much natural light we get into the cabin. We also love how well she sails, even in lighter wind and upwind. We haven't compromised on any of the sailing performance we wanted by getting a pilothouse sailboat. And I love how stable she feels when crossing the Strait of Juan de Fuca.
What do you know now about your boat that you wish you'd known when you bought it? 
Polaris came with a generator. The head gasket had been replaced shortly before we bought her, but the generator still has never really worked for us. That's been a bummer and limits our ability to go without running the engine for very long if one or both of us needs to run the WiFi much for work, or for the kids to do online school. 
Would that have changed your mind?
No, not at all. It's been a pretty minor issue, and after talking to a few folks, we are looking to add solar panels and install a larger alternator on the engine.
Describe the most challenging situation you've experienced on your boat and how it performed.
It was while sailing downwind to Port Townsend in 20-plus knots this last spring when it started to rain. This is the kind of situation that really triggers my Raynaud's. We kept the jib out and popped down below to hand steer. This is exactly the situation we got this boat for. I still could be an active part of our journey (I usually am at the helm) even when it is cold and wet. We didn't have to fire up the engine and we were still able to sail and get to Port Townsend in a reasonable amount of time.
Where do you plan to take your boat? Do you have a dream destination?
We have been living aboard all summer and have spent the past three months cruising Puget Sound and the San Juan Islands. Next summer, we hope to take our boat up to Alaska via the Inside Passage if the border with Canada reopens by then. Long term, we want to take Polaris down the west coast to Mexico, then on to French Polynesia, and around the world. 
If someone gave you $10,000 that you could only spend on your boat, what would you do with it and why? 
Get new sails. The sails we have now are originals. We are also interested in getting an asymmetrical or a second headsail. 
If you could have any other boat, what would it be and why? 
We love our boat and it is the right boat for us right now. In the future, and with more money, we might be interested in a Garcia Exploration 45. It has more space, easier access to the engine, a bigger galley and has a centerboard. They are known to be bluewater cruisers you can take just about anywhere. They also are pilothouse sailboats.
You can follow the adventures of Polaris and crew at fouleduplife.com.
---
SUBMIT YOUR OWN MY BOAT! Whether it is a beloved cruising sailboat, powerboat, racing boat, wooden boat, work boat, tug boat or even a kayak or old Laser, we want to share your boat's story for 48° North's "MY BOAT" series.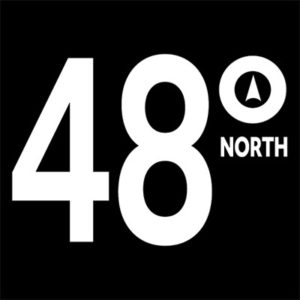 48° North Editors are committed to telling the best stories from the world of Pacific Northwest boating. We live and breathe this stuff, and share your passion for the boat life. Feel free to keep in touch with tips, stories, photos, and feedback at news@48north.com.