A Winter Cruising Discovery
Who among us doesn't love the archipelago of the San Juan Islands for its treasure trove of explorable nooks? There's plenty of reason to see summertime as the best opportunity to discover the tucked away corners, when typically light overnight breeze creates anchoring opportunities in places where they aren't viable in other seasons. Yet, it's in the winter when the breeze is up and the crowds have vanished that you truly have the ultimate selection. Literally any gunkhole could be yours, including tiny Kimball Preserve.
According to the San Juan Preservation Trust (SJPT) the entity that now stewards this land, "In a series of transactions completed in the 1980s, Dr. Walter Kimball — outdoorsman, conservationist and longtime supporter of the Preservation Trust — donated 64 acres of land on the southern tip of Decatur Island. Named the 'Kimball Preserve,' this magnificent property includes wildlife habitat, shoreline, native forest, grassy headlands, and a pristine tombolo."
Not Just Any Port in the Storm
I found myself in Kimball preserve during a test cruise on the new Sirius 40 DS in February. We made a stress-free transit out through Deception Pass and enjoyed a bit of sailing before dwindling daylight required us to strike sail and head for our islands anchorage home. Headed northwest across Rosario Strait, we weathered a surprise westerly squall inside the deck saloon when approaching the nearest entry to the protection of the islands: Lopez Pass.
The breeze came down from 30+ to the high teens as we entered Lopez Pass with dramatic late-sunset clouds. We could see the isthmus of Kimball Preserve to our north as we navigated some busy outgoing current. We turned north around the southwest tip the unnamed tombolo (island connected to land by a bar or spit) that connects to Decatur Island, passing the silhouettes of the national wildlife refuge at Ram, Cayou, and Rim Islands on our port side.
Continuing around the corner to starboard, and the first anchoring option revealed itself. An acute-angle-shaped-bay called Kingfisher Cove tempted us. Yet, with the breeze forecast to swing from south to west to northwest overnight, we continued on. I had my hopes set on the next bay east, which was deeper into the southern hook of Decatur and had the possibility of three-sided protection.
Creeping into the little lagoon of Kimball Preserve, darkness was upon us. We could make out the shapes—a rock wall to our east and a wind-beaten island with a couple resilient conifers west of us. Like a tired dog before collapsing onto his bed, we circled to assess. Yes, this was home for the night!
Anchoring
We dropped anchor in about 10 to 20 feet of water… twice. The first time, we dropped a little too close to the middle of the bay, and our swing in the westerly brought us too-close-for-comfort to the cliff behind us. The shallow draft of the Sirius allowed us to safely come very close to the shoreline, but we used our discretion and moved the anchor point a little further north and west from our original location. Each time we dropped, the anchor bit and held without protest in a muddy bottom.
We enjoyed a hearty dinner as the full moon rose. The breeze swirled around the features as it shifted throughout the night, and we took care to tie off the halyards to avoid banging. With breezes in the 20s, the water in our little anchorage was dead calm and we had a pleasant sleep. Our track revealed that we swung 100-degrees in the changing winds.
Eye-Popping Surroundings
In the morning, the shapes we had seen the night before were unveiled in their electric green moss-covered glory. What a beautiful spot! Directly south of us was a low-slung beach with lots of dinghy landing space, though it's shallow enough you may be in the mud before you're really on the beach, especially at low tide. This pebbly bar connects the tombolo we'd rounded the evening before to the southernmost tip of Decatur. There are hiking trails out on that tombolo as well as on Decatur's headlands before your reach private property.
We had a slow, quiet morning, enjoying the peaceful panorama. We ate a leisurely breakfast while watching a young eagle enjoy hers on the rocks just off of our transom. It was kind of magical.
I have not passed by Kimball preserve in the height of cruising season, but I imagine it is seldom as empty as we found it. I can't imagine more than a couple of boats swinging around in there, though anchoring with sterns tied to shore on a quiet night might reasonably fit closer to a half-dozen.
If you've ever stayed at Kimball Preserve, let us know what your experience was like. I, for one, can't wait to return!

Learn more at the preserve specific page created by SJPT.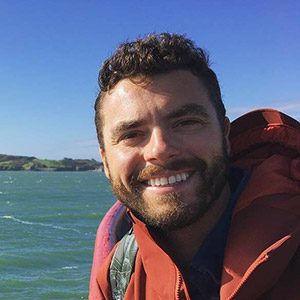 Joe Cline has been the Managing Editor of 48° North since 2014. From his career to his volunteer leadership in the marine industry, from racing sailboats large and small to his discovery of Pacific Northwest cruising —Joe is as sail-smitten as they come. Joe and his wife, Kaylin, welcomed a baby girl to their family in December 2021, and he is enjoying fatherhood while still finding time to sail, make music, and tip back a tasty IPA every now and again.