In our latest Throwback Thursday, find out more about Deception Pass from cruising guide authors Jo Bailey and Carl Nyberg that appeared in the March 2002 edition of 48° North.

With  swift currents churning between towering cliffs,
Deception Pass will make your heart soar with the eagles above.
by Jo Bailey and Carl Nyberg
---
Two-mile long, swift-running Deception Pass separates the steep, forested rocky cliffs of Whidbey and Fidalgo islands. It is used by many mariners going between Puget Sound and the San Juan Islands and other points north, and connects Skagit Bay to the east and Rosario Strait to the west.
Tumultuous currents churn through the deep pass, with a navigable width of barely 150 feet. At more than 8.5 knots on the ebb and 7.3 knots on the flood, the rapidly moving water causes whirlpools and strong eddies along the shores.
Towering 182 feet above the canyon-like passage is a two-lane highway bridge, built in 1935, connecting the two islands. It is an awesome sight, whether looking up at the bridge from your boat, or peering down into the turbulent waters from the bridge.
Deception Pass is a natural drama at any stage of the currents, but that's not what Captain George Vancouver noticed when he saw the pass in 1792 . He first thought Deception Pass was an inlet, but when Sailing Master Joseph Whidbey and his crew rowed and sailed their longboat through the passage, they discovered it was more than an inlet and that the land to the south was an island. In his journal Vancouver wrote of " … a very narrow and intricate channel, which, for a considerable distance, was not forty yards in width, and abounded with rocks above and beneath the surface … These impediments, in addition to the great rapidity and irregularity of the tide, rendered the passage navigable only for boats or vessels of very small burthen."
A large carved board at the bridge states:
"To the north of this narrow passage is Fidalgo Island … to the south is Whidbey Island, second largest island in the contiguous 48 states, which Vancouver … at first thought to be a peninsula. Upon the realization that he had been deceived as to the character of the large island, Vancouver gave this channel the name of Deception Passage, and in naming the island he gave it (after) his trusted officer, Joseph Whidbey."
For centuries before those early European explorations, Swinomish and Samish tribes camped peacefully during summers in the pass area where they fished and hunted.
Spanish explorer Don Francisco Eliza first charted the pass in 1791. The Wilkes Expedition further explored the area in 1841. Later President Andrew Johnson set aside part of the region as a military reservation. Settlers "discovered" the area in the mid-1800s and moved in to farm, fish, log and build mills, as they did in most of the islands and lands around Puget Sound.
There are direct daily predictions on Deception Pass in the Tidal Current Tables. Since the current velocity in the pass at times makes it prohibitive for some craft, the Coast Pilot and the Tidal Current Tables both advise negotiating the pass at slack water, which lasts approximately 20 minutes.
Park rangers advise caution and suggest not proceeding through if the current is over 3.5 knots, although mariners with local knowledge, experience and fast boats may be seen bucking the adverse currents at any time. Slower boats generally run with the currents.
Tugs with tows often use Deception Pass to avoid rough weather west of Whidbey Island. Some experienced kayakers practice their river-running skills in the pass. Experienced scuba divers find the marine life in the pass fascinating, however, hazardous currents make diving here only for the extremely proficient.
Westerly winds, huge swells and tide rips can make the passage dangerous to small craft. It's not unusual to have wind gusts through the pass at 45 to 50 knots during storms.
Your first trip through the pass is a thrill, and that scarcely diminishes in subsequent trips – each is different.
What's there – besides the pass? You'll find just about everything: over 4,100 acres of land and about 15 miles of shoreline on both sides of the pass belong to Deception Pass State Park. With its several bays, satellite islands, moorages and anchorages, it is a delightful region to explore by ship and shore at the north end of Whidbey Island.
Hope and Skagit Islands
If you're cruising from the south through Skagit Bay, your first stop could be Hope Island Marine State Park about 2 miles north of the entrance to the Swinomish Channel.
This charming island park has trails, rocky bluffs, beaches and is heavily forested, reminiscent of early days before the islands were logged by crews with hand-held cross-cut saws to provide firewood for the steamboats which connected early waterfront communities.
Four park buoys, picnic and camp sites, but no water, are along the north shore at Lang Bay. The northwest tip of the island gives the bay some protection from unruly west winds blowing past.
Lang Bay, unnamed on charts, is also known locally as Smuggler's Cove­, like so many other places. We've counted at least four "Smuggler's Coves" throughout this region, the San Juans and other nearby islands, and we're sure there are more.
Naturally, other recreational mariners have also discovered Hope Island, and the buoys may already be taken when you arrive. Locals use it too, and enjoy stopping for a picnic or a hike.
Anchoring is possible east of the buoys along the north shore, or along the south shore in about 2 to 5 fathoms, mud bottom.
Facilities at the park include 166 acres with about two miles of shoreline and trails criss-crossing the island.
You have choices of many things to do at Hope Island, or simply do nothing except relax on the boat. This is a great place to beachcomb, hike, swim, fish, crab, or gunkhole around the island in the skiff. Popular as the island may be, much of the time you may find yourself alone on the trails and beaches.
Beautiful Skagit Island Marine State Park, a miniature version of Hope, is less than a mile north of Hope Island across Kiket Bay. Two mooring buoys are off the northwest shore, and the island has 21 acres, one mile of shoreline, two campsites but no water. Anchoring is possible off Skagit in 5 to 10 fathoms,  but be aware of currents and westerlies.
Kayakers also enjoy the island. On the north tip is a wonderful small boat camp with a sandy beach – and porcupines. A hiking trail goes around the island's perimeter, while animal trails go through deep forests. This is another enjoyable gunkhole, especially if you can snag one of the buoys.
Skagit and Hope, both part of the huge Deception Pass Park, are often used as a layover for those waiting to go through Deception Pass. The islands are serene and peaceful, but occasionally the quiet is interrupted by jets training at nearby Whidbey Island as they fly over at high speeds and low altitudes.
Cornet Bay
The bay immediately south of Ben Ure island is part of Deception Pass Park, part private land. The park has three 96-foot floats with moorage on each side, one float attached to a pier and two anchored offshore. The floats swarm with crabbers tossing out crab rings and hauling them up, filled with flailing-legged crabs who would prefer to remain in the depths.
Anchoring is possible in the bay, but boat traffic can be heavy. There is a popular four lane launch ramp with nearby parking, picnic tables with barbecues,  restrooms with showers, a children's play area, but no camping. A Natural Forest Area is adjacent to the east side of park, providing roads and trails through an old growth forest and to 395-foot high Hoypus Hill.
The community at Cornet Bay is along the south shore west of the park facilities, and there are several businesses of interest to mariners, especially Deception Pass Marina. There is not only guest moorage, but diesel, gas, propane, kerosene and a well-stocked basic store, including groceries, marine and fishing supplies. When we overnighted there we could hear the coyotes howling on Goose Rock immediately north of the marina.
The Bridge and the Pass
Fantastic Deception Pass Bridge is actually two bridges: the 976-foot southern span over the pass between Whidbey Island and little Pass Island (in the pass), and the 511-foot northern span over Canoe Pass, between Fidalgo and Pass islands.
Construction of the 1,487-foot-long bridge took just one year. It was dedicated on July 31, 1935, built by Puget Construction Company and the Civilian Conservation Corps (CCC) at a cost of $482,000. It costs more to paint the bridge now than it cost to build it.
The bridge has 410 feet of horizontal clearance, with vertical clearance of 144 feet at the center, high enough for even the Lady Washington to pass under. It is spectacular, high above us, between canyon-like rock cliffs. As the kids say, it's "totally awesome."  It is now a National Historical Monument.
It's time to go through the pass, from east to west. As charted, boats need to go north of Ben Ure Island and on either side of Strawberry Island. Pass Island is about 0.3 miles west of Strawberry. You may well see fascinated tourists on the bridge above as they watch boats below in the currents. We always wave.
The intricate steel girders securing the bridge to concrete pillars and Pass Island loom high above us as we head through the channel between Pass and Whidbey islands. Those in fast boats may choose the dog-leg of narrow Canoe Pass on the north side of Pass Island.
And then we're under the bridge. Running through the pass at near slack water, it is relatively calm with only small waves. We are amazed at the stunning beauty and energy in this chasm. In less time than it takes to tell, we're through the pass and on our way out towards Rosario Strait.  But first a stop in Bowman Bay, the last bay in the park.
Bowman Bay
We pass through the channel between Reservation Head and Coffin Rock (dreadful name) keeping outside the 5 fathom curve and head into the circular bay, nearly 400 yards across. Here are campsites, picnic areas, launch ramp, forests, hiking trails and lovely beaches.
Depths range from 1.25 to 2.5 fathoms, but the bay can be deceiving, as it is very open to westerlies. Anchoring is possible, and we usually find the best protection is in the southeast part of bay, where the water is shallow. There is a dock and floats at Sharpe Cove in the northwest corner of the bay, and a fishing pier with a small float is in the east portion.
Five mooring buoys are along the northern shore, which is more exposed to westerlies. Strong winds can make tying to these buoys extremely uncomfortable. Friends said they spent a miserable, frightening night on one of the buoys late last summer, concerned they would end up on the rocky cliffs nearby.
Even so, in calm, quiet weather, we regard this as delightful gunkhole.
We were in Bowman Bay just last month and found the beach above the high tide line loaded with driftwood, tall beach grass flattened to the ground by recent storms. Enormous power in those westerlies.
One of the many delightful walks in Bowman Bay is between the camping area and Sharpe Cove. There on a small peninsula is the carved, double-sided story pole of lovely Ko-Kwal-Alwoot, the Maiden of Deception Pass, a Samish princess who is the guiding spirit of those who live on her shores. As currents run through Deception Pass her hair can be seen sometimes gently drifting on the water's surface and her legend lives on.
Bowman Bay was the destination for the Bailey family "cramping" trip in the early 1960s. Jo drove the small station wagon with a couple of the kids, dog, tent, etc., while the other kids sailed with their dad in the 19' sailboat, Winsome. They met at various campsites on the water from Olympia to Deception Pass. In retrospect it was great fun.
Getting to Deception Pass
Deception Pass is about 50 miles from the Seattle area. It is reached, on the "inside," by cruising north through Saratoga Passage between Whidbey and Camano islands and into shoal Skagit Bay through a well-marked channel, turning west around Hoypus Point..
From the northeast, go south about 18 miles from Anacortes through the Swinomish Channel past LaConner, and turning north from the well-marked channel.
Deception Pass may be reached on the "outside," from north, south or west, from Rosario Strait.
Charts and other information useful in this article:
18421, Strait of Juan de Fuca-Strait of Georgia, 1:80,000
18423, Strip chart, Bellingham to Everett, pages A, 1:80,000; B, insets 3 1:40,000 & 4, 1:25,000
18427, Anacortes to Skagit Bay, 1:25,000
18441, Puget Sound, Northern Part, 1:80,000
Tide Tables
Tidal Current Tables
Current Charts, Puget Sound, Northern Part
Jo & Carl are authors of Gunkholing in the San Juan Islands, a Comprehensive Cruising Guide Encompassing Deception Pass to the Canadian Boundary, and Gunkholing in South Puget Sound, a Comprehensive Cruising Guide from Kingston/Edmonds South to Olympia.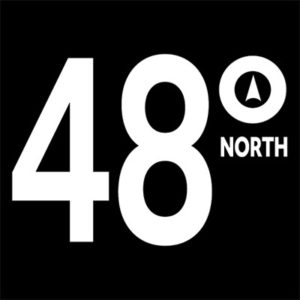 48° North Editors are committed to telling the best stories from the world of Pacific Northwest boating. We live and breathe this stuff, and share your passion for the boat life. Feel free to keep in touch with tips, stories, photos, and feedback at news@48north.com.