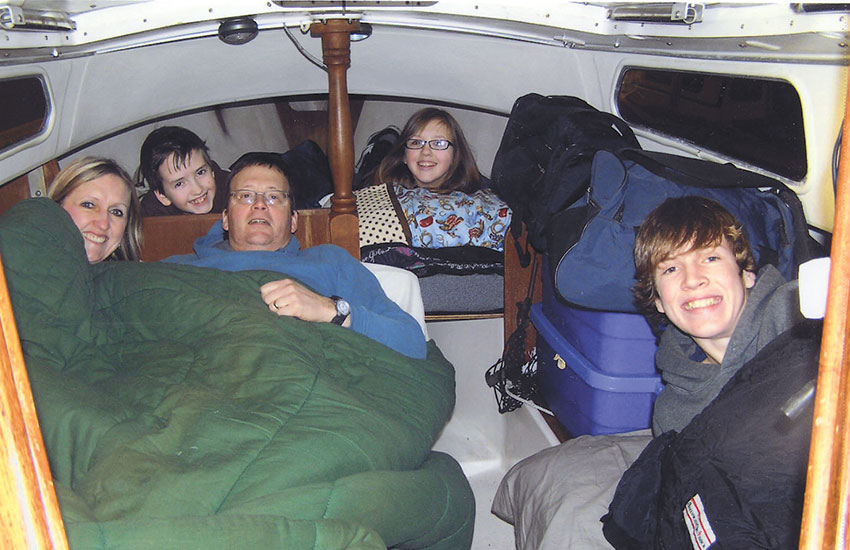 From the February 2010 issue of 48° North by Michael Karangelen
Sleeping five people on a Catalina 22 is no small task. It was a lot easier in 2001 when we first bought our boat and three of the people were under age 10 and significantly smaller.
Meet the Karangelens today: Mike and Karin (in our 40's), Luke 17, Sarah 15, and Noah 12. Our boat seemed so much larger nine years ago. We are still sleeping five, but we are being more creative about it.
There are things you can do to maximize space in a sailboat with 47" headroom at best and a 7' beam. Like many small boats, storage is limited to lift hatches in the seats that go directly to the bilge. This proved to be difficult to use and too damp for most of our provisions. Therefore, we chose a stacking bin system on the starboard settee. We made more room by removing the cushions and slide out galley, which consisted of a place to hold an alcohol stove and a sink limited to washing tea cups. Our camping equipment was already stored in 24"x15"x9" tubs. We purchased more tubs for food, games, and boat stuff. Two tubs stack neatly with room left on top. Taped on labels detail the contents of each tub; and a truck cargo net holds them securely in place.
An essential piece of equipment for small boat cruising is a boom tent. It is like adding a rec. room on your house. It allows the galley essentials to spend the night outside protected from the elements, so there is room inside for everyone to lie down.
The transformation into sleep mode is like a game of musical chairs. There are more people and things than there are places to put them. We have done this on the hook, but it is a lot easier when you can put things on the dock. Generally the sequence goes something like this:
• Everyone, but Captain Mike retires to the cockpit. I start forward, clear the v-berth of sleeping bags, sliding the covers over the porta-potty and putting the cushions in place.
• Then the dinette table is put down and Karin and my sleeping bags are zipped together. I'm not sure why we need two sleeping bags when one covers the whole berth. You really have to love each other to sleep this close.
• Next, some of the extra storage tubs and cooler can go outside to clear the starboard quarter berth. One half of the v-berth cushions or rolliup mats can be used for padding. Luke prefers to sleep outside on the cockpit cushions if it is not pouring rain. If it rains, Noah bunks with Sarah in the v-berth and Luke takes the quarter-berth.
What small boat cruising loses in accommodations it makes up for in togetherness. I find great satisfaction in lying on my bunk, being able to touch everyone in the family or nudge them if they need it.
P.S. It's good to bring along some earplugs too.
Making the Most of Small Boat Cruising: A Good Destination
Small boat, small budget, small amount of time and a not-so-small family, adds up to local weekend trips as the majority of our cruising destinations. We sail a Catalina 22 named Sweetpea with a crew of five out of Gig Harbor, and enjoy the south sound which seems relatively uncrowded even on holiday weekends.
One of our favorite destinations is Penrose Point State Park. We have driven our car and tent camped in one of the 82 sites. We have sailed over and hauled everything up the hill to the campsite. What works best for us, by far, is sailing to the dock, sleeping on the boat and enjoying the excellent day use facilities.
Penrose Point is located on the east side of the Key Peninsula on the Carr Inlet next to the town of Home. It is 14nm from Gig Harbor. Marine facilities include 300 feet of dock moorage and 8 buoys for deeper draft boats. We have seen large groups of boats anchored together in Mayo Cove.
There is a fuel dock and small store at the marina located across the cove. It is open summer weekends and has basic supplies including ice.
If the accommodations and space on your boat are limited , as on our boat, it is a good idea to be sure the facilities on shore make up for it. Penrose has real bathrooms with hot showers ($.50). There is a covered picnic area just up from the dock that was a real lifesaver for us last Labor Day weekend. It was a perfect place where we could cook on the Coleman stove and eat comfortably sheltered from the rain. Also, it was just far enough away to keep our early riser noise away from the rest of the boats.
Penrose has a large number of picnic tables, two covered picnic areas, two fire pits, and grills scattered throughout this beautiful 152 acre park. There are 2 miles of great beaches and nature trails and a big grassy area for playing games with the family like football, croquet, and bocce ball. The park charges $5.00 for day use areas, and they do get a lot of use on sunny weekends. We pay $11 to stay at the dock ($.50/foot) which nets us $6 for sleeping – not bad.
After a good, long boat ride with three kids, the first order of business is getting a grill started for dinner. This makes the anticipation of dinner so great that I've had higher praise for plain chicken breast at the park than I get for steak at home. When dinner is settled, it is time for a walk, some games, and a campfire. "Are we having s'mores tonight?"
I know that old saying about sailing, "The journey is the destination," but a destination worth sailing to is a good idea to keep the crew happy.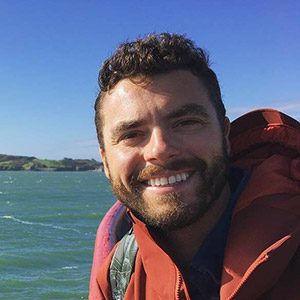 Joe Cline has been the Managing Editor of 48° North since 2014. From his career to his volunteer leadership in the marine industry, from racing sailboats large and small to his discovery of Pacific Northwest cruising —Joe is as sail-smitten as they come. Joe and his wife, Kaylin, welcomed a baby girl to their family in December 2021, and he is enjoying fatherhood while still finding time to sail, make music, and tip back a tasty IPA every now and again.