This post kicks off Galley Week, in which we will share a few favorite Galley Essentials from over the years, as well as Amanda's final column in this illustrious series. Help us celebrate Amanda and wish her well!
Amanda Swan Neal has been a fixture in the pages of 48° North since 2005. Her columns have been reader favorites not only because of the exotic and delectable recipes, but because they tracked her cruising adventures literally all around the globe and captured a spirit of exploration all boat-folk share. With humble gratitude for her 16 years of commitment, I hope you'll join me in thanking Amanda and wishing her bon voyage as she closes this Galley Essentials chapter.
Amanda got connected with 48° North because she was giving galley-themed seminars at the Seattle Boat Show. Her infectious enthusiasm attracted then-publisher, Chuck Streach, and my predecessor, Rich Hazelton, who sought her out, saying, "You look like you're having fun in the galley." An iteration of a culinary cruising column had already existed in the magazine, but Amanda brought her personal blend of charm, excitement, and extraordinary sailing skills — all of which have been hallmarks of her columns ever since. For Amanda, with her book Galley Essential already published, the new column provided an opportunity for her to keep researching recipes and interviewing sailors.  
Born in Auckland, New Zealand, Amanda's early years found her visiting what are now her home waters in the Pacific Northwest in a sloop she helped her parents build. Returning to New Zealand, she first trained as a sailmaker before pursuing a career as a rigger. This knowledge paved the way for young Mandi Swan to become a part of the Whitbread's famous first all-women crew, Maiden, with a designation as the team's rigger. I'm at least somewhat ashamed that I worked with Amanda on her 48° North columns for some time before I knew about this facet of her life. That she didn't need to flaunt this part of her history speaks volumes about what a full life of sailing endeavors and accomplishments Amanda has enjoyed. I will say that one of my favorite columns she did in my tenure was a Christmas reminiscence about her arrival into Antigua with the Maiden crew all those years ago. 
In the years since, Amanda (along with her co-skipper, co-instructor, and husband John Neal) has become one of the world's foremost educators in offshore sailing and cruising. Indeed, it has been her nearly unceasing exploration with these educational expeditions aboard their Hallberg Rassy 46, Mahina Tiare III, that has continued to provide cruising stories galore and ample column inspiration from new cuisines around the world. I can't even imagine how fun it must be for the owners of small, seaside restaurants to have Amanda stop in and take not only nourishment from your food, but also a genuine interest in your life, your food culture, and your community. If there's one thing of which I'm certain, it's that Amanda will keep engaging locals in this way whether there's a column to write or not. 
Amanda looks back on her cruising and her columns and, unsurprisingly, finds it challenging to pick any particular highlights. She was, however, willing to say that Morocco lives large in her memory. She remembers "the tanginess of the food with the yogurt and honey, how fresh it was, and the presentation. And the markets were spectacular. It was one of my 'pinch me' moments." She reflects fondly on her columns about "Spuds in Spitsbergen", passages to and from Hawaii, and a wide variety of beach-side barbeques, especially those on Mopelia in French Polynesia.   
With more than 346,000 ocean miles under her keel, you might think Amanda would be looking to slow down. It certainly doesn't sound like it. Life for her and John is evolving. They haven't been able to be with their beloved Mahina Tiare since the onset of the Covid-19 pandemic. But this isn't stopping them. They've now sold the boat, not because they planned to stop, but because they discovered another model that works — one involving charter boats instead of their own vessel. They tested it in 2020 and will run expeditions in this fashion again in 2021 and 2022.
Through it all, Galley Essentials has been a constant for Amanda, as her written voice has been for 48° North readers. We will look forward to guest appearances from Amanda in the future. But with 16 years of terrific columns in her wake, we'll give her a little time off watch. Thank you, Amanda, for all you have shared with 48° North readers over the years!
Check 48north.com throughout the week for some terrific Galley Essentials columns from Amanda's 16 year run, and be sure to come back on Friday for the final Galley Essentials column in the series.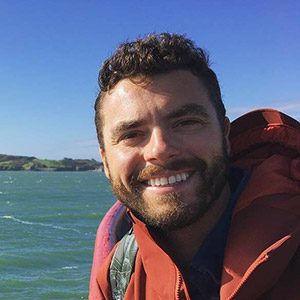 Joe Cline has been the Managing Editor of 48° North since 2014. From his career to his volunteer leadership in the marine industry, from racing sailboats large and small to his discovery of Pacific Northwest cruising —Joe is as sail-smitten as they come. Joe and his wife, Kaylin, welcomed a baby girl to their family in December 2021, and he is enjoying fatherhood while still finding time to sail, make music, and tip back a tasty IPA every now and again.