Local Boating Organizations Have Made Final Decisions to Cancel Summertime Events
With the summer boating season fast approaching in the Pacific Northwest and the effects of COVID-19 still bringing restrictions and uncertainty throughout the region, decision time on the fates of many large and popular maritime events has been looming—and now it's here.
It's with incredible sadness, yet acute understanding, that we share the following events have chosen to stay hove-to with the hope of sailing once again when the storm has passed.
Northwest Maritime Center
The news from the Northwest Maritime Center (NWMC) and Executive Director Jake Beattie is "…like that of organizations everywhere: we're regrouping and retooling to find new ways to serve and survive in the tumult, all while trying to learn the best ways to stay connected to each other and our mission while we can't physically be together. Despite the challenge of the moment and implications of the outcomes, I am actually really proud of how well we are executing the navigation."
Things are changing fast, but at the time of this writing (April 24), here is the news from the NWMC. All public-facing events organized by the NWMC will be canceled through September. Specifically, these include:
R2AK, Seventy48 & Salish 100 are Canceled
According to Beattie, "We looked at alternative dates for all of these, but given the uncertainty and the financial risks associated with big changes, we decided to cancel. We're working on some additional activities and content that could be accessed virtually, more on that as it develops. It's a big change for us, and while these cancellations are just the latest in a parade of closures throughout the world, they feel both big to us and the only thing we could do. Next year…"
Here's a note from R2AK and Seveny48 Race Boss, Daniel Evans, on these events…
Update from the Race Boss, April 24, 2020
There are two ways to say this:
R2AK and SEVENTY48 are canceled in 2020.
R2AK and SEVENTY48 2020 aren't canceled, but you can't cross the starting line until 2021.
Either way, Race to Alaska and SEVENTY48 are not running this year. Beyond the barrage of fan/hate mail for putting off the decision until now, we've been working behind the scenes weighing ethical and practical issues and holding hope in a chaotic environment. These days, finding answers is like reading tea leaves while skydiving. Foregoing the near impossibility of getting leaves to stay in the bottom of a cup, when we did, we were left with answers like, "bird, Aries, purification, wheel"—oddly on par for this virus. In the end, we switched back to coffee and chose to answer the same questions we ask of racers when racing:
Can we do this? Yes or No.
Is it worth the risk? Yes or No.
Can we survive this? Yes or No.
If you haven't guessed, you need a triple affirmative before pushing away from your last success. The first error leading to any great debacle is often a simple decision compounding into a chain of errors leading to a free-fall, tea-leaf dive reading, "spiral, anchor, knots, stop." (Which is apparently bad.)
Race heroics are often race jeopardy, and we refuse to gamble with others' lives without their consent. We could race; there is a route around all the closures, but, like driving with your feet, could isn't should, and it's not worth the risk for racers or communities along the way. Continue reading at R2AK.com…
Wooden Boat Festival is Canceled
Wooden Boat Festival Director, Barb Trailer, provides an update here…
After much careful consideration, we feel we have no choice but to cancel the 2020 Wooden Boat Festival. There is great uncertainty of festivals being allowed to happen come fall, and if they are allowed, the conditions may be ones that defy the heart of our Festival—being together, boats rafted up, sharing the docks, the presentations, the food court, the dance floor. But ultimately, it is the welfare of our festival community that has pushed our decision. This will be the first year in forty-four that the wooden boat community will not come together in person to celebrate what we love. What is fall without the Festival? For the sponsors, boaters, vendors, volunteers, presenters, the RV'ers, and all the people that come every year, it's part of our annual rhythm and lives. We are heartbroken to not come together, but the love we feel for our festival family is ultimately why we choose to stay apart.
We are mourning the incredible year we had lined up! Poster art from Port Townsend's famous artist Chris Witowski—that will be hidden in a vault for next year. The 2020 theme was showcasing Croatia, and Croatian Americans with a big focus on the fishing industry. Like the Japanese theme from last year, there are hundreds of thousands Croatian Americans living around the Puget Sound. We were looking forward to sharing their stories, music, food, and culture. I hope we can bring this wonderful theme another year. Continue reading at WoodenBoat.org…
Point Roberts Race Week
Point Roberts Race Week event producer, Schelleen Rathkopf, shared the difficult news of the cancellation as follows…
It is with great sadness that the decision has been made to cancel Point Roberts Race Week in 2020.
The Race Week Advisory Board has been watching COVID-19 very intently since the onset. But with the most recent developments, there is no choice but to cancel. It was just announced that the border closure between US & Canada will remain in affect for a minimum of 30 more days. Whatcom County just released a directive that all events that attract more than 10 persons will be banned through the summer and of course Point Roberts is part of Whatcom County. Ironically, this is happening the same week that ABC News shared that Point Roberts, WA was the safest place in the USA to be right now (see the Point Roberts Race Week Facebook page for the ABC News clip).
This is especially heartbreaking as so much time, energy and financial resources have already gone into the preparations for the debut of the new venue in Point Roberts this summer. We have the Corsair National Championships, the 6mR North Americans, the Carr Trophy, and an entire new community engaged to host Point Roberts Race Week. To get to this point has been a year's worth of work and cancelling the event due to COVID-19 is especially difficult.
For those who have already registered to race in the 2020 event, the following options are available. Continue reading here…
Center for Wooden Boats
The Center for Wooden Boats recently announced that they were forced to close both campuses. This resulted in canceled programs including classes, field trips, regattas, and their biggest fundraiser of the year, the Annual Gala & Auction.
Acknowledging that many boaters are anxious to get back outside and on the water again, including the furloughed CWB staff, they are launching an online silent auction and virtual raise-the-paddle. In order to hoist sails and bring the staff and community back together, you can help the Center reach their goal of $75,000 to get ready to welcome boaters back to the CWB docks as soon as they're safely able to open again.
To help, check out the Inside to Dockside Silent Auction & Fundraiser (April 27 – May 3) and join the Virtual Raise the Paddle Cocktail Party on Saturday, May 2, 2020. If you would like to attend, please  make a bid, donation, or register. And if they reach their $75,000 goal early, the CWB staff will jump into Lake Union live during the cocktail party. Find out more HERE.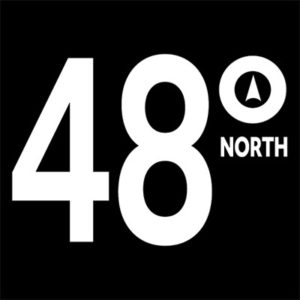 48° North Editors are committed to telling the best stories from the world of Pacific Northwest boating. We live and breathe this stuff, and share your passion for the boat life. Feel free to keep in touch with tips, stories, photos, and feedback at news@48north.com.