Dementia Adventure
Encouraging People with Dementia to Reap the Physical and Mental Benefits of Sailing

As everyone who sails knows, a day out on the water has a huge impact on our physical and mental well being. But as we get older and lose our mobility, this becomes more challenging, particularly for anyone living with dementia. They and their carers often find the world closes in, having to give up activities they once loved and becoming increasingly isolated. Now, however, the charity Dementia Adventure offers the chance to get back on board again – or try sailing for the first time – through fully supported sailing holidays.
Lucy Harding, who has a background in adventure travel, and her husband, dementia specialist Neil Mapes, founded Dementia Adventure – which works with some RYA sailing schools and centres – in 2009. "We wanted to get the message across that people with dementia can benefit from time out, just like anyone else," Lucy explains.
Through a programme of carefully structured days out, walks and holidays, the award-winning social enterprise company enables people to reconnect with nature and retain a sense of adventure in their lives.
Indeed, many studies show that fresh air and exercise have numerous benefits for people with dementia, and could even delay the progress of the disease. Dementia Adventure's first sailing holiday was in 2011, on a Pilot Cutter in St Mawes. "We took two men with dementia and their carers, and it worked a treat," Lucy recalls.
At first, neither of the men, who were both experienced sailors, were able to hold a course for more than a few minutes, but by the end of the three days their attention span had improved significantly. "They were confident helmsmen again," says skipper Adam Purser, while Alan – one of the men with dementia – declared the experience had been 'absolutely humongously good.'
The holidays have been such a success that, this year, Dementia Adventure is offering three sailing options: a classic, full-sail Thames Barge; a historic Brixham Trawler; and two 10m Hanse yachts. Heavily underwritten by the Dementia Adventure Trust, the holidays comprise four nights on board with up to 16 people: four people with dementia and their carers, four trained members of the Dementia Adventure team, the skipper and crew.
No previous sailing experience is required, although you need a reasonable sense of balance and level of mobility. You can help as much as you choose, both above and below deck, but everyone is encouraged to be part of the crew, helping forge close bonds. The group dynamic kicks in really quickly. Lucy notes "Everyone is kept busy, and sailing is particularly brilliant at giving everyone a shared goal."
"Before we went on the first holiday, we were both a bit nervous," admits Chris Adye, whose father John has dementia. "We were going to be confined on a boat, with a group of people we didn't know, and at that stage – soon after diagnosis – my father felt a bit of the stigma attached to any form of mental illness. However, it probably only took half a day for people to start gelling, and by the end of the holiday we were all working as a team, with everybody mucking in to provide support," he says.
As with many people with dementia who go on these holidays, John's attention span, coordination, speech, appetite and sleep patterns all improved. "On a Dementia Adventure sailing holiday you eat well, sleep well and get plenty of really positive encouragement," Chris explains. Other benefits include reduced levels of stress, anxiety and aggression, and improved verbal expression. "With the friendly and supportive crew, and the security of feeling really at home in his surroundings, my father really opened up and told tales from his past that I was not previously aware of," he adds.
Dementia Adventure notes a particularly marked increase in fluency among those who choose to climb the rigging (at anchor and in harness). In one case, the sons of a man who had previously been incapable of forming a sentence beforehand, remarked their father was "just like his old self", for the first time in years, after climbing the rigging.
And it is not just the people living with dementia who benefit. The holidays are also designed to provide much-needed respite for carers. People often say that meeting others in the same situation is one of the best things about the holidays. "Sharing experiences can also be helpful; seeing how other people cope with dementia in what is a very different environment," says Chris.
Dementia Adventure encourages people to try a holiday early in their diagnosis. It helps them retain their independence for longer and helps carers in their roles. And if proof is needed as to their success, John provides ample evidence that diagnosis of dementia does not mean an end to holidays – he and Chris are already booked on the Brixham Trawler this summer.
For further information, visit www.dementiaadventure.co.uk or call 01245 237548.
Article reproduced courtesy of Royal Yachting Association (RYA) www.rya.org.uk.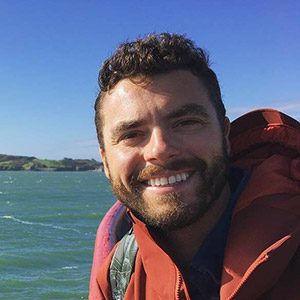 Joe Cline has been the Managing Editor of 48° North since 2014. From his career to his volunteer leadership in the marine industry, from racing sailboats large and small to his discovery of Pacific Northwest cruising —Joe is as sail-smitten as they come. Joe and his wife, Kaylin, welcomed a baby girl to their family in December 2021, and he is enjoying fatherhood while still finding time to sail, make music, and tip back a tasty IPA every now and again.