Boat Show Opening Day is always an exciting day for the boating community. The big Seattle Boat Show kickoff signals the start of a new year of watery wonder for Pacific Northwest boat-folk. This years event is full of the fun stuff you've come to expect from the Boat Show, as well as a number of new, exciting additions to enrich the experience.
But before we get to all the good stuff the Show is offering, we want to invite you to a celebration this evening. At the Boat Show, at the 48° North Booth (WEST 21), we will be cutting a wedding cake, sharing cupcakes, and raising a glass to celebrate the merger/marriage of 48° North and Three Sheet Northwest. Please stop by our booth at 7:00pm tonight (Jan 24, 2020) for the festivities during the Boat Show's Uncorked Opening Night event.
Now, The Boat Show Details!
The 73rd annual Seattle Boat Show—presented by West Marine—made a splash, and has cruised into town today, Friday, January 24, and it will continue sailing through Saturday Feb. 1, 2020.
It's the largest show on the West Coast with two locations—at CenturyLink Field Event Center and Chandler's Cove at South Lake Union. The show attracts visitors from across the country and around the globe. From stand-up paddleboards to superyachts and everything in between, it features more than 1,000 boats and yachts in two locations, three acres of the latest and greatest gadgets and gear, 400+ exhibitors, 200+ free seminars and advanced training classes for a fee.
There's also tons of fun to be had and a variety of activities for everyone including wine and beer nights, a dogs on deck day (including a 48° North Photo Booth!), a night featuring a cheese-sculpting presentation to enjoy along with free grilled-cheese sandwiches courtesy of Seattle Sourdough, as well as a trout pond and a special Kids AquaZone full of family-friendly activities.
Don't forget about Women's Day either. With free admission for women of all ages on Monday January 27 and a host of terrific seminars from incredible women mariners, it's always one of the best days of the show.
All of these promotions makes 2020 the best year yet to attend the Seattle Boat Show on a weekday! Parking will be easier and you'll get more quality time with exhibitors to go along with all the other fun stuff. A free shuttle runs continuously between both locations. Purchase a ticket online and receive $3 parking at Mariners Garage at T-Mobile Park. $17 for adults, kids 17 and under are free.
www.SeattleBoatShow.com for details.
Check Out 48° North's Seattle Boat Show Highlights!
Friday Jan 24, 5:00pm: 48° North Editor Andy Cross, John Neal, and Pete McGonagle Seminar on Offshore Cruising Boat Selection
Friday Jan 24, 7:00pm: Celebrate the Three Sheets Northwest and 48° North Merger, Join us for a wedding cake party at 48° North Booth (Booth West 21)
Saturday Jan 25, 10:15am-12:15pm: Cruising Panel with 48° North Editor Andy Cross, and 48° North Columnists Jamie and Behan Gifford and Amanda Swan Neal. Hosted by 48° North advertiser Sarah Currie!
Saturday Jan 25, 4:00pm: Race to Alaska Tailgate follow the noise to 901 Occidental Way S
Tuesday Jan 28, 4:15pm: 48° North Editor Joe Cline and Flotilla Captain Kristin Pederson Seminar on Chartering in Croatia
Tuesday Jan 28, 5:30-6:30pm: Croatia Planning Party and happy hour with Joe and Captain Kristin Pederson, for those interested in joining the trip in 2020! Jimmy's on First (1046 1st Ave S, Seattle)
Wednesday Jan 29 5:15pm: 48° North Editor Andy Cross Seminar on Voyaging Alaska
Thursday Jan 30: Dogs On Deck, a 48° North Photo Booth and Photo Contest
Thursday Jan 30, 4:00pm: 48° North Editor Joe Cline Seminar on the Value of Group Cruising (like the 48° North Rally!)
Saturday Feb 1, 3:00pm: 48° North Editor Andy Cross Seminar on Voyaging Alaska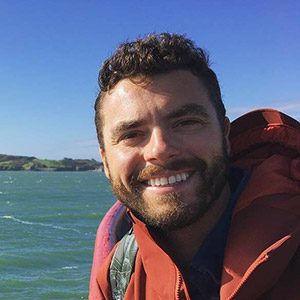 Joe Cline has been the Managing Editor of 48° North since 2014. From his career to his volunteer leadership in the marine industry, from racing sailboats large and small to his discovery of Pacific Northwest cruising —Joe is as sail-smitten as they come. Joe and his wife, Kaylin, welcomed a baby girl to their family in December 2021, and he is enjoying fatherhood while still finding time to sail, make music, and tip back a tasty IPA every now and again.