One of the things show-goers look for each year at the Seattle Boat Show is NEW boats…and this year is no different.
The 2022 Seattle Boat Show will have over 800 new and brokerage boats on display, featuring over 160 different boat brands at Lumen Field Event Center and Bell Harbor Marina. From cruising sail and power boats to ski boats, row boats, kayaks, and more, there is plenty to choose from. Here's a look at a few noteworthy boats that will be making their Seattle Boat Show debuts this year. The Seattle Boat Show runs from February 4 – 12, 2022.
Beneteau First 27 Cruising Model — Presented by Signature Yachts
The Beneteau First 27 was introduced at the 2021 United States Sailboat show in Annapolis, Maryland in October to rave reviews. This new cruising version features a fixed keel instead of a lifting keel, inboard 27 hp diesel engine, plus a galley and a head. The cruising model allows sailors to enjoy the performance of the popular Beneteau performance carbon edition, but in a slightly altered version that is better suited for weekend or week-long cruising. The First 27 won Cruising World magazine's best "Pocket Cruiser/ Day Sailor" award in Annapolis. https://signature-yachts.com
Jeanneau Sun Odyssey 410 — Presented by Marine Servicenter
The Jeanneau 410 features the revolutionary walk around decks and new "scow bow" hull form that have been so popular with sailors around the world on its larger siblings like the 440 and 490. The 410 allows you to walk all the way around the deck from cockpit to bow without ever having to step up or over something. The 410 features a first-of-its-kind "Negative Bow – Scow Bow" full length hard chine hull with twin rudders. With this aggressive hull form evolution, Jeanneau has created a sailboat with tremendous buoyancy forward, yet is sleek and fast through the water. https://marinesc.com
Salish Voyager 17 — Presented by Gig Harbor Boat Works
Never previously shown anywhere in the Pacific Northwest or otherwise, this will be the Salish Voyager 17's first in-person boat show. This new design is a seaworthy rowboat/sailboat for the adventure-loving crowd who wants to row long distances under human power. It features tandem sliding rowing seats for high performance rowing over long distances, a self-bailing floor and built-in flotation, and ample dry storage to stash camping gear and provisions. It can also be rowed while the sail is up, making it easy to switch to human power when the wind dies. www.ghboats.com
C-288 Coupe — Presented by Cutwater Boats
The Cutwater C-288 Coupe is an all-new model that has a wider 10-foot beam and is powered by twin Yamaha F250 gasoline outboards. Versatility is key for the C-288, as it is equally proficient at fishing, cruising, watersports, or entertainment. Features include a comfortable climate controlled interior with a lounge/dining area adjacent the fully appointed galley, a full beam master stateroom forward, a private head with a shower, sleeping capacity for guests and/or children, and a stereo and entertainment system. The Clear Path swim platform means all control hoses and cables for the outboards are conveniently concealed so that the platform becomes a useful gathering area complete with a live-well, an electric BBQ, and is an extension of the cockpit. www.cutwaterboats.com
Axopar 37xc — Presented by Jeff Brown Yachts
The Axopar 37, one of the most eye-catchingly sleek designs around, may look familiar, but the hull design is only two years old. The newly redesigned hull is 33% more efficient than pre 'revolution' hulls. The new model for 2022 features updates including gull wing doors and fresh, esthetic interior design. Even with these changes, the enduring draws of the Axopar 37 are steadfast — a unique blend of speed and efficiency, a warm and dry interior space, and the incredible smoothness of the ride. www.jeffbrownyachts.com
Invincible 37 Catamaran — Presented by Schooner Creek Boat Works
A line of boats being newly introduced the the Pacific Northwest boating community, Invincible Boats are top-of-the-line center console open fishing boats. One of the first designs available in the area and making its Seattle Boat Show debut is the Invincible 37-foot Catamaran. The Invincible 37 was designed from the ground up by an outfit held in the highest regard by 48° North readers, Morrelli & Melvin Design & Engineering, Inc. With quad 300 HP Mercury outboard motors, the boat is capable of speeds above 60 miles per hour. And it still comes with ample equipment to make it a true fishing boat, including a live bait well and three large fish boxes with drain pumps. www.schoonercreek.com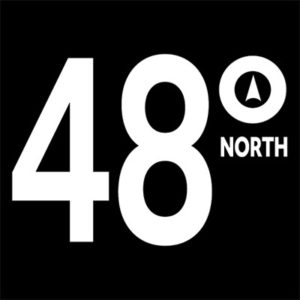 48° North Editors are committed to telling the best stories from the world of Pacific Northwest boating. We live and breathe this stuff, and share your passion for the boat life. Feel free to keep in touch with tips, stories, photos, and feedback at news@48north.com.