There's Still Time To Subscribe and Have the Upcoming April Issue Sent Directly to You!
First and foremost, I want all our readers to know that the crew of 48° North is thinking about you as we process the impacts of COVID-19. We are thinking about the selfless caregivers in our community, the public servants who don't have the opportunity to practice social distancing, and anyone whose health or livelihood feels uncertain—which is nearly everyone. 
While we're experiencing our fair share of worry, too, the 48° North staff is relishing the opportunity to focus on our work and get lost—even for a few brief moments—in articles that transport us to the pristine Pacific Northwest watery wilderness that we cherish. For some of you, a boat-borne reality is attainable today, and I hope you drive straight to the marina and touch nothing except your dock lines as you head out for a magnificent sail on this sunny spring day. For others, being on the water is something positive to look forward to when we see the other side of this. And we will see the other side of this.  
We're Full Steam Ahead
In the midst of this rapidly changing environment—even within our own organization, which is making profoundly difficult decisions for the good of the mission long-term, including program cancellation and significant staffing scale-backs and furloughs for many of our colleagues—48° North is full steam ahead. We are drawing close to a deadline on the April issue, which is going to press and being distributed as always, even though it is being produced remotely. In the print magazine and here in the digital format, we are committed to continuing to bring you content that gives you the information, inspiration, and entertainment you've come to expect, as well as a more-important-than-ever connection to this community of fun and passionate boat-folk.
Subscription is Safe and Supportive
On the other hand, we are keenly aware of, and fully support, all of the public health and governmental recommendations that discourage leaving your home for non-essential reasons. We reluctantly admit picking up the latest copy of the magazine may narrowly miss qualifying as essential. With this in mind, a 48° North subscription is one alternative we hope you'll consider. It's a choice that could be in the best interest of the health of you and yours. It is a way you can help buoy the magazine and the non-profit mission and activities of the Northwest Maritime Center in uncertain times. Plus, it will help you get the latest news and information from marine businesses who make 48° North possible and who depend on your support, in this moment and always.
For more information, or to subscribe, please visit our Subscription Page.
Stay strong, stay healthy, and stay positive. Get out on the water if and when you can. And please keep in touch with us about all sorts of stuff—what sorts of content you want to see in these times, how you're getting out on your boat safely, what you're seeing around the marinas and cruising grounds, and which cruising spots are occupying your daydreams during these potentially long stretches of time ashore. Be well and take care of each other!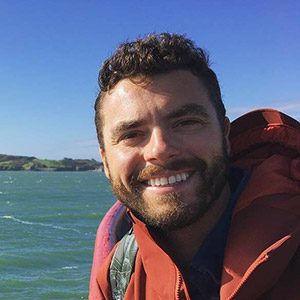 Joe Cline has been the Managing Editor of 48° North since 2014. From his career to his volunteer leadership in the marine industry, from racing sailboats large and small to his discovery of Pacific Northwest cruising —Joe is as sail-smitten as they come. Joe and his wife, Kaylin, welcomed a baby girl to their family in December 2021, and he is enjoying fatherhood while still finding time to sail, make music, and tip back a tasty IPA every now and again.