After a months-long search to fill the important role of Youth Sailing Director, the Sailing Foundation has hired experienced sailor and windsurfer Solvig Sayre.
An extensive search process to hire a new Youth Sailing Director began in December 2022, which yielded over a dozen applicants, five of whom were selected as finalists. This impressive group included domestic and international candidates with a diverse range of sailing,
coaching, and non-profit management experience. After a rigorous interview and screening process, Solvig Sayre emerged as the clear frontrunner. She has accepted the offer and will officially join the Sailing Foundation team on June 1, 2023. (Editor's note: I think of the position of Youth Sailing Director as the ambassador for youth sailing in the Pacific Northwest — a coach, consiglieri, facilitator, and connector whose primary goal is to support all programs and grow participation and performance of youth sailing around the region.)
Solvig (pronounced Sol-vay) inherited her love for sailing and wind sports from her mother and father, who are both accomplished sailors and windsurfers. Growing up on Martha's Vineyard, Solvig followed "traditional" junior sailing pathways, including high school sailing, while continuing to hone her windsurfing skills. Solvig's talent and potential didn't go unnoticed, and she was invited to train with the US Sailing Team in the women's RS:X windsurfer while still in high school. After graduating, Solvig enrolled at Eckerd University in Florida, where she continued to train in the RS:X and compete as a varsity skipper on the Women's Team. Despite the challenge of splitting her focus between academics and sailing, Solvig excelled in both — attending two Collegiate National Championships, being named an Olympic alternate for the 2012 games, and graduating with honors in International Relations and Global Affairs in 2014. After campaigning in the RS:X for two quads, Solvig teamed up with Bora Gulari for a Nacra 17 campaign in 2015, but that was cut short due to injury.
Following her Olympic pursuits, Solvig switched her focus to giving back to the sport. Since 2017, Solvig has held various positions at American Yacht Club (Rye, NY), Texas Corinthian Yacht Club (Houston, TX), Treasure Island Sailing Center (San Francisco), and most recently, St. Francis Yacht Club (StFYC) where she is finishing her term as head coach. Her coaching duties at StFYC have included high school sailing, the C420 team, keelboat instruction, and even teaching wing-foiling. Solvig has also been recruited by US Sailing as a coach for various US Sailing sponsored clinics throughout the country, including the Olympia and Bellingham US Sailing Jr. Women's Clinics in 2021 and 2022.
Solvig has been involved at every level of youth sailing. She's been a participant, instructor, athlete, race coach, and director. She's worked for grassroots community organizations and elite yacht club programs. She understands conventional pathways and is intimately familiar with the latest trends in youth and high performance sailing. Her perspective, expertise, and enthusiasm will be a great asset to sailing in the Pacific Northwest.
Solvig emerged as the ideal candidate to lead the youth sailing programs in the region to new heights. As the new Youth Sailing Director, Solvig will be the leader of all things youth sailing in the Pacific Northwest. She'll be looked to by sailors, parents, coaches, and program directors as an invaluable resource while navigating the evolving world of youth sailing. The Sailing Foundation is thrilled to welcome her aboard and look forward to seeing the positive impact she will have on the organization and the greater sailing community.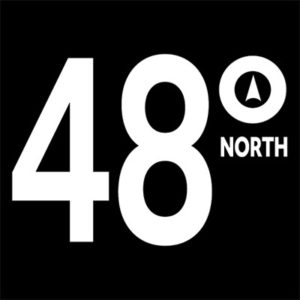 48° North Editors are committed to telling the best stories from the world of Pacific Northwest boating. We live and breathe this stuff, and share your passion for the boat life. Feel free to keep in touch with tips, stories, photos, and feedback at news@48north.com.