Cruising means something a little different to everyone. There are as many unique definitions as there are cruisers out chasing their dreams. Thankfully, the waters of the Pacific Northwest accommodate pretty much any cruising incentive.
I can recall my first experiences at some of the Salish Sea's most famous and well-loved cruising gems, the heavy-hitter short-list of can't-miss destinations. Each offered ample wonder and was entirely new to me. Each quickly revealed why they sit atop the PNW cruising-stop pyramid, drawing boaters back year after year with incredible beauty and rich shoreside attractions, natural or otherwise. Also, each offered crowds of breathtaking scale, for cruising anyway — snug anchorages, only a faint hope of dock space or mooring buoy availability, well worn paths ashore, and an inevitable community-living experience. Were those visits fun? Will I go again? Did I learn something about what motivates me as a cruiser? Heck yes, all around.
For me, and for the cruisers whose approaches resonate most with me, there's a desire to get off the beaten path, even in my home waters. In this age when information is so readily available, it can feel like there's nothing left to discover. Still, I've found that it takes only a small effort to find your way to a much more remote version of cruising.
At the risk of a tantrum about algorithm-driven content, my impression on and off the water is that the ways we access information today tend to lead large percentages of folks to small percentages of the destinations. This has always been somewhat true with cruising guides, but I think the recommendations become more distilled through modern vehicles — in part because it is so much easier to happen upon the same suggestions that your dock mates have also seen (sometimes by design), and because authoritative-seeming resources can make you think you've tapped into curated expertise without needing to delve any deeper. These resources have value and serve their purpose. Importantly, though, they come with an encouraging reassurance: as some resources funnel throngs toward certain locations, alternative options are nearby and innumerable. Cruising guides are actually excellent resources to help you find these unsung alternatives.
Keep an eye out for situations when conventions and best practices limit awesome possibilities. There's an obvious example in the May issue (page 30), in which Washington-based cruisers decide to sail back from Alaska by foregoing the typical Inside Passage route. Yet, it need not be such a major adventure to capture this spirit. Think about "situationally great" anchorages. Truly ideal anchorages will have terrific protection if a storm comes from nearly any direction. However, some of my favorite nights on the hook have been in places where we go to sleep knowing that if some unforecast breeze comes in from the wrong direction, we will probably have to move. It's tough for these places to make the top-ten lists, because they aren't right for most folks in most situations. Nevertheless, they were magical to me.
Pacific Northwest boaters' access to a range of cruising experiences is second to none — including some spots so remote and extraordinarily beautiful you'll wonder why people aren't there in droves. Happily, opportunities abound on our waters for cruisers seeking the course less traveled.
I'll see you on the water,
Joe Cline
Managing Editor, 48° North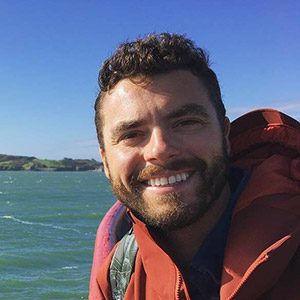 Joe Cline has been the Managing Editor of 48° North since 2014. From his career to his volunteer leadership in the marine industry, from racing sailboats large and small to his discovery of Pacific Northwest cruising —Joe is as sail-smitten as they come. Joe and his wife, Kaylin, welcomed a baby girl to their family in December 2021, and he is enjoying fatherhood while still finding time to sail, make music, and tip back a tasty IPA every now and again.