The 2023 Seattle Boat Show kicks off on February 3 at Lumen Field and Bell Harbor Marina, and will once again feature an array of interesting and informative seminars for show-goers.
Each year, the Seattle Boat Show seminar series helps boaters explore new horizons and expand their knowledge of boating. Taught by maritime experts who are excited to share their nautical know-how, the 2023 show will feature many new presenters, more panels, and more new seminars focused on technology, electronics, fishing, communications, and navigation.
There will be 86 seminars, covering everything from anchoring techniques to diesel engine essentials, from downrigger fishing for salmon in Puget Sound to preparing for offshore cruising. Additionally, 25% of this year's seminars are new and focusing on technology and innovation.
The boating and fishing seminars can be attended in person and, with a special Seminar Package ticket, are viewable online for three months post-show. Boat Show U will offer deeper-dives into some of these topics, and those seminars are available in person and online for those who purchase a Seminar Package ticket. The special $119 seminar ticket includes: access to all Boat Show U webinars (online and in person); Waggoner 2023 Cruising Guide ($45 value); and a multi-day ticket good for all nine days of the show ($40 value).
The show, with two locations – indoors at Lumen Field and on the water at the Port of Seattle's Bell Harbor Marina  – runs Friday, Feb. 3 through Saturday,  Feb. 11  2022.
A selection of new seminars includes:
Electric & Hybrid Propulsion Systems
How to Work Re'BOAT'ly: Advanced Internet for Entrepreneurs, Remote Workers & Digital Nomads
Understanding Water Maker Technology: Water Makers 101
20 Favorite Boating Safety Innovations
Green Technology is a Game Changer: Sailing Offshore With & the Coho Ho Ho
All you need to know about "Drop-In" lithium batteries
Everything you Need to Know About Starlink for Boats
Retrofitting Your Boat: Considerations for green technology including solar, batteries
Essential Boating Gear You Don't Know You Need
Using Marine Electronics to Target Trophy Fish in the Pacific Northwest
Boat Show U
There will be 18 Boat Show U webinars offered throughout the nine days of the show – in person and streamed online. The webinars can be attended live in person with seating limited to the first 45 people.
Highlights include:
Nigel Calder in two all-day sessions on electrical systems and diesel engines, including the latest technology in power and batteries
John Neal on boat selection and equipment for long distance cruising whether it is up the Inside Passage to Alaska or crossing oceans
Doug Miller on the latest technology for communications while out cruising including Starlink satellite connectivity for fast internet onboard
Daniel Joram presenting the latest updates and new software for navigation and trip planning
Mark Bunzel covering the latest apps for pulling weather information from the internet and interpreting it.
Leonard and Lorena Landon on cruising Southeast Alaska.
Check out  www.SeattleBoatShow.com for the full seminar schedule. It is sortable by keywords, seminar description, and presenter biographies.
Boat Show Tickets:
$20 Adult Ticket
$40 Multi Day Ticket, good for all 9-days of the show
$119 Seminar Package
Free Kids 17 & Under
Here are a few new seminars that 48° North readers might be interested in:
John Neal — Beyond YouTube: Lessons Learned from 400,000 Miles
Friday, February 4
2:00 p.m. Stage #1 Concourse North
If you've gotten the adventure bug from watching YouTube adventures, this seminar shows you how to get from dreaming to actually experiencing your own blue water cruising adventure. Learn how to find, purchase and outfit the best boat within your budget, how to qualify for insurance and how to sail it safely anywhere in the world. John Neal sailed away from Seattle on a Vega 27 in 1974 and has since helped more than 10,000 boaters realize their dreams. A detailed two-page checklist is included and a 270-page textbook is available.
Mike Beemer — Electric Boats, Hybrid Options and Power for Modern Cruising Boats: What's New?
Sunday, February 5
2:00 p.m. Stage # 1 Concourse North
Electrification of modern vessels is certainly a buzz word in our industry. Come explore options with Michael Beemer from Skagit Valley College Marine Technology Program who recently attended the North America Hybrid & Electric Marine Expo. If you're interested in learning more about what's happening in our industry this talk will help you understand what is happening and some of the options available currently.
Panel – The Making of a Sailor
Monday, February 6
3:00 p.m. Stage #1 Concourse North
This talk will be geared towards women who may be new to sailing. Featuring a panel of women sailors with various levels of experience revealing how they evolved into confident sailors they've become. We'll share our experiences, what helped and what didn't in our learning process, and allow some time for Q & A.
Doug Miller — Stay Connected While Cruising: Explore 5G, Marine Antennas, Starlink and More
Tuesday, February 7
1:00 p.m. Stage #1 Concourse North
This talk will cover the various methods in use by cruisers to stay connected to the Internet while coastal cruising in our local waters and beyond. Topics will include covering the latest in 5G cellular technologies, marine antennas for extended range as well as the current state of satellite communications with solutions such as Starlink.
Wendy Hinman — Cruising the Inside Passage through BC to Alaska
Friday, February 10
Stage # Concourse North
Highlights cruising to Glacier Bay and back. These areas feature glaciers, waterfalls, and hot springs; as well as wildlife including whales, bears, otters and more; and a native culture like no other. Get a taste for the possibilities and how to make the most of the time you have to enjoy them. This talk includes favorite spots, tips for trip planning, resources available, and potential pitfalls.
Title background image courtesy of Garrett Gibbons.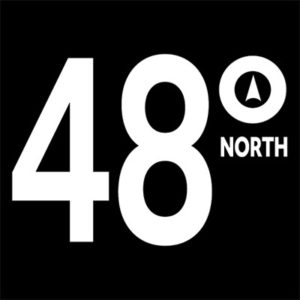 48° North Editors are committed to telling the best stories from the world of Pacific Northwest boating. We live and breathe this stuff, and share your passion for the boat life. Feel free to keep in touch with tips, stories, photos, and feedback at news@48north.com.