Sailboat racing can be so stinkin' fun and rewarding, something that affords extraordinary community. Of course, I know that lots of folks don't share this opinion. They've had experiences that contradict those and any other potentially positive aspects of the pursuit. Perhaps they've hopped aboard only to be yelled at or condescended to; registered the racing environment as too competitive or cutthroat for a leisure-time activity; or ran up against a fellow sailor spending ten times more money on their boat and program than anybody else in the fleet, undermining other sailors' will or ability to sail on the same level. I could go on.
As an unabashed racing fan, I have certainly had tastes of the bitter and the sweet. Yet, when I think about the times sailboat racing has felt best to me, on a human level, the recipe for super-positive experiences has had many of the ingredients I heard when I recently talked to the coach who is at the center of so much of our region's sudden and impressive J/70 fleet growth, Ron Rosenberg (for lots more about what's behind this boom, check out the article on page 26).
If you cut to the core of what Ron and the J/70 fleet are building in the Pacific Northwest, they are very focused on developing a community culture centered on investing in the positive experience of their fellow racers. I strive to be a community-minded individual, but it is still striking to me how little I had thought about this idea in quite those terms. It might read as dissonant with some elements of racing — for example, the idea that there can only be one winner. On the other hand, I've definitely felt this vibe in certain fleet or boats over the years, and those are happy memories.
Zooming out, it is so apt and intuitive as to approach the obvious. Racing is a game that can only happen when others want to come play. Our reasons to be out there don't have to be identical, but if we don't come back to the dock with smiles on our faces, there's a good chance we won't all be back out there next week. Moreover, investing in the positive experiences of other sailors is like adding a bit of fertilizer to the tender sprouts of new skills and knowledge, which is so critical to any fleet headed in the right direction. There is always something new to learn on the water, but in my experience the game of sailboat racing, particularly, only gets more fascinating the deeper you go. Cultivating an environment in which we ensure our would-be competitors have fun and get better encourages new players to join, while providing those already involved with the opportunity for ever-increasing fun and progression themselves. This is virtuous circle stuff of the highest order.
This mindset appealed to me immediately, and reverberated beyond the racecourse. Think about your dearest, most influential boat pals and mentors. Didn't they convince you that their primary interest was you and your experience? And weren't the returns amazing for you, and for them? Often, this dynamic is so natural nobody is aware of it — you just click with a dock mate, a newfound buddy-boat, or a friend at the pub or club, and a few years later, you're together on an ocean passage, trusting each other with your lives as daydreams become reality. I believe all boaters know how important these community investments are — in their many forms — and could benefit from committing to them even more enthusiastically.
On the race course, in a remote anchorage, or in your cruising club, just about the best thing you can do to improve your own experience on the water is to invest in the positive experience of those with whom you'll share it. The more we invest, the richer we get.
I'll see you on the water,
– Joe Cline
Feature image by Jan Anderson.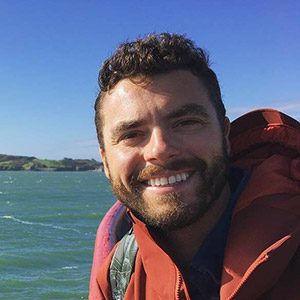 Joe Cline has been the Managing Editor of 48° North since 2014. From his career to his volunteer leadership in the marine industry, from racing sailboats large and small to his discovery of Pacific Northwest cruising —Joe is as sail-smitten as they come. Joe and his wife, Kaylin, welcomed a baby girl to their family in December 2021, and he is enjoying fatherhood while still finding time to sail, make music, and tip back a tasty IPA every now and again.