The late-spring classic that brings its fleet north up the Washington Coast will forego its traditional finish in Victoria, BC, and once again heads to Port Angeles.
As we put together the SARC for 2022, we were excited to learn that Corinthian Yacht Club of Portland's Pacific Northwest Offshore Race (PNWO) was being planned with its long-running destination of Victoria, BC. The 193-mile race, formerly called Oregon Offshore, is being run for the 46th time this year and starts in Ilwaco, WA. When not impacted by pandemic restrictions, PNWO finishes in Victoria — where two weeks later Royal Victoria Yacht Club's Swiftsure International Yacht Race is run — so many teams compete in both events and leave the boat in Victoria during the days between.
Unfortunately, concerns about compliance with Canada's evolving requirements for visitors from the U.S. have led the race organizers to alter course, literally. As it did in 2021, this year's Pacific Northwest Offshore will finish in Port Angeles, WA. On the bright side, the experience in Port Angeles last year was also very good. Additionally, there's still hope and expectation that many PNWO boats will also be able to participate in Swiftsure.
Here's some of the message from CYC Portland's Commodore and the PNW Offshore Race Captain, Denny Damore.
Unlike last year when the Canadian border was more or less completely locked down, this year there are procedures in place to allow visitors — such as PNWO racers — into the country. However, those procedures, particularly testing, [create] logistical roadblocks that we could not reasonably overcome in time for our May 12 start.
With that reality facing us and with feedback from skippers, we reached out to the Port Angeles Yacht Club to see if it would be possible to finish in Port Angeles. Through the diligent and comprehensive work by their commodore, Ray Kirk, and his support team, as well as cooperation and accommodation by the Port of Port Angeles, Port Angeles Boat Haven, and Westport Yachts, we've been able to secure moorage and finish resources for our race.
The decision by our board was unanimous. The official Notice of Race will be amended shortly and will be available on the official Notice Board,

www.Sailpdx.org

, with finish line coordinates to be detailed in the Sailing Instructions subsequently. Even if the Canadian restrictions change, we will not revise this decision. We will be following up with additional information about moorage in Port Angeles, as well as on the Victoria side for those  who will still be racing in Swiftsure.
CYC Portland sincerely appreciates the enthusiasm of [racing sailors] who have stepped up to be part of the history and tradition of this race even as there has been continuing uncertainty.
See you in Ilwaco,


Denny

 Damore
More details about the PNW Offshore Race. 
Title background image of PNW Offshore Race 2021 courtesy of Maria Swearingen.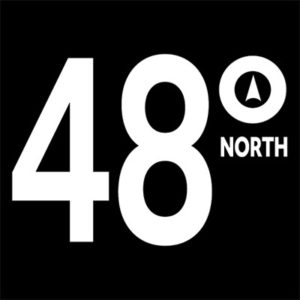 48° North Editors are committed to telling the best stories from the world of Pacific Northwest boating. We live and breathe this stuff, and share your passion for the boat life. Feel free to keep in touch with tips, stories, photos, and feedback at news@48north.com.