Congratulations to Steve Travis and crew for winning the U.S. Offshore Sailing Championship representing CYC Seattle and all sailors in the PNW racing community!
Eight teams representing their respective US Sailing Areas from regions around the country vied for the Lloyd Phoenix Trophy in Annapolis, at the 2021 U.S. Offshore Sailing Championship in late September. Skipper Steve Travis, from Corinthian Yacht Club of Seattle, and his crew came out on top after two days of racing, scoring 10.5 points overall after three distance races and one buoy race.
"It was a fun race and a fun event…. Good people, a great venue — an interesting venue — and it's one of the best events that is run," says Travis.
Close behind Travis was Bob Fleck and his crew from Fishing Bay YC with 10.75 points, followed by the Navy Offshore Sailing Team, skippered by Ensign Don Poirier, with 12.25 points.
The regatta, which was slated to run Friday, Saturday, and Sunday, was hosted by the U.S. Naval Academy Sailing Squadron and sailed aboard Navy 44 MK II Sloops. To kick off the weekend, on Friday the fleet completed one bouy and one distance race, with Fleck and his crew winning both and in the lead at the end of day one, followed by Poirier, then Travis.
"The finish of race two was held right off the Robert Crown Sailing Center seawall providing a great spectacle for those ashore," said Jahn Tihanksy, Director and Head Coach of the U.S. Naval Academy Offshore Sailing Team, and also chairman for this event. "[Fleck] extended to a commanding lead to take the bullet while Poirier and his Navy crew held second."
Racing was interrupted on Saturday due to a lack of wind. However, competitors came out ready to race on Sunday and in a freshening breeze completed two distance races. It was in the final race that Travis and his crew were able to take the lead, overtaking Poirier and the US Navy Sailing Team midway through the race to secure their overall win.
"We had a decent start, and thought we had a good shift, and it turned out to be not such a great shift," says Travis of the final race. "We rounded the mark in third, and the boat in front of us [Navy] took his kite down and put a jib up, which ended up being not the right thing to do. And then the lead boat jibed away, and when he came back, he was behind us. From there, it was just a reach to the weather mark. Then it was shifty, inside the harbor with 30 degree shifts…it was stressful to hang on… but we did it."
The Notice of Race requires competing teams to have a certain amount of consistency in their crew arrangements — A minimum of five
competitors on each team must have raced together (including the designated skipper) in a minimum of five regattas in IRC, ORC, ORR, PHRF, Offshore One Design, Offshore Level Class Racing or Portsmouth Numbers rating systems in the past 36 months. They are also required to sail with a U.S. Naval Academy Midshipman from the varsity offshore sailing team aboard. The overall winners of the Championship had Midshipman Keegan Steele aboard, and the second-place finishers, skippered by Fleck, were joined by Midshipman Cade Gelhar.
"They sailed a great race and are great competitors, and are a lot of fun to be around and they represent the US Navy very well," says Travis of the US Naval Academy sailors who partook in the events of the weekend. "Our Midshipman was very good, and helpful to us in beating his buddies on the Navy boat."
The U.S. Offshore Sailing Championship is a biennial event. The winner of the Championship is awarded the Lloyd Phoenix Trophy, named for a US Naval Academy Graduate who served in the Civil War. After resigning and going into business he became a yachting enthusiast and Rear Commodore of the New York Yacht Club. The Trophy is on display in the Robert Crown Center at the United States Naval Academy.
For additional information about this Championship, visit the event website (https://www.ussailing.org/competition/championships/2021-u-s-offshore-championship/)
Editor's Note: This post is courtesy of US Sailing and author Colin Rupp.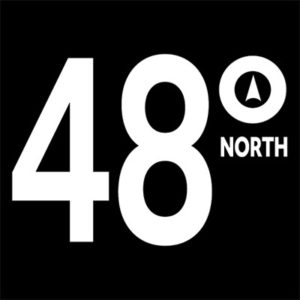 48° North Editors are committed to telling the best stories from the world of Pacific Northwest boating. We live and breathe this stuff, and share your passion for the boat life. Feel free to keep in touch with tips, stories, photos, and feedback at news@48north.com.