Seattle Yacht Club's autumn classic delivers on every level for all three days!
Seattle Yacht Club's venerable Grand Prix Regatta is really unique in the variety it offers each year — falling in late October over three days, you're sure to get varied conditions. The committee's decisions to mix distance and buoy racing nearly always makes it an excellent test of sailors' skills and versatility. In 2023, conditions could not have cooperated more splendidly, with all race days pairing brisk fall temperatures with sun and, most importantly, breeze! 
As ever, Grand Prix is an event that tends to draw out many of the biggest, fastest yachts in central Puget Sound. That was certainly true this year in Class 1 where I was sailing, with three TP52s — Smoke, Glory, and Mist — and the Reichel/Pugh 55 Zvi. But Grand Prix is not just a big boat event; there were also one design fleets of J/80s and J/105s, and four other classes racing under either ORC or PHRF handicap systems. In all, 42 boats were out for three terrific days of fall racing. 
I have always held that October is the best sailing month in the Pacific Northwest, an opinion I share with many others. And boy howdy if Friday wasn't perfectly October! Sunshine splashed through broken clouds while 12-18 knots of chilly north wind whipped at flesh we allowed to peek out of our foulies. The northerly was paired with a flood for the afternoon's race, which kept the water mostly flat. With such ideal conditions on Friday, pre-race rumors were confirmed, and we found a distance course displayed on the board of SYC's stately Portage Bay committee boat. 
The race committee must have been feeling a little creative, because in all the races I've sailed in central Puget Sound, the course was new to me — a trapezoid bringing Class 1 boats upwind to a temporary mark near Richmond Beach, reaching west to a mark near Jefferson Head, downwind to Blakely Rock, reaching back east to Duwamish head, upwind to round the finish mark (presumably to allow for a shortened course, if necessary) downwind to West Point and a final beat across Shilshole Bay to the finish. There were a lot of marks to remember! And a lot of the race was sailed perpendicular to the breeze in trim-to-course reaching mode. 
Under sunny skies, we got underway and charged upwind in some of the day's more moderate breeze. For this race, and throughout the weekend, the general consistency of the wind meant that on Glory we spent more time evaluating which side of the race course had more breeze or current advantage, and less time playing shifts. This generally paid on Friday, and we had good speed, rounding the top mark in first and bearing away to the reach. As soon as we were making westward progress toward Jeff Head, it was clear we were going to have a close call with a southbound commercial ship. We had to trim upwind for a minute or two, and cut narrowly behind the massive freighter before bearing away again and hoisting the kite around the mark. 
The run was as pleasant as it gets with some of the best breeze of the day, 14-18 knots. There was a small compression breeze advantage the farther west you were so, as the fleet made its way down the Sound, that was the game. 
Glory and Zvi stayed tight through the run, while increasing a slight margin ahead of Smoke and Mist. We waited until the last second to get the kite down at Blakely and didn't manage our best douse or transition to the next reach. 
It was an uneventful trip east to Duwamish head, where we were met with more commercial traffic at the turn, necessitating an immediate tack around the mark to avoid a tug and tow. The trip north through Elliott Bay got very fluky. Big shifts, surprising holes, and monster growlers coming through the Interbay cut. For the first portion, it didn't seem to pay to be well inside, but by the time we neared Elliott Bay Marina, the closer to shore you were, the more favorable the current, breeze, and shifts. On the final lap in Shilshole Bay, Glory was able to extend a bit on the competition, taking line honors and the first race of the long weekend. 
With the distance race in the books, we knew we'd likely be sailing buoy races the rest of the weekend. We headed out on the water for the second day of Grand Prix, and found zero breeze. After a brief postponement, things got cookin' again with a cold northerly hovering around 10 knots and sterling visibility. The day's courses were set long — at least one as long as 14 miles in total for Class 1 — but the race committee was able to score three excellent races for all fleets. The committee really did a great job, with square starting lines and fair courses. 
Saturday's Class 1 battles saw TP 52 Smoke find good form and consistency, sailing cleanly to finish the day with the best score line. They carried a one point lead over Glory into Sunday.
The second day of Grand Prix saw a few great battles brewing in other fleets. The group of boats in Class 2 has seen some of the tightest, most fun racing all season long, and this event was the latest in a riveting string of closely fought regattas. By the end of the day, Iain Christenson's Farr 36 Annapurna and Abbey Norris' King 40 Hydra had traded leads atop the class, and were each looking formidable. As Regan Edwards commented after a full day of racing on Farr 30, Nefarious, "We sailed until the sun went down. Literally."
Sunday dawned with more of the same: autumn sun and champagne sailing in a brisk northerly breeze. With two more well-run buoy races on the docket, there was still lots to play for and it was moving day in many fleets — with boats ascending to podium positions thanks to double bullets. In fact, six of seven classes saw the same boat win both races on Sunday. These top performances launched J/105 Peer Gynt from third at the end of Saturday to first overall in that hotly contested one design class, and helped Farr 39ML Absolutely and Sunfast 3600 Rush secure the third podium spots in their competitive classes. 
In Class 1, Sunday was a tour de force from Smoke. They started well, positioned themselves perfectly, had plenty of speed, and just didn't give Glory or anyone else a real shot at their regatta lead. They sailed very well and deserved their win — hats off, Smoke team! 
In the end, it was a classically great weekend of autumn racing at what is always one of the best events of the year. In addition to Smoke, around the fleet class wins went to Annapurna, John Hoag's 1D35 Shrek, Dan Randolph's Farr 30, Nefarious, Paul Viola's Peer Gynt in the J/105 fleet, Herb Cole's Melges 24 Judo Chop taking the top spot in PHRF Class 6, and Lek Dimarucot topping the J/80 one-design class on Underdog. 
Full results here. 
Title background photo by Ben Towery.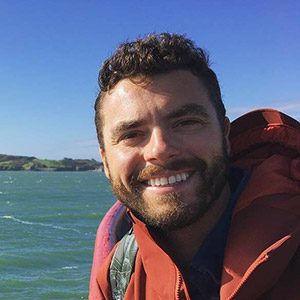 Joe Cline has been the Managing Editor of 48° North since 2014. From his career to his volunteer leadership in the marine industry, from racing sailboats large and small to his discovery of Pacific Northwest cruising —Joe is as sail-smitten as they come. Joe and his wife, Kaylin, welcomed a baby girl to their family in December 2021, and he is enjoying fatherhood while still finding time to sail, make music, and tip back a tasty IPA every now and again.