When the Race to Alaska fleet took to the water in Port Townsend on June 5, 2023, the sunrise was having a beauty face-off with the full moonset in the western sky over the Olympics.
All around, a group of people — each of whom were equal parts ordinary and remarkable, and who enviably (if questionably) had put their lives on hold to go 'Ketchikan or bust' — pulled sheets and oars, pressed on pedals and paddles, and began their adventures as the Ukrainian national anthem blared and a cannon boomed.
The stories of the illustrious, often irreverent, relentlessly fascinating engineless adventure race would be written in the coming days and weeks but, as ever, it was a memorable scene in familiar waters that sent them off.
By now, you almost certainly know that Team We Brake for Whales — co-skippered by Jeanne Goussev (skipper of 2018 winner, Team Sail Like a Girl) and her husband, Evgeniy — endured rough, mostly upwind conditions and won the $10,000 and all the bragging rights. You probably know that the sometimes-scantily-clad international crew of Team Budgie Smugglers sailed their Shaw 34 Catamaran to take the sought-after second-place prize of steak knives. Like any good story, however, there's so much more than just the headlines. Here's a nautical potpourri that hits a few favorite treads from the R2AK 2023 tapestry.
Proving Ground
The first leg started with more breeze than forecast, and a prediction that it would be short lived. The 'Proving Ground' leg, about 40 miles from the start line in Port Townsend across the Strait of Juan de Fuca might not seem like much to the group that led the way, but for the small craft, it is no joke. The eight sailors of Team We Brake for Whales showed their excellent form, and were the first across. They were followed closely by several of the probably-faster multihulls, several of which were being sailed by genuinely world-class sailors like Bill Hardesty and Tanguy de Lamotte.
The real story of the proving ground, however, was the group that — because of equipment issues, over-confidence in the seemingly generous 36-hour time limit, or the perhaps actual speed or skill deficits — was near, but not into, Victoria Harbour when the tide switched to a ripping flood and the breeze went from light to zero. This group was swept past their would-be destination and north up Haro Strait. Most would eventually slog back to complete the leg, but memorably one team couldn't swing it.
Team Jackalope called for a tow minutes before the time limit when it became clear they wouldn't make it. Dejected, they arrived at the dock ready to process how much shorter their trip would be than they hoped and planned. In a moment of pure R2AK community spirit, the two sailors from Jackalope were reluctantly dragged to the skipper's meeting, where they were given a heroes' welcome with a standing ovation from hundreds of their fellow racers and race officials.
The Jackalope story feels important due to the spirit of inspiration, affection, and admiration it displays between competitors in Race To Alaska. I liken it to the way artists raise the level between one another not through competition, but because they love the work and the artistry of it, and the fellow humans expressing themselves in similar but unique fashions. Different from any other boat race I know, R2AK racers are fans of their competitors. They are adventure artists, deriving energy, excitement, and inspiration from what their peers are doing.
Out of Victoria
When the racers sprinted down the gangway on their way to the human-powered parade out of Victoria Harbour, they were greeted with splendid conditions. Raising sails at the end of the Inner Harbour, the fastest boats quickly showed what they could do in the southerly breeze that hovered in the mid-teens. None of the six pre-approved boats chose the outside route option in 2023, deterred by the burly forecast of 30-40 knot northerlies, but they were chewing up the miles on the inside. There was much calculator mashing at Race High Command, as the wonder quickly arose — was this to be the quickest R2AK ever? Could we get a media boat to Seymour Narrows fast enough, did we need to adjust flights to Ketchikan? Within 24 hours, however, different realities set in.
The fastest group of sailboats had extended into the northern reaches of the Strait of Georgia, before being stymied by fading breeze. Meanwhile, the conditions that afforded them all those miles left some of the smaller craft smarting. Immediate fan favorites, the couple aboard the Hobie Mirage Adventure Island of Team Toybox Express, Niko and Dawson, limped to shore after swamping the main hull of their kayak-trimaran. While celebrating the anniversary of the day they met, they sat in seawater and had a "hand on the EPIRB and a hand on the Garmin." They decided "We're just fine, we're alive, this is overwhelming, but this is not a case when we need to activate emergency services. Self-rescue is number one." They dried out and continued on, eventually to cross the line in Ketchikan in 18 days. Bravo.
Heavy Ocean Conditions
The lead pack missed a tide gate at the race's infamous crux, Seymour Narrows — the tidal rapids that rushes water whirlpooling through at as much as 15 knots. It wasn't all bad, though; a few hours anchored allowed for a little rest, a hot meal, and a dance party for We Brake for Whales. As they careened into Johnstone Strait, the coastal weather systems that had discouraged anyone from taking the outside route, heavy upwind conditions and rough seas, started taking their toll.
Soon, the pair of contenders with world-renowned sailors aboard both had to retire with equipment issues on their respective trimarans. Team Mojo (which included offshore pro Tanguy de Lamotte) retired with a rudder issue on their F-25c.
For Team Tres Equis (including Rolex Yachtsman of the Year, Bill Hardesty), it was a litany of breakages on their brand new Corsair 880 Sport. They developed a bulkhead issue on the Proving Ground, which they fixed by creating chain-plate-like support by epoxying store-bought carpenter's squares together and bolting them in place. Then, they repaired a failed rudder cassette using wood and ratchet straps. In the end, after making up incredible ground after the rudder cassette fix, a final lamination issue proved too much and they pulled the plug as they entered entered Queen Charlotte Sound.
While these conditions beat everyone up, two teams absolutely shined. Leading the race and seemingly never putting a foot wrong, Team We Brake for Whales charged to weather in their water-ballasted custom cold-molded Lyman Morse 40-footer. The boat performed brilliantly, as did its sailors. Enduring rowdy ocean conditions with grace and grit, they were always making rapid northward progress.
A notably short distance behind them, though, was Eric Pesty of Team Pestou, sailing his F-24 trimaran way beyond expectations, and doing it singlehanded! He was unmistakable on the first day of Leg 2, leading the whole fleet past Trial Island, and he never took his foot off the gas. A soft-spoken and humble guy, he's a monster of a sailor. His feat of endurance will be talked about for an age, especially as long as his newly-set R2AK solo record stands — he finished third overall in 7 days, 22 hours, and 43 minutes, besting Russel Brown's previous record by a few hours.
By the fourth day out of Victoria, teams were spread from Seymour Narrows to Prince Rupert — a span of approximately 400 nautical miles. Needless to say, the experiences were varied. On the North Coast, the weather was still set to molto-blasto as it had been for the first few days. The lead boats clawed toward the finish, while other teams nursed boat wounds and waited out the weather. Two boats were hauled out to inspect and repair damage — Team Monkey Fist wanted some assurance after a log strike, and team Dacron and Denim fixed the rudder on their Dash 34. After finishing fourth overall, Dacron and Denim said of their rudder, "It's way better now!" before amending that to "It's better now, but pretty steampunk." Other teams just let discretion be the better part of valor, entertaining themselves ashore with tests of strength and skill like drysuit donning, anchor assembly, and espresso making.
Smaller Boats, Big(ger?) Adventures
Amongst the human-powered contingent, there were some pleasant days in Johnstone Strait that allowed their craft to flourish. Good thing, too, as Cape Caution awaited, ready to slam a dose of humility back upon them. The pair of Team Solveig, racing their row-sail 18-foot Fearing described it like this. "We got really scared going around Cape Caution. There were big swells. We thought about turning around, but once you got out there, there was no turning back. That southwesterly was scary as it came in. With breaking chop on top of the swells — we don't have a boat for that." They described themselves as "pretty shaken" afterward, and were "dazzled and staggered that all the tiny boats came around" just before them. See… adventure artists.
While an unknowable number of stories from the human-powered racers would delight and amaze, the feat of the fleet is fairly given to Team Wave Forager's solo rower, Ken Deem, on his 19-foot Lost Heron rowboat. He's the first solo rower to ever finish Race to Alaska, which he did in just over 15 days. In doing so, he won both cash-prize "side bets" as the first human-powered finisher and the first boat to finish under 20 feet.
Ever exemplary team We Brake For Whales
Backtracking chronologically, no R2AK 2023 report would be complete without giving the Goussev-led Team We Brake for Whales their moment in the sun. Their boat excelled, especially in the heavy conditions but truly across the wind range. The team sailed beautifully and, dang, did they love each other. While numerous connections within the crew run deep, this particular group of eight had not competed together before Race to Alaska. But they were wisely assembled based on who they were as people at least as much as who they were as sailors. They waxed philosophical about their group dynamic, and poetic about the course and the race itself. They had sailing highlights and hardships, and others like bubble-feeding whales — but they mainly relished the adventure.
Team We Brake for Whales' palpable appreciation of one another is an awesome spectacle in and of itself, as was their achievement on the race course. But the win was even more meaningful to the crew, and to the R2AK community, because of what it said about co-skippers Jeanne and Evgeniy Goussev. The 2023 edition invited public awareness of the fact that Jeanne was diagnosed with multiple sclerosis during the pandemic. They sold Team Sail Like a Girl's Melges 32 as Jeanne grappled with the disease physically, along with a harsh acceptance about things that might not be possible from now on. With the $10,000 log in her hands in Ketchikan and tears in all of our eyes, she is an adventure artist of the highest order.
To quote R2AK's beautiful Daily Update after Team We Brake for Whales won Race to Alaska 2023:
[Jeanne's] choice to Race to Alaska, her choice to bring her family boat, her choice of crew, the decision to bring her overqualified husband — all of those were rooted in her desire to keep going, keep doing this for as long as possible. "I get muscle spasms on a good day, living at 20 degrees (of heel) for the past 3 days, I got spasms in muscles I didn't even know I had." To undertake such an endeavor, let alone win, she would need to surround herself with people who she could trust, in a boat she knew like the back of her hand. This campaign wasn't about overcoming, it was about adapting. Five years since her first R2AK win she offered this perspective: "I'm aging into a disabled body, and I'm going to keep doing what I can do as long as I can."
In all, 18 teams that set-out for Ketchikan stepped on to dock and rang the bell as finishers. Inspiring, admiring adventurers that they are, the final two finishers — Team Sporting Chance and Team Bella Bella and Beyond — brought their kayaks in together, tying for 17th (and last) place in just under 19 days. They finished winners, as it seems most everyone who chooses to take on Race to Alaska does.
Joe Cline is the Managing Editor of 48° North.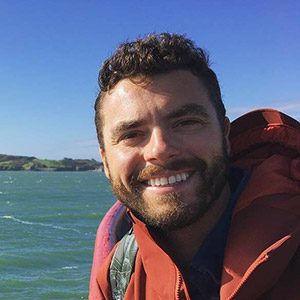 Joe Cline has been the Managing Editor of 48° North since 2014. From his career to his volunteer leadership in the marine industry, from racing sailboats large and small to his discovery of Pacific Northwest cruising —Joe is as sail-smitten as they come. Joe and his wife, Kaylin, welcomed a baby girl to their family in December 2021, and he is enjoying fatherhood while still finding time to sail, make music, and tip back a tasty IPA every now and again.