We're going to see WA360 finishes today in Port Townsend! Check back for periodic updates from our sailing buds on the race course.
What fun this has been and still is! If you're just tuning in, be sure to explore our feeds for Day One, Day Two, and Day Three.
This morning should see a lot of frantic tracker-refreshing as the leading teams are in the Strait and heading toward the finish. After an otherworldly effort, the human powered teams were finally passed by the sailboats last night. Incredibly impressive how long they held the lead — it's easily the feat of the event (thus far). With the right conditions, the fastest sailboats should have three-times the speed potential of any of the human powered teams.
As the teams careen toward DONE, the place to watch will be the WA360 Finish Line Feed from the Northwest Maritime Center. Go teams!
Editor, 12:59 p.m.:
Unbelievable! Team High Seas Drifters have really pulled off an upset. AMAZING job to the dark horse team on an Olson 30 called Dark Horse. Great effort and great focus to the very end from the Montana-based crew of Shad Lemke, Mark Bostrom, Scott Wood and Jefferson Franklin. They were cruising under the twin pedal drives, and clearly that was part of their success down the stretch. Well done!
Editor, 12:14 p.m.:
For a while, Big Broderna's tracker wasn't updating and we figured that they were closing in on 1st place while sailing dark. It's updating again, and they're caught pretty far west (perhaps in adverse current). In a really unexpected turn of events, the Olson 30, High Seas Drifters, and the Merit 28 Fressure have passed the much faster-rated boats and are looking like they may well be in place for the belt. It should be noted that the Drifters' boat is actually named Dark Horse. You can't make this stuff up!
Team Off The Rails, 11:19 a.m., (posted 2:10 p.m.):
I heard from Alex a few hours ago, but couldn't pull myself away from the finish well enough to post his update the first few teams had crossed the line. They're still sailing hard and having a great time. We first started talking about the dismasting of Gulls On Buoys. After hearing that, Alex said:
Well, that's a shame. Good thing Bart just redid our chainplates… This boat is strong like bull!
Then, he got into how their last 16 hours of the race had gone, beginning with a bit more about their experience in the Swinomish Channel.
On the layline to "Point Bob". Photo by Alex Simanis.

We're on our layline to Point Bob [Point Roberts].

We had a pretty crazy last night and today. We went through the Slough and it was actually pretty awesome. We hit the tide window pretty well, and had a nice lead on the Dash 34 heading in there.

We got to the first bend in the Slough and all of a sudden, the boat wouldn't turn. The, then the Dash floated by us like we were standing still. We had something fouled up on our keel and maybe our rudder, so we decided to dock in the Slough. We managed to turn the boat around heading into the dock, and being oriented a different way in the current, whatever it was fell off.

While we were docked in La Conner, our crem member Erdogan got in his wetsuit and went for a swim to make sure were were all clear. After that, we were doing 5 to 8 knots sailing. We made it all the way through just in time before the tide switched, leaving the channel around 8:30 or 9:00 p.m. last night. We rowed only for a little while. The rowing wasn't helping when we had that snag, and after that we were sailing fast enough not to need it.

"We've had a lot of good spinnaker time in this race." Photo by Alex Simanis.

We came into Bellingham on nice headsail reach, which turned into a spinnaker run. But once we were in here, we decided to pull over for a little nappy-poo. We have been not handling our sleep very well. We've been taking naps, but there have been so many transitions — that we wanted to try to take advantage of — that we have only been taking cat naps when we can so. That's just not very sustainable. We knew we were going to deal with a fair amount of breeze when we came around the Outflow Buoy last night. So we thought it would be best to do it with a slightly clearer head. We were really out of it. Hallucinating — we were seeing monkeys flying around in front of the boat.

There's a public dock near the Alaska ferry terminal. We sailed in there. Made a couple of passes. Slept from about 2-5:00 a.m. this morn.

The sailing has been really nice this morning. It was a really breezy fetch from Bellingham. It started as a headsail reach, and then we put up the spinnaker. We've had 12-17 knots on the run here. Sun is starting to come out. PBJs were eaten, coffee has been drank. It's all good, and there's been no rowing.

It looks like it's going to be a fairly breezy #3 beat back down Rosario. It's supposed to build today, and should be breezy in the sjs, and then it might get light in the Straits; possibly going northerly — it would be nice to get the kite up again. There has been a good amount of downwind sailing in this race. We've had some great spinnaker time.

A good shakedown sail! Alex and Bart of Team Off The Rails have enjoyed getting to know the refit Wilderness 30. Photo by Alex Simanis.

All in all, we've seen a lot of conditions — upwind, reaching, downwind in breeze. The boat seems to handle everything really well. It's not bouncing around or doing anything weird. It's a good shakedown cruise!
Team Sail Like A Girl, 10:16 a.m.
Lisa and the Sail Like A Girl team are giving it all they've got in a battle for second place (probably, Big Broderna's tracker hasn't updated for a bit). I asked what was going on on the Melges 32 while they are in this final push, and about the news I heard that one of their crew members got off the boat last night (a friend in Bellingham went out to take some pictures and video and Laurie Anna Kaplan asked for a ride in). She replied:
Sail Like A Girl trying to finish all the snacks on board before the finish. Yum! Photo by Lisa Cole.

We are paying close attention to the wind, tides, and the competition… and are trying to finish all the snacks on board. We dumped a bunch of water.

We did have to say goodbye to LA (Laurie Anna). It was hard. We weren't sure we would get back in time and she had a family commitment. Last night, we had great breeze and could have used her trimming magic. If we were biking we would have REALLY missed her legs.
Team Gulls on Buoys, 9:50 a.m.:
I asked Jordan if he could share any more details about the dismasting, and about whether or not they're still racing (unfortunately, they are not). He got back to me:
We had just entered Rosario Strait. Had maybe 15 knots of wind. Things were going great. We tacked. Two minutes later, a shroud broke. Pulled right the f*@k out. Waves were not too big, low white caps. The mast went down in an instant. Everyone was ok. We spent the next 40 minutes cutting the rig off. We would have kept pedaling, but the forecast was not favorable. So, we called Tow Boat US.

The level of stoke is still high. It ain't how we wanted to finish, but it's all about getting folks to shore safe. That's happening. I'm bummed for the boat owner. Bummed for my buddy Hart, for whom this was his 3rd big R2AK/WA360 adventure race attempt. He wanted to finish. But like I said… we are in good shape.

Tim is already talking abut his next boat.
Team Gulls on Buoys, 8:44 a.m.:
More details (hopefully) forthcoming, but I got a striking, surprising, and pretty sad string of texts from Jordan Hanssen of Team Gulls on Buoys this morning. They lost their rig. Everybody is ok. But. Holy. Moly. At this point are NOT out of the race, pedaling on toward the finish! From Jordan:
Getting ready to cut the rig away. What a shame. But they're still in it. Photo by Jordan Hanssen.

No one is hurt. Got spicy. Could not have had a better team to deal with this.
Team Sail Like A Girl, 7:01 a.m.:
Got another lovely dawn-ish cloud image from Lisa Cole on Team Sail Like A Girl's Melges 32 (its always good to find another cloud appreciator!). Or maybe the beauty she's referring to is seeing the bow side of Team Trickster, who Lisa and crew are ahead of for the first time in the race. They're each closing in on the finish in a hotly contested race for 2nd place! She reports:
Team Sail Like A Girl is now in front of Team Trickster. Photo by Lisa Cole.

I went to sleep while we were impatiently waiting for the world's longest, slowest barge to pass. This morning, I woke up to the most beautiful scenery.
Here are a few fun and interesting updates from after hours last night:
Team Off The Rails, 10:42 p.m:
I got a late text from Alex Simanis on the Wilderness 30 after they'd had a snag in the Swinomish Channel. He says:
Caught something around our keel in the Slough. Could not steer. Had to dock, and it fell off. The Dash 34 drifted by us in the current like we were standing still. Crazy. Rolling again now. Seven miles from Bellingham.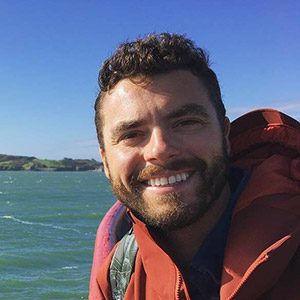 Joe Cline has been the Managing Editor of 48° North since 2014. From his career to his volunteer leadership in the marine industry, from racing sailboats large and small to his discovery of Pacific Northwest cruising —Joe is as sail-smitten as they come. Joe and his wife, Kaylin, welcomed a baby girl to their family in December 2021, and he is enjoying fatherhood while still finding time to sail, make music, and tip back a tasty IPA every now and again.