As we move into day three of WA360, we've seen the distance between the two human-powered leaders and nearest sailboats close; but the sailors still trail. The race's biggest decision — Swinomish Channel or Deception Pass — looms. Follow the fun here with more feed-style reports updated throughout the day!
Wow, yesterday was slow, until it wasn't. If you read through our feed in chronological order, you'll see it was pretty quiet through most of the day for our sailor pals racing the WA360. And then boom. Breeze. And quite a bit. And from the south, no less. The leading group of sailboats put up spinnakers and rocketed north under this new breeze. Mustang Survival's Team Ocean Watch reports hitting 15 knots of boat speed! The southerly stayed around for most of the night and is still on Wednesday morning, though it's lighter now. As such, the fastest sailboats have been chewing up the gap between them and the astoundingly impressive two human-powered boats who still lead the race, Bend Racing and Boogie Barge. (Do they sleep? Are they robots? Aliens? Robot aliens?) Those leaders, according to the tracker as of 9:00 a.m. this morning, lead the closest sailboat — Team Big Broderna's F31R trimaran — by 11 and 15 miles, respectively. That's a big delta in a boat race, but the sailors are definitely within striking distance. To a person, the sailors have been somewhere between relieved and ebullient to actually be making miles with wind power, instead of their straining muscle and sinew.
One of the interesting developments overnight in the light downwind conditions has been a consolidation between the leading group of sailboats. On Day One of the race, it really looked like the fastest multihulls, Broderna and Trickster, were likely to extend on the next clump of competitors, most of whom are monohulls, including Sail Like a Girl, Mustang Survival's Team Ocean Watch, Fressure, High Seas Drifters, Ruf Duck, Gratitude, and Gulls on Buoys. The fast multis maintain some distance and a controlling position on the others, but any of those boats are potentially in touch enough to make it interesting. How many of them take a chance on Swinomish Channel instead of Deception Pass and look like a hero? Or a zero?
The current conditions at Deception Pass are obviously a massive influence. Predictions have max flood (west to east flow) of 5.6 knots just after 1:00p.m. today. That's a pretty inconvenient tidal gate closure for the chasing sailors hoping to get a split and make some gains on the two human-powered leaders, who are each in the Channel as I write this.
The weather for the day appears to be pretty typical summertime thermal situation, with a building and steady westerly in the Strait of Juan de Fuca. This would mean short-tacking Deception, whenever teams get there and think about giving it a go. For those tempted by the Channel, they might (might!) have a light south/southwesterly to help them along. This breeze turns more southerly as you head farther north into Bellingham and Boundary Bay, which is good news for the sailors, but may keep the leaders moving fast in the right direction today too, while the sailboats are mired in the Channel/Deception transit.
It has already been a fascinating race, and all signs point to it remaining that way. I can't even figure out who I'm rooting for anymore. The human-powered teams are so impressive it would be nice to see them seal the deal. But wait… I love sailing and my sailing buds. So, I guess… GO EVERYONE!
Team Off The Rails, 5:39 p.m.:
I just heard from Alex Simanis aboard Team Off The Rails' Wilderness 30. We had hoped to have a phone call this afternoon, but first it was a bit too light and he was busy on the oars. Then, all of a sudden, it got windy and he got busy in a different way. He was able to send a text, though:
It got super windy out of Penn Cove — normal drinking weather for Whidbey Island Race Week.

We gad a great day of big miles. The only slow part was inside of Whidbey from Langley to the Oak Harbor area.

We are approaching the Slough area, and think we can make it through on the tide. We're headed that way to avoid the big ebb in Rosario Strait.
Mustang Survival's Team Ocean Watch, 4:47 p.m.:
Got a note from Karl Krüger on the Megles 24, Mustang Survival's Team Ocean Watch. They were the first team to make a go of it through Deception Pass. And they are through, now making nearly 10 knots and headed north once again! They were followed by multihulls Ruf Duck (Farrer F9R) and Lake Pend Orielle Yacht Club (Corsair F27). I asked him why Deception over Swinomish, and how it was going through. He replied:
Thumbs up all around for sailing fast after being the first team to transit Deception Pass in WA360. For Dagny Krüger (left), Emilie Van Vleet (center) and Molly Howe (right). Photo by Karl Krüger.

Deception went well. Our timing just happened to be good… Plus we didn't want to pedal the slough, we'd rather sail fast. We needed to use SUP paddles for extra horsepower. Worked the center boils to avoid faster water at the edge. We're gunning to get the kite up soon.

After a lot of pedaling, the Melges 24 sails are finally getting a workout, which makes Dagny smile. Photo by Karl Krüger.
Team Gulls on Buoys, 4:43 p.m.:
Not somewhere most of us would think of sailing, but the sails are up and they are moving. I got this video from Jordan Hanssen as they are cruising through the Swinomish Channel. His message was brief:
Sailing the Swinomish. Photo by Jordan Hanssen.

Sailing all the way through it!
Team Sail Like A Girl, 4:38 p.m.:
We got a report from Lisa Cole about Team Sail Like A Girl's transit of the Swinomish Slough. She says:
We enter the channel at 1:15 p.m. and exit at 4:23 p.m. Lots of short tacking at the end. Beautiful day. Saw eight bald eagles in there. Now in 10 knots nearing Guemes. Jib up and flying!
Team Sail Like A Girl, 1:14 p.m.:
Quick message from Lisa Cole with a video and a photo as they were headed past Goat Rock and into the Swinomish Channel. It said simply:
Goat Rock. Photo by Lisa Cole.

The Welcome Party.
Team Gulls on Buoys, 10:53 a.m.:
After his fun of messages throughout the race, especially all the good vibes after finally making some miles under sail last night, I invited Jordan Hanssen to tell us a little more about the crew and life on board. Here's what he had to say:
Man, we got a really good team. It's a fun crowd. No one yells. It's my buddy Hart, who I rowed with in college, and his wife Nicole. He put together a team for R2AK in 2019 in a 16-foot rowboat. The didn't make it into Victoria for the cutoff. He planned to do R2AK 2020 in an Olson 30, which is when his wife decided to join. He brought in an old sailor dentist named Tim for that too. But that whole thing got Covid killed.

So here we are in 2021, now in Tim's boat, a 30-foot wood custom Bob Perry design called Wood and Wind. We also have been joined by the guy who sold Hart the Olson (Dazed and Confused from R2AK 2019) and another friend of his from SYC. Tim grew up around here, sailing the South Sound. He's a calm captain, and can really read the wind.

Hart moved away after college, though he didn't want to because he loved the PNW so much. It took him 12 years to move back. He threw himself into doing nautical northwest stuff. So this is not so much a milestone, but a milestone for getting into being on the water in the PNW.

This boat, as I imagine a lot of these are, is built for speed, not comfort. Moving around is like a puzzle with too many pieces. She leaks. The pedal drive wasn't fully tested before the start. Fast… but. Not perfect, but she's treating us right so far.
Team Gulls on Buoys, 10:17 a.m.:
Jordan Hanssen reached out again with more details about their experience this morning:
Ended up spending only about 10 minutes on the bike this morning, up until 15 minutes ago. Finally doused our spinnaker and are making way up Camano Island under pedal power. Folks got a lot more rest last night, which makes a big difference.

We drove hard this morning and didn't lose anything, but we're not able to keep that up. We're eager to get to the La Conner/Deception Pass decision.
Team Off The Rails, 9:23 a.m.:
I was happy to get some more cheerful communication from Alex Simanis and crew aboard the team's recently-refit Wilderness 30. He said:
Epic morning sail today. Aiming at Hat Island making 6 knots in bad tide.

Last night was good. We ducked through the Narrows at 11:00 p.m. right at the end of the ebb. We sailed down Colvos for a bit, and it looked grim. So, we did an about face and went around the south end of Vashon. We were rewarded with great reaching, and a nice breezy spinnaker run. We gained on two boats for sure.

Living the dream on the Wilderness 30. Photo by Alex Simanis.
Team Sail Like A Girl, 9:07 a.m.:
I had followed up with Lisa Cole to try to learn more about the overnight visits from fans she mentioned in the previous message. After waking up from an off-watch snooze, she was happy to share more:
Just woke up and was handed a cup of coffee. Love this team! We are really good about our watch schedule, and have been from day one. Sleep has been important, especially since we have biked so much. We have had visits several places along the way and been cheered. A local sailor came out with a banner (that they made) on their boat. It was so much fun!
In addition to Lisa's message. We learned from a video update from Sail Like A Girl skipper, Jeanne Assael Goussev, that they've not only had visits from fans, but multiple food deliveries from them along the way!
Team Gulls on Buoys, 8:24 a.m.:
Jordan Hanssen reported in from the custom wooden Perry design belonging to the Team Gulls on Buoys. Sleep and sailing does everyone good, and he's another happy camper:
Last night was great. Into Colvos, the wind died, we biked, and the wind began to build again. Went down for the first decent rest of the trip just after Olalla and woke up off of Ballard. Boat sleep was pretty much as expected, but with the spin up, we could go down for a few hours instead of 40 minutes. Last night was some of the best low stress racing of the event so far.

Still on the spinnaker and light came up just after the Whidbey ferry to reveal several boats ahead of us, but not as far as we thought. All that sailing was, and still is, in a southerly!
Team Sail Like A Girl, 5:03 a.m.:
This morning, I woke up to a text from a very positive from Lisa Cole. They made great progress running overnight on their Melges 32, and are looking like the group of savvy sailing and adventure racing veterans that they are. She reports:
Sunrise on the Sound. It's beautiful, obviously, but it's more beautiful if you've had a great night of sailing. Photo by Lisa Cole.

Last night was so much fun! We had a great downwind run. And we had visits from some fans.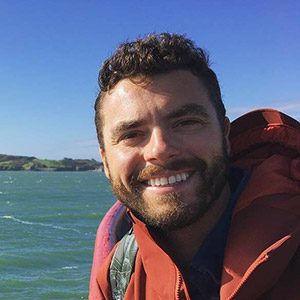 Joe Cline has been the Managing Editor of 48° North since 2014. From his career to his volunteer leadership in the marine industry, from racing sailboats large and small to his discovery of Pacific Northwest cruising —Joe is as sail-smitten as they come. Joe and his wife, Kaylin, welcomed a baby girl to their family in December 2021, and he is enjoying fatherhood while still finding time to sail, make music, and tip back a tasty IPA every now and again.