This article was originally published in the January 2022 issue of 48° North
With a mix of distance and around-the-buoy races, as well as single-race events and multi-race regattas, the qualifying races for 48° North's Top 25 are a good representation of sailboat racing in the Pacific Northwest. 
Scoring is on a percentage basis depending on the size of the class: 0% (did not finish) to 100% (first in class), where the event score = (Finishers – Place) / (Finishers – 1). Overall scores are an average of a boat's best five finishes. There is no minimum number of races required to qualify. Multi-race events (like the Southern Sound Series) are scored as single events. 
This year, the #1 boat goes to the J/105 Creative, skippered by Al Hughes and Shauna Walgren. The Creative crew is well known among 48° North readers, as Al and Shauna both contributed race reports in various issues throughout the year. Al and Shauna are terrific sailors, but what they might be best at is consistently and enthusiastically getting Creative and a rotating crew of sailors out on the water enjoying racing in the Pacific Northwest. Especially noteworthy is the commitment from both Shauna and Al to empower women racers — it's a unique and inspiring collaboration and has provided both great finishes on the racecourse and enormous benefit for the sailing community. They deserve both our heartfelt congratulations, and an equal thank you for their accomplishments in 2021! 
Everyone on this year's 48° North Top 25 sailed exceptionally! It is always a privilege to present the list and offer our admiration and appreciation for those in the racing community who live it and love it, and sail so well. 
48° NORTH'S TOP 25 FOR 2021:
TOP 25

Q

UALIFYING RACES FOR 2022
Here is the list of qualifying races for the Top 25 in 2022. Check www.48north.com/sarc for more details on when and where to go racing.
Happy racing and good luck to all sailors! 
> SSSS Southern Sound Series 
> CYCS Center Sound Series
> STYC Carol Pearl Blakely Rock Benefit
> WVYC Southern Straits Classic
> CYCS Puget Sound Spring Regatta (Big Boats)
> SYC Tri-Island Series 
> CYCP Pacific NW Offshore
> RVicYC Swiftsure
> Race Week PNW – Anacortes
> CBSA Cowichan Bay Regatta
> BYC PITCH
> CYCE Foulweather Bluff
> CYCS Puget Sound Sailing Championship (Big Boats) 
> SYC Grand Prix Regatta
> OIYC/FHSC Round the County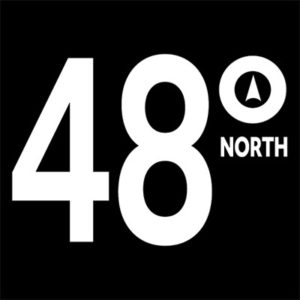 48° North Editors are committed to telling the best stories from the world of Pacific Northwest boating. We live and breathe this stuff, and share your passion for the boat life. Feel free to keep in touch with tips, stories, photos, and feedback at news@48north.com.