These two inspiring couples call Orcas Island home and each pair completed the Pacific Cup race to Hawaii doublehanded this summer. Christina and Justin Wolfe are some of the most experienced and accomplished doublehanders in our region and beyond, and did Pac Cup on their J/111 Raku. Stephanie Arnold and Ken Machtley sail their J/99 Dash, and illustrate the amazing adventures that are available even for those who are newer to the shorthanded racing scene. Read on as these awesome sailors share many facets of the doublehanded offshore experience.
48° North: Tell us about your genesis as offshore doubles teams. How did you start thinking about doublehanding a race to Hawaii?
Justin: Chris and I actually met because I bought a Sonoma 30 that I wanted to race doublehanded. At the time, the shorthanded opportunities in Seattle were Jack and Jill races, and I needed a Jill. It never really occurred to me to have any other big goal in racing than doing doublehanded offshore distance racing. The Salish Sea has been a really good proving ground to get there — with all the races we have to offer including lots of overnight races, there's lots of opportunities to go out and practice.
Chris: I'd just add that it's always been much easier for the two of us to go out and go sailing than to organize a crew for a race. There's that practical logistics aspect. And I like to sail with him.
48N: Once you started racing as a pair, how long was it before you were on the start line of your first Hawaii race?
Justin: Eighteen years. We went cruising, and sailed across the Atlantic two years before our first Pac Cup. We cruised on the same boat we would race, but we didn't just jump into it as a campaign.
48N: Ken and Stephanie, how did you decide doublehanded racing was your thing?
Ken: When we started dating, Steph had the J/33 and never had a consistent crew. So for her, it was beneficial to be able to count on one other person and have consistency on her crew.
For me, I had only been racing for five years on the Martin 242 and other small keelboats. Jumping up to the bigger boat and doing doublehanded racing — both of those were going to be challenges, and I like new challenges. I had done the offshore cruising thing years ago. So I had been offshore, just not in the racing context.
48N: Stephanie, was going offshore always in your mind?
Steph: I'd always wanted to go offshore — my dream was to go cruising when I retired. When I was racing the 33 and Ken and I started sailing together, Chris and Justin were a huge inspiration. We started to think, "Wow, we could do this." The dream of cruising can come later, but I really love racing, and being able to go race doublehanded offshore — what an opportunity, what a thing to go try!
Chris: We both bought new boats at the same time. We both realized we wanted to focus more on doublehanded offshore racing, and we both went out looking for what we thought was going to be the best boat for that.
48N: Your boats are close cousins, but what went into your respective boat choices? And how did you think about the differences, given your relative experience levels or aspirations.
Ken: Chris and Justin wanted a boat that rated faster than what they already had in the J/120. The J/99 would rate slower. Their rationale made sense, "Why would we buy a slower boat, even if it's designed for shorthanding?"
We understood that the J/111 was a more tender boat, and the J/99 was a sexy new boat specifically designed for what we wanted to do. In retrospect, we didn't have the experience that Chris and Justin had to handle a more tender boat like the 111. They're very, very similar — the same slip size — but theirs has got a pole, ours has a fixed sprit, our beam carries aft farther, our stability index is higher, our mast is shorter. So, all of those things make the 99 that much easier for us being less experienced.
48N: Why was the J/111 the right boat for you, Chris and Justin?
Chris: Given that we sail mostly in the Salish Sea, a reasonably light air venue, we wanted something that would power up and really sail well here. The J/111 was kind of the obvious choice. We've been super happy, but there were a lot of times during the Hawaii race when I think I really would have loved to have the tiller that Dash has.
Justin: All boats are compromises. We had to make the compromise of what would be the best boat for sailing around here, and the best boat for offshore doublehanding. If you only did one or the other, you would end up with two different boats. I think we nailed it better for the Salish Sea — we have the perfect boat for us to sail our local waters.
48N: Justin, you alluded to it… Talk a little bit more about the Salish Sea as a training venue.
Justin: There are so many races you can do to gain experience, especially overnight experience — Swiftsure and Southern Straits, Van Isle, Patos Island, and the Smith Island Race. Overnight races provide a big step from just doing buoy races or day races. When you're doublehanding, you have to start resting and measuring your effort. Plus you have to sail at night, which of course you're going to do for those other distance races. It is unique to have opportunities to hone those skills across quite a wide range of races. In some other sailing venues, the overnight races are quite similar, often starting in the same place and finishing right back where you started.
Our challenge is that we don't get the big waves downwind, like we would wish we had for going out in the big blue. So, we go out and do races like the PNW Offshore or Van Isle, or Swiftsure on the way back. You have to seek those out a little harder.
48N: Ken and Stephanie, how did you feel the local waters and races prepared you for your first Hawaii race?
Steph: As my first real offshore sailing, I wish I had more prep, especially the night sailing with the kite and the big waves. It's not that we didn't seek that out — we did PNW Offshore, for example. Some of our prep was affected by COVID cancellations. Looking ahead, I'd love to go do the race again, and go get that experience and see how much we could improve from the first time.
48N: Is it possible to really feel prepared without having done it?
Steph: You try to prep and do the classes; but the weather, the squalls, the sea state — I just had no real experience driving that, sailing that, racing that. It was a learning curve, but I never felt scared. I was really impressed with the J/99, the boat felt really, really secure. It was more the other things. We lost the halyard and one of the sheets came loose, and it was always in the middle of the pitch black night. With just two of you on the boat, you're tired. How much more can you take? How come this didn't happen in our training?
Ken: Here's a scenario. We were reaching with the code zero at night on our fourth day out, and the wind is starting to come up. We felt like we're pushing the boat pretty hard. I was off watch and "BOOM!" there's a loud noise. A couple of minutes later, Steph got me up saying, "The boat's going 2-3 knots and I can't figure out why." It took us a while shining the light around to realize the halyard had sawed itself through on the sheave and the sail was sitting in the water. Wrestling that on deck took so much energy, and doing that in the dark made it more difficult.
We started with only two halyards, then we were down to one, and we had a long way to go to Hawaii. We were pushing it and the experience that night dialed us back and made us more practical. We continued to make performance decisions, but we probably shifted from racing to Hawaii to cruising or just getting there after that.
48N: Chris and Justin, what kinds of things has experience taught you that helped you avoid situations like that and put you and your boat in a position to keep the pedal down?
Chris: It's an endurance sport and managing the rest is crucial. During our first two Pac Cups, I remember just how tired I was the whole time. When you're tired, you start to worry about something happening because you're not feeling like you can handle it well. In the last couple of years, we've been able to figure out what works for us when it comes to managing fatigue. This Hawaii race was night and day for us — just how good we felt and that we were refreshed and ready to be able to push the boat and try to handle things, should something come up.
48N: How did you manage rest, and what changed?
Chris: Using the autopilot is legal during Pac Cup. We tried to use it as much as we could, and we were trimming for the autopilot. The last three days, we ended up having to hand steer. And we did that 30 minutes on, 30 minutes off for three-and-a-half days.
48N: You didn't sleep longer than 30 minutes in those last days?
Justin: No, but we felt great at the end of it.
Chris: That's how we do the 300 mile races.
Justin: We learned that in Italy and found that it was just amazing. We went into this Hawaii race knowing it was going to be more challenging with bigger breeze the farther we went. So, we tried to just pack in the rest up front. By day eight, I felt as rested as before I started the race.
48N: How did you guys do watches prior to the hand steering window?
Justin: One-and-a-half to three hours. We're very flexible. We don't look at a clock, it's just a timer. We agree as we're going down how long an off-watch will be based on what has happened and how much energy we've just expended. It's a discussion of how to optimize for the two of us — one to get rest and the other one to not get too crushed. Not digging deep while you're on watch is as important as trying to get the rest when you're off watch.
48N: Ken and Stephanie, how was that similar or different from how you handled watches and rest?
Ken: We did three-hour watches and were more by the clock. In my cruising experience, that's how we broke stuff up.
Steph had a fair amount of seasickness, so I was the one doing the cooking, the weather, and the email updates we sent out each day. Rest-wise, that played into it. I tried to do some of that on my watch when it wasn't too windy for the autopilot.
48N: How long did you struggle with seasickness, Steph?
Steph: The first few days were tough. It's debilitating to try to get up and do your watch and concentrate, while hanging over the rail at the same time. I tried different medicines and different things. It subsided, but I always had that queasiness, and if I didn't take the medication every 12 hours, it would come back.
48N: Chris and Justin, is seasickness something you guys have dealt with?
Chris: We've been fortunate to avoid debilitating seasickness. We've done a couple of races with Ken and Steph now and know how hard Steph's experience has been, I have so much empathy for what that must be like. We use meclizine and we have a recipe that has worked really well for us — we take it for two nights prior to the race start and then stop. It's in our system but we don't have drowsiness. On our Atlantic crossing, I took some Dramamine in the middle of it and I was just dead to the world.
Justin: That's experience, right? It took us a little while to figure it out. We don't even have to think about it anymore, we know how we're going to approach it.
48N: Three out of four of you had offshore cruising background before you went offshore racing as doublehanders. How much do the three of you lean on that cruising experience when you're out racing?
Ken: Given that it was the only experience I had going offshore, I probably lean on it a fair amount. The preparation, making sure every nut and bolt is tight, inspecting everything, watching for chafe — there are skills you just take for granted after you've done it. I don't think it was essential, though. Your first sea mile is your first sea mile, whether you're racing or cruising.
Justin: For me, the benefit was just more miles, more experiences, more time at night. You see big winds — 40 knots or more — and after a few hours or days of that, it seems a little easier. There's nothing magical about it, but time at sea is valuable.
Ken: That's a good point, it's always about raising your threshold. There were times when I was in a comfort zone and Steph probably leaned on me to say, "This is ok." It's important to trust each other, and those experiences and thresholds.
Justin: That's what a lot of the longer races, like Hawaii, are about — trying to gain experiences that you're going to encounter out there before you do the race. The more experience you have, the easier it's going to be. This third Hawaii race wasn't necessarily easier because of the previous two races, just the fact that we had accumulated experiences that prepared us and matched what we were doing. That was true right up until the very last day, when we ended up with hurricane swells coming from the side — we never experienced that before and we sucked at it. We couldn't figure out how to fly the kite or the code zero. We were back to square one.
48N: Chris and Justin, it is unique that you had such extensive cruising experience with the identical crew that you go racing with. How important does it feel to be building that experience as that unit?
Justin: For the way we approach it, it's everything. All of the decisions and actions we make are because of the relationship that we have. We can immediately jump to start doing something because we know how the two of us are going to handle it.
Chris: And maybe a little deeper into that, there's the teambuilding. We're married, and then there's Chris and Justin on the boat as teammates. We've figured out when to say, "We'll talk about that later," as we're racing. It's not affecting the relationship we have in our marriage — it's a little more complicated, but it's also much more rewarding.
Justin: I don't know that it's a couple thing as much as it is a teammate thing. You could do this equally well without being a couple — good friends building understanding and time on the boat.
48N: Ken and Steph, your shared experience is different. How do you think about it?
Steph: We joke about it — our goal was to be still talking to each other at the end of the race. It's a fairly new relationship, and it's a lot to do something like this. You have to sail to the weakest person on the boat because you don't want to scare the other person, but you also have to trust the other person even if you're a little nervous about certain things.
Ken: If you're sailing doublehanded, you've got to be committed to learning on your own. If we did this again, we might want to crew on someone else's boat. You're not the one worrying about the boat, and you're immersing yourself in an environment where you're a contributing team member but also learning.
Justin: You're absolutely right. If the goal is simply to get better at doublehanding, doing some crewed racing with good people is part of that. Just as an example, we did a 400-mile delivery with Jonathan McKee on a Figaro 3. We'd never sailed together before and we barely knew him before that. But, spend 400 miles sailing with Jonathan, and it changes your world. It changed our perspective and what we're shooting for as much as anything.
48N: What other advice do you have for people who look up to the four of you as sailors who are doing something that they might want to do?
Steph: I would say get out there, seek out those opportunities, and go try it. Doublehanding is for some people, and it's not for others. You never know until you experience it.
Ken: I agree, it's about putting your foot in the water and trying it out. If it's your partner or spouse, that's an obvious choice, but it could be anybody. Find somebody you can really trust and start with a small race, or even going out and doing your own thing.
Chris: I would recommend that people look outside of the U.S. to what's going on in places like the U.K. and France. It is really, really inspiring. Justin and I had the opportunity to see the Vendée Globe start. It's motivating to see what those shorthanded sailors are doing, what's going on with the doublehanded scene elsewhere in Europe, and what kind of conditions they're sailing in. There are always challenges in a Hawaii race, and there were times when a squall would hit and it would get a little saucy, but I would think to myself, "This is nothing like what they're doing in the North Sea. We're not experiencing 40 right now, people do this all the time." It sets the expectation and helps you think about the situation by stepping back and remembering, "I chose to be here and this is one of the interesting aspects of our sport."
Justin: Both teams have proven that we have the ladder rungs in the Salish Sea to prepare yourself to race to Hawaii. You can do any race doublehanded — we just go out and race against the fully crewed boats, we don't care. We've met some really good doublehanded sailors that were completely intimidated by doing something like a Swiftsure doublehanded.
Ken: Using those races as stepping stones, you don't have to go full-on. If you're doing Swiftsure and it starts blowing 30, stick with white sails and reef.
Justin: Or you put your biggest sail up and think, "At least we get to go home tonight!" (laughing). Let's make it go ugly now so we know what that looks like.
Ken: For more concrete advice, sailors could check out the Pacific Northwest Shorthanded Sailing Society, which the four of us founded. Our hope is to encourage local clubs to include shorthanded classes in their existing races — and then encourage shorthanded teams to come racing. We are always available to chat or answer questions, the website has some good resources, and we're working on a PNW Shorthanded Championship circuit for 2023. It's exciting to think about how shorthanded sailing might continue to grow in our sailing community.
Joe Cline is the Managing Editor of 48° North. Learn more about the PNW Shorthanded Sailing Society at www.pnwsss.org/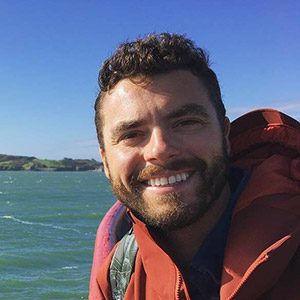 Joe Cline has been the Managing Editor of 48° North since 2014. From his career to his volunteer leadership in the marine industry, from racing sailboats large and small to his discovery of Pacific Northwest cruising —Joe is as sail-smitten as they come. Joe and his wife, Kaylin, welcomed a baby girl to their family in December 2021, and he is enjoying fatherhood while still finding time to sail, make music, and tip back a tasty IPA every now and again.