A 48° North Boat Test
From the November, 2020 issue of 48° North.
I've been excited to get out on the new Beneteau 30.1 for a while now. In large part, my interest is driven by an appreciation for this size of "entry-level" performance cruiser. Such options seem to be increasingly rare in the new sailboat market. It's an important class — how many sailors got their first real taste of cruising when they bought or sailed on a Catalina 30, C&C 30, Cal 29, Islander 30, and so many others?
We hear a lot of sentiments along the lines of, "40 is the new 30," which presumes bigger is better. In many ways, it certainly is. In other ways, though, bigger just means more boat to moor, to dock, and to handle under sail. Smaller boats have their advantages, and it is especially true when the smaller boat is as thoughtfully designed as the Beneteau 30.1.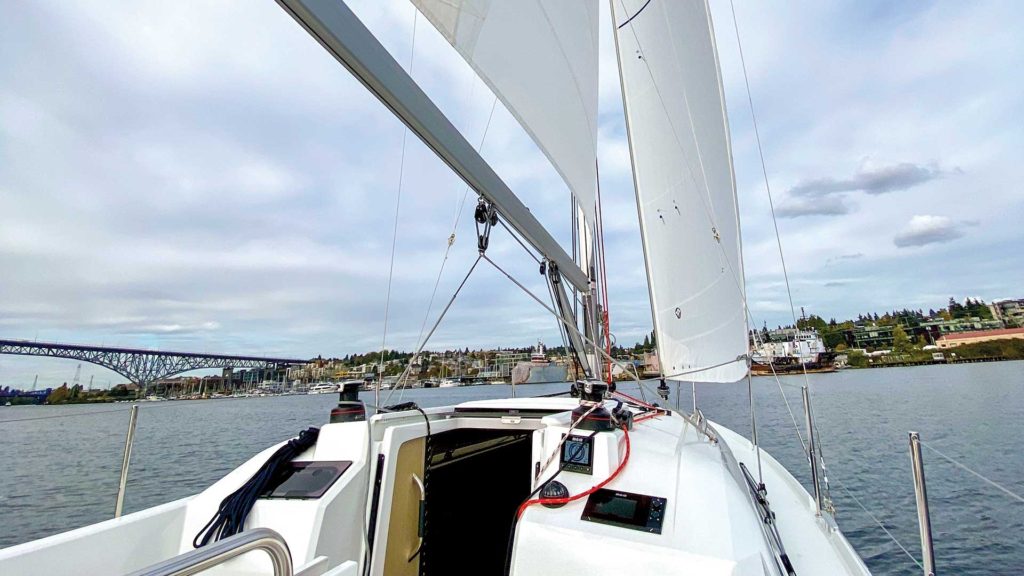 The 30.1 is one of the latest in Beneteau's new Oceanis "point one" generation. All of these designs display a commitment to modern design compared to the models they replaced. In the case of the 30.1, this involves utilizing full-length hard chines, which reduces wetted surface at the waterline, boosts interior volume from stem to stern, contributes to hull form stability, and adds bow buoyancy in wavy conditions. The model also employs twin wheels (a tiller is optional), twin rudders, a plumb bow with bowsprit for flying sails, as well as a vastly different cockpit layout that shows the influence of wide-flat racing yachts. All of these things not only serve a more cutting-edge aesthetic, but they also provide utility and improve performance, or both.
I've heard the 30.1 described as "sporty" on several occasions, and after sailing it (even in light breeze), I'd say that the characterization is objectively fair. But it is most true in comparison to its predecessor. The Beneteau Oceanis 31 was an extremely popular design, but put next to the new 30.1 it looks more… classic. The Oceanis 31 was a soft-chined cruiser with a single-helm, single-rudder, a smaller, more enclosed cockpit. The new 30.1 is notably 1,500 lbs lighter and is more than one foot narrower in beam than the boat it replaces. Its standard draft is also deeper by a few inches, and it has new optional lifting or swing keel configurations as well.
The cockpit of the 30.1 really is my favorite part about this design. It is as simple and clean as it is enormous, and would be the envy of sailors familiar with the 30-foot cruising boats of yesteryear. The twin helms make movement fore and aft effortless. The permanently affixed metal bar between the deep and comfortable bench seats serves as a hand-hold while providing the structure to the hinged cockpit table leaves. The bar itself felt sturdy enough for most situations, but I wondered if it would stay anchored if someone my size actually fell against it with some force in choppy seas. The whole cockpit table set-up is low profile and allows easy movement along either side. The sole runs literally right to the open transom with a hinged swim step, and the entire area behind the twin helms is flat (save two low-profile foot pushes). It all feels like the right combination of big and modern, and definitely makes you feel like you're on a larger boat.
A fairly standard appointment of self-tailing winches, one at each helm station and one on either side of the cabin top, facilitate all of your necessary sail controls. It's worth noting that the mainsheet — which utilizes the increasingly-common bridle rigging with no traveler — is trimmed at the cabin top, and is unreachable at the helm station. Electronics displays and the compass are also consolidated near the starboard cabintop winch, easily visible from either helm station, but out of reach of the helm. These factors make the boat simple and efficient for doublehanded sailing, but don't facilitate the dead-easy singlehanding of some modern cruisers.
The Beneteau 30.1 comes in multiple sail configurations with: either a traditionally rigged flat-top main or in-mast furling, and the choice between a self-tacking jib or a standard-sheeting 105% genoa. There's 26% more sail area in the main with the flat-top option, and 40% more sail area with the genoa over the self-tacker. Those are significant increases, especially for Pacific Northwest sailors who might spend most of their time on the water during the light-air summers. The boat I sailed had the batten-less furling main option paired with the genoa. For sailing enjoyment, I think most folks would choose at least one of the larger-sail options, and I'd personally go with both. I say this in every review, but the fixed bowsprit begs for a code zero or spinnaker. Either would up the fun factor in a big way.
Our test sail day was light, but sailable. It actually allowed the boat's performance design elements to shine — the lighter displacement with a narrower profile and less wetted surface kept the boat moving well on all points of sail in 3-7 knots of breeze. Beating in puffs was, of course, when we had the most fun in those conditions. It's a lively boat, and I found it maneuverable and responsive, but not tender.
The sails were simple to trim into a pleasant shape. Mainsail trimmers should note that, especially in the light breeze, the bridle system is rigged with enough play that you can way oversheet your main if you aren't paying attention. Still, if it's blowing, the vang would likely be an important tool to keep the main working and efficient. There are lengthy jib-lead tracks just outboard of the coachroof that enable endless sail shape adjustments, the controls for which are conveniently positioned next to the primary winches where you'd be trimming that sail. The rig has swept single spreaders, no backstay, and outboard chainplates, all of which make for a very clean look and sailing experience.
It took a good few degrees of heel or more before I started to get a little feel in the helm, which is common with twin rudders. Interestingly, with less heel, I believe I was feeling a little bit of lee helm. I couldn't help wondering if the balance might have felt different if the sail options had been flopped (the larger flat-top main and smaller self-tacking jib). Even with these configuration questions, the boat has a nicely balanced helm and tracked well when the breeze was consistently above a couple of knots — the wind you'd want to be sailing in anyway. In bigger breeze, those helm-feel questions would be allayed by the control you gain with twin rudders when heeled. I'm confident that most crews would choose to depower or reduce sail because of the discomfort of excessive heel before the boat would round up due to loss of rudder control.
The entire experience of sailing, from unfurling to trimming to driving, all of it made me appreciate the open cockpit layout even more. There's still comfortable seating at the helm on the outboard decks, but without bench seats along the stern, the storage lockers normally found there are sacrificed. Luckily, the lazarette under the cockpit's starboard bench seat is expansive.
Trading storage for elbow room was a design decision that continued in the elegant and spacious cabin. Genuinely, standing in the cabin (which boasts headroom of 6'1″- 6'3″), you would never guess you're on a 30 foot boat. Beneteau's designers maximize the space beautifully. Enhancing the open feeling, large hull portlights on either side are unobstructed by cabinetry. It is aesthetically pleasing, but it contributes to the theme I'd call: luxurious space, limited storage. In the salon and galley, storage would be a challenge. There are ample storage options in the aft berth, and even more in the forward cabin. For many, it will work just fine, but I've also had the cruising experience where you stand in the salon surrounded by bags of groceries and personal items going, "Where is this all going to go?" The answer on the Beneteau 30.1 will just require extra creativity.
Compared to more traditional 30-foot cruisers, though, the comfort of the interior is almost unthinkable. French doors between the forward cabin and the salon really deliver the sense of volume and space. The galley is highly functional and, while the pantry space is limited, the refrigerator is enormous. Even the head is bigger than I expected on a 30-footer. The navigation station is convertible to extend the starboard settee, and the salon dining area can accommodate more folks than you'd probably want to cruise with. All of its appointments are clean, modern, and thoughtful. If you can live without the storage, it's the most appealing interior on a 30-foot sailboat I've ever been in.
As I often do, I put the 21 horsepower Yanmar diesel (an optional upgrade over the 14 HP standard) through its paces. At 2,500 RPM, we saw 5.5 knots of boat speed. I declare that respectable, considering that small boats don't have the benefit of extended waterline. Bumping it up a little, I was pleased to see that 6+ knots is available to you if you are willing to spin your diesel up to 3,000 RPM. I played with winding it up even more, and didn't reach diminishing returns (saw a top speed of 7.2 knots) before I got nervous and brought it back down.
Versatility and modernity shine in the design of the Beneteau Oceanis 30.1. The compromises made to create spacious comfort in the two places we spend the most time — the cockpit and the main salon — seem like wise priorities. It is impressively fun under sail while still being the picture of simplicity and accessibility. This is the kind of design that can usher a lot of new folks into boat ownership for the first time, and be the transformative platform aboard which they discover the wonders of sailing and cruising in the Pacific Northwest.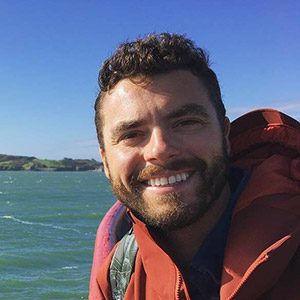 Joe Cline has been the Managing Editor of 48° North since 2014. From his career to his volunteer leadership in the marine industry, from racing sailboats large and small to his discovery of Pacific Northwest cruising —Joe is as sail-smitten as they come. Joe and his wife, Kaylin, welcomed a baby girl to their family in December 2021, and he is enjoying fatherhood while still finding time to sail, make music, and tip back a tasty IPA every now and again.