This article was originally published in the January 2022 issue of 48° North.
ICOM M510 VHF
A longtime leader in the VHF market, ICOM has recently announced an upgrade from their M506 series to the M510 Class-D DSC VHF marine transceiver w
ith wireless LAN function. The new M510 delivers class leading 10 Watt powerful audio output with a smaller design and microphone connectors on both the front and rear panel that gives boat owners more autonomy in how they install their radio. A wide angle color TFT LCD makes it easy to read and navigate the screen, which can be remotely controlled with a smartphone. A smartphone can also be used as a microphone and is compatible with the COMMANDMIC™ as well. Boaters will experience no interruptions while talking with M510's active noise cancelling, which digitally removes background noise from transmit and receive audio. An integrated AIS receiver and GPS receiver (with a switchable internal to external antenna) are standard features of the M510. 
Price: $599.99 » www.icomamerica.com
Ronstan Spinnaker Pole Ends 
If there's one piece of gear aboard racing and cruising boats that you want to work quickly and smoothly every time, it's your
spinnaker pole ends. Ronstan's new keelboat spinnaker pole ends are designed and built to do just that. They feature anodized aluminum bodies with grade 316 stainless steel hardware and are available to suit tube sizes from 50mm to 100mm. Quick and easy to operate, they are opened with an internal trip line and automatically close when the integrated trigger is depressed. Holes are provided to accommodate a shackle or rope loop for topping lift and foreguy attachment. The outboard ends fit standard 50mm and 70mm spinnaker poles and can be used with end-for-end spinnaker pole configurations or paired with one of Ronstan's new inboard pole ends for a dip-pole setup. The inboard pole ends feature a durable acetal body with grade 316 stainless steel hardware and toggle dimensions suit typical mast hardware including Ronstan's ball bearing car.
Price: $320 » www.ronstan.com
Bombora Wanderer PFD
PFDs come in all shapes and sizes these days, and the Bombora Wanderer aims to be the most comfortable US Coast
Guard-approved Class V Manual PFD on the water for power, sail and paddle sports enthusiasts. Unlike a traditional life vest, the ultra-slim inflatable Wanderer is designed for unrestricted upper body movement. Worn on the waist in front, it allows the wearer to trim lines, paddle or fish while barely noticing the PDF. When needed, a pull of the activation cord inflates the device with 16.5 lbs of buoyancy. Once deployed, the strap attached to the high-visibility flotation bag is simply slipped over the head. Rearming the PFD with a new 16gm CO2 cylinder and repacking it is fast and easy. The Bombora Wanderer was created for adults 16 and older. With a quick-release buckle and side adjustment, it fits chest sizes from 30 to 46 inches. An integrated zippered pocket and D-ring attachments are perfect for securing small items like keys and ID cards. The Bombora Wanderer comes in a variety of colors and patterns, simply choose your favorite!
Price: Starting at $110 » www.bomboragear.com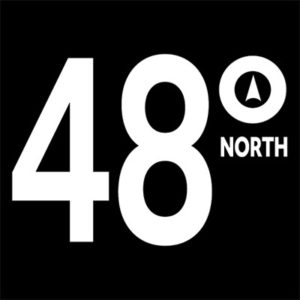 48° North Editors are committed to telling the best stories from the world of Pacific Northwest boating. We live and breathe this stuff, and share your passion for the boat life. Feel free to keep in touch with tips, stories, photos, and feedback at news@48north.com.