In addition to boasting some top-flight dinghy racing, Corinthian Yacht Club of Seattle's Frigid Digit 2022 lived up to its name — it was cold!
The late January stalwart saw two days of racing in varying conditions, and Saturday started with small whitecaps, breeze in the low teens, and solid hiking conditions. Wind mostly decreased as the weekend went along. Sunday's major weather feature was heavy fog.  
As it has for decades, Frigid Digit brought out a number of Lasers (both full and radial rigs) and several Optis to the chilly waters of Shilshole Bay. But the centerpiece fleet was the RS Aeros, who are gearing up for their World Championship at Cascade Locks this June.
The Aeros are showing their on-ramp trajectory to that big event in several ways. Jonathan McKee has helped the fleet put together a training schedule including practices, frostbites, and regattas through the winter and spring. It is open to anyone in the fleet, and there's a lot of enthusiasm about it. In the end, it wasn't a huge fleet for Frigid Digit — 13 Aeros — but that could be because of some schedule saturation and the array of opportunities to sail and train. 
The Aero fleet has continued to attract folks of varying sailing backgrounds. John Renehan, who is the co-chair of the Worlds event and was out sailing for Frigid Digit, said, "The fleet was a mix of seasoned singlehanded sailors who have won Frigid Digit over the decades and people who are new to Aeros from keelboats, Lasers, or other dinghies. Keith Hammer and Tolga Cezik, for example, have found themselves taking dinghies seriously after years in keelboats." 
Most importantly, the Aero fleet continues to evolve and get ever more fun and competitive. Dalton Bergan once again found himself atop the leaderboard at the end of the weekend, but the racing is getting tighter and everyone in the fleet is getting faster. In the first race, Bergan was second-to-last around the first windward mark and had to claw back. He told me, "I could make slight gains on some downwind legs, but had no speed advantage upwind. Everyone is good!" 
Renehan pointed out that while Frigid Digit was mostly a light air regatta this year, and the boat is lightweight and sensitive to a sailor's weight, some of the bigger sailors had great showings. Bergan reminded me, "It's the only singlehanded dinghy I've sailed where you can put a bigger sail on for light air. In those conditions, the bigger rig is great for the larger guys. A lot of those guys might even sail the big rigs at the Worlds in the Gorge."
Sunday's fog toyed with the Frigid Digit sailors. It was so thick that sailors could not see Bainbridge Island. As a result, Bergan said, "There were a lot of general recalls on Sunday. Without a line sight, it's really hard to know where the starting line is."
It was fun to hear from Bergan how much he's enjoying the boat itself. For such an experienced and successful dinghy sailor, he's still finding variability and richness in trying to figure out how to make the Aero go best. He said, "First, the mainsheet is never two-blocked, so there's always going to be variation in how people sail the boat. I also never know how much vang and cunningham to have on — it's not as binary as the Laser." Bergan and Renehan experimented with a GPS tracker on their phones while they were sailing at Frigid Digit. And Bergan was impressed to see some top downwind GPS speeds that were near the speed of the wind. 
At the end of the weekend, Bergan shared the podium with Jay Renehan and Derek Bottles in the Aero fleet. The Lasers saw a top three of Jack Carroll, Mark Ross, and Brian Ledbetter. Alex Zaputil, Alex Shemwell, and Sammy Farkas took the honors in the Laser Radial. And Noelani Li, Alan Timms, and Joshua Aviles stood on the Opti podium. 
One final bit of fun amongst the Aeros. Jonathan McKee created a new trophy for Aeros at Frigid Digit, inspired by the old Laser painting that has been that fleet's regatta trophy for years. With the fleet activity and enthusiasm we're seeing right now, it is safe to imagine that this trophy will be in use for many Frigid Digits to come.
Title background photo by David Sinos.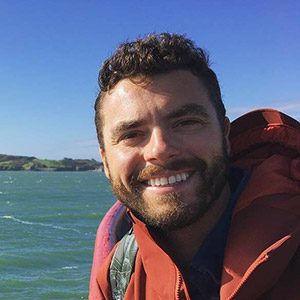 Joe Cline has been the Managing Editor of 48° North since 2014. From his career to his volunteer leadership in the marine industry, from racing sailboats large and small to his discovery of Pacific Northwest cruising —Joe is as sail-smitten as they come. Joe and his wife, Kaylin, welcomed a baby girl to their family in December 2021, and he is enjoying fatherhood while still finding time to sail, make music, and tip back a tasty IPA every now and again.