My Boat shares the stories of your beloved boats from around the Pacific Northwest
Homeported in Brownsville, Washington, Dan Wierman's cherished 1985 J/35 Great White has been a fixture on the Puget Sound racing scene since he purchased it in 1999. But for Wierman, his love of boats and sailing started long before Great White.
When asked about his sailing experience and previous boats, Dan recounts a long love of sailing and being on the water.
According to Dan, "My dad always owned powerboats and when he was about 13, he bought a new boat. He worked nights and was often aboard at the marina working on it all day in the summer, which is how I became a dock rat and my interest in sailing started.
My uncle gave me a small sailboat that my mom made a sail for, and then I saved my money and bought a 10-foot Sea Scooter sailing dinghy. After that, my dad and I built a 15-foot daysailer and in my late teens. I bought a 21-foot Victory daysailer followed by a Tanzer 22, a Perry-designed Bystedt 30 half-tonner and lastly, Great White.
My dad set me up with a friend of his that had a 30-foot schooner when I was 15 and I spent several years working and sailing on it. In my early 20s I started racing my Victory 21 and also raced with others and learned a lot. Then with the Tanzer 22, I cruised to the San Juan Islands and raced day races and overnight races. The Bystedt 30 took me to a lot places—twice solo around Vancouver Island, Barkley Sound, Haida Gwaii, Desolation Sound and points in between. It was also raced heavily for 22 years of ownership. Great White follows the racing tradition with some cruising."
About the J/35 Great White
Tell us about your boat's name.
It started with the previous boat. We talked about it resembling a shark (grey deck, white hull), so it just became known that the next boat had to be Great White. I used to have shark teeth painted underwater at the bow.
Tell us the story of how you found your boat and what makes it special to you.
I fell in love with the J/35s in 1984 at the Seattle Boat Show. But I was young and I couldn't afford a boat of that size. By 1999 I was growing out of my 30-footer and started scouring the Internet for boats for sale and found out that I could finally afford a J/35. I looked at a few in the Pacific Northwest, but they were either too expensive or project boats.
Then, early that same year, I was sent to San Diego for a business trip and found a broker ad for a J/35. I arranged a showing with the broker and it immediately struck me as a very "complete" boat with lots of sails and gear. After a couple offers, I bought it. Two more trips to San Diego for survey, sea trials and disassembly and it was on a trailer heading for Puget Sound.
What's the history of your boat? (Where's it been? Who built or designed it?  Has anyone famous owned it before you?) Tell us its story.
Great White was originally in San Francisco and at that time it was named Slithergradee. That did not mean anything to me, but it was famous (or infamous) in San Francisco. The next owner, who I bought it from, named it Bee Line. He then bought a Perry 56 named Stealth Chicken.
What do you like best about your boat?
It is powerful and forgiving, but still needs attention to go fast. But the best thing I like is turning around to look at it one more time when I walk away.
What's your favorite story involving your boat?
My favorite memory is living on the boat for six months while between homes. And while living on the boat, I still raced and won our West Sound Series and my class at Race to the Straits!
Describe the most challenging situation you've experienced on your boat and how it performed.
The most challenging situation I've had aboard Great White is probably sailing solo across the Strait of Juan de Fuca. It was in October 2007 or 2008. I dropped the main at Pt. Wilson and sailed with the No.3 jib to Friday Harbor. It was blowing 40 knots from the southeast and I hit 14 knots of boatspeed with just the small jib. The waves were big and the rip at Cattle Pass was really gnarly. I was concerned about getting pooped in the Cattle Point rip, but the boat performed exceptionally.
Where do you plan to take your boat? Do you have a dream destination?
When I bought it, I was intending to go to Alaska, which I haven't done yet. My dream is to do the Single-Handed TransPac.
If someone gave you $10,000 that you could only spend on your boat, what would you do with it and why?
I'd have a refit done and new bottom and new deck nonskid if the money goes that far.
If you could have any other boat, what would it be and why?
Maybe a smaller trailerable boat so that I could sail and race in other parts of the country.
Fun Fact About Dan: He's an accomplished solo sailor and a retired after 31 years as a Mechanical Engineering Technician for the US Navy.
Cool Fact About J/35s: Three-hundred-and-thirty J/35s were built between 1982 and 1992.
Neat Fact About Great White Sharks: If there was only one drop of blood in 100 liters of water, a great white would smell it! (Source: National Geographic).
---
SUBMIT YOUR OWN MY BOAT! Whether it is a beloved cruising sailboat, powerboat, racing boat, wooden boat, work boat, tug boat or even a kayak or old Laser, we want to share your boat's story for 48North.com's "My Boat" series.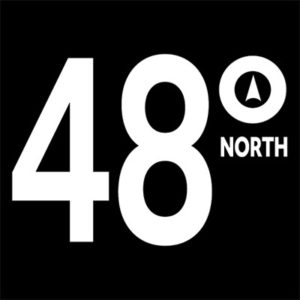 48° North Editors are committed to telling the best stories from the world of Pacific Northwest boating. We live and breathe this stuff, and share your passion for the boat life. Feel free to keep in touch with tips, stories, photos, and feedback at news@48north.com.