My Boat shares the stories of your beloved boats from around the Pacific Northwest
For travelers and adventurers John and Justine Lucia, owning a cruising boat isn't simply about sailing, it's about exploring the world. And they're doing just that.
After buying their 1979 Pearson 424 Rhythm in 2014, they sailed nearly 15,000 miles from the Pacific Northwest to New Zealand. Since it is the first boat they've owned, they spent a lot of time island-hopping, learning to sail, and getting to know Rhythm in the San Juan Islands and during a shakedown cruise around Vancouver Island. Then they made the big left turn out of the Strait of Juan de Fuca for points south and eventually west.
Rhythm's homeport is Newport, Oregon, but she's currently on the hard in Whangarei, New Zealand, while John and Justine are back in the Northwest earning for the next adventure and waiting out COVID-19.
About the Pearson 424 Rhythm
Tell us about your boat's name.
As far as we know, Rhythm has always been her name. We don't have a particular attachment to the name, but didn't feel a need to change it either.
Have you owned other boats before this one?
We own a canoe and a raft, does that count? Kidding aside, Rhythm is the first sailboat we've ever owned.
Tell us the story of how you found your boat and what makes it special to you.
On John's 40th birthday, he announced that he wanted to spend the next decade traveling by sea, and so the search began. Since we didn't have a lot of cash, we wanted a fixer-upper. We wanted something comfortable for living aboard and roomy enough for visitors. Rhythm checked all the boxes.
What's the history of your boat? Tell us its story.
As far as we know, we're the fourth owners. A guy named, Andy Greenshields owned her the longest. He bought her in Florida, sailed her through the Panama Canal, and up to Washington with his soon-to-be wife and a friend. He spent many years refitting her. The most impressive part of his refit was the removal of all the exterior teak. The cap rail is now stainless steel. Andy, unfortunately, passed away at a young age, and that forced the sale of the boat. Although I never met him, I swear he's along for the ride sometimes.
What do you like best about your boat?
Rhythm's a trustworthy old sailboat. She has a thick fiberglass hull, a shallow draft, and basic electronics. All that simplicity makes her easy to maintain and repair—which is key for a cruising boat!
What's your favorite story involving your boat?
It's hard to pick a favorite story, but my favorite times are the rare days that photos come from. The days when the sun is shining, the seas are following, and the wind is on the beam. It sort of helps me forget about all those days of side-swell and flapping sails.
Describe the most challenging situation you've experienced on your boat and how it performed.
Rhythm came with an in-mast furling mainsail. We weren't sure we liked it at first but grew pretty fond of the ease of raising, lowering, and reefing. Then, just two days into an 1,100-mile passage from Tonga to New Zealand, the gearbox on the furler failed. In a big gust, the entire sail unravelled and began flapped violently. We had to drop the sail onto the deck.
On this passage there was a lot of side-swell, and we needed the main to add stability, but we had no option to reef the sail. It was all or nothing. Since raising and lowering it took a bit more time, we had to be very careful when we chose to use it. The passage was perhaps slower and less comfortable than it could've been, but we made it safely.
Where do you plan to take your boat? Do you have a dream destination?
We've already checked several locations off the dream list, but if I had to choose, I still would like to visit Fiji. John would like Rhythm to come full circle in the Pacific and bring her back to the Pacific Northwest via Hawaii.
If someone gave you $10,000 that you could only spend on your boat, what would you do with it and why?
We could spend that quickly. Our top priorities would be new refrigeration, maybe a freezer, and a high-output alternator. If there was any money left, or maybe a bonus, we'd consider some new electronics.
If you could have any other boat, what would it be and why?
After a season in the South Pacific, I became envious of the liveaboard ease of catamaran life. Although, I don't think that's a good choice for the PNW. John's been eyeing all the European aluminum boats.
You can share in the adventures with John and Justine aboard Rhythm at www.followrhythm.com.
---
SUBMIT YOUR OWN MY BOAT! Whether it is a beloved cruising sailboat, powerboat, racing boat, wooden boat, work boat, tug boat or even a kayak or old Laser, we want to share your boat's story for 48North.com's "My Boat" series.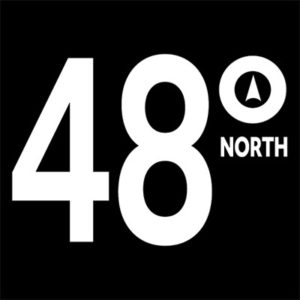 48° North Editors are committed to telling the best stories from the world of Pacific Northwest boating. We live and breathe this stuff, and share your passion for the boat life. Feel free to keep in touch with tips, stories, photos, and feedback at news@48north.com.