Here's our latest destinations installment courtesy of SalishSeaPilot.com's Jim Burgoyne about a splendid spot on the Sunshine Coast.
The Harmony Islands, on the southern edge of Hotham Sound on the Sunshine Coast, are lovely, with much to explore in the islands and south to where a stream tumbles down during the wet from a mountain lake almost 1,500 feet above.
They are justifiably popular, though funneling winds can sometimes be an issue for boats unable to tuck into the best protected nooks.
And we have a bit of a love-hate relationship with this marine park. Our memories of the place are a mix of serene evenings, the water like glass, as well as middle-of-the-night distress as Silom and her rode bend like an archer's bow in funneling winds, threatening to drag into our neighbor.
Noise, however, is seldom an issue. The most popular stern ties are sometimes chockablock, abuzz with activity, though it is rarely a bother to other boats.
But on our last visit, in early September, heading home from a cruise up Jervis Inlet to Princess Louisa Inlet, noise was a factor. We had intended to stay in the Harmonies for 4-5 days, relaxing, reading, exploring when and where we fancied. Other boaters had the same idea.
However, a few multi-million-dollar powerboats had a graduating class of young people aboard, with lots of squealing and high-revving engines, dinghies and jetskies, teens impressing teens.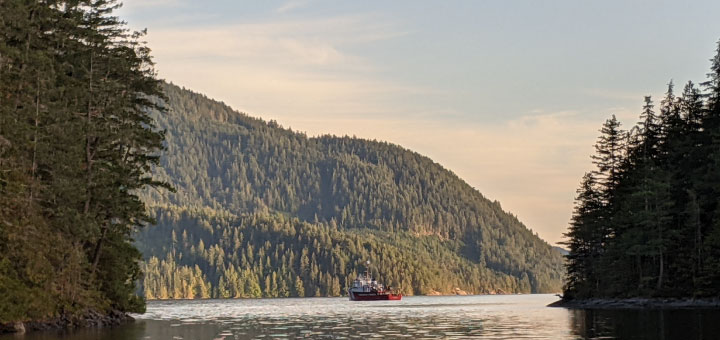 Okay, maybe I envied them for their fancy boats and their youth, but we decided this was a perfect opportunity to investigate a few places along the western shore of Hotham Sound. We had sailed past them before, seen other vessels stern-tied there in relative comfort despite westerly winds, and the views up Hotham Sound can be grand.
The several coves here seem to have a variety of local names, none of them official. They have been nicknamed in mobile navigation apps, names we borrowed for our Sunshine Coast cruising guide when we decided to add the coves. Our apologies if we drifted past better loved names.
On our most recent approach, motoring across Hotham Sound into relatively brisk northwesterlies, the winds faded as we neared the western shore, as if arriving in a new world.
The sea bottom we tested along this shoreline rises steeply from significant depths, so stern ties are the best option. We have seen boats swinging on anchor off the islet at 'Crystal Springs', but it was difficult for us to find depths allowing adequate swing room so close to shore.
So we stern tied, first at 'Tidy Bay' and 'Crystal Springs'. It was simple here, with few obstacles, and with shorelines where it is easy to bring a line ashore and to explore at lower water. The views up Hotham Sound, especially when reflecting the setting sun, are special.
'Boulder Bay' was a bit more of a challenge to bring a line ashore and the space more confined for larger vessels, but the depths near shore are more moderate. With care, once positioned, we were snug as a bug.
In any winds, except across a range of easterlies, this western shore offers peace and quiet. Since activities ashore are somewhat limited, maybe the pursuit of tranquility is the whole point of visiting this shoreline.
(The anchorages above are covered in Salish Sea Pilot 2020 cruising guides.)