Around Puget Sound
Gig Harbor
Charming Gig Harbor is a wonderful stop on any cruise. With multiple guest moorage options and anchoring space to boot, there is a spot to be found and some fun to be had in Gig Harbor for most everyone. Gourmet Burger Shop is the hamlet's most notable dog-friendly dining option, where dogs are welcome on their fairly small porch. Gourmet Burger is roughly a 15-minute walk from any of the guest marinas, and if you're not in a hurry, you could let your pooch sniff around in three small parks on the way there: Eddon Boat Park, Austin Estuary Park, and Donkey Creek Park.
Des Moines
If your cruising itinerary brings you to Des Moines, your options aren't plentiful, but you and your dog can still stretch your legs and get a hot meal together. Just north of the marina is beautiful Des Moines Beach Park, which is particularly fun to explore at low tide. It's a busy park, so you and your pooch should be ready for some stimuli, but the park is well set-up for dog owners with poo bag dispensers if you forgot your supply on the boat.
Less than a 15-minute walk from the marina is Italian restaurant, Via Marina. It has a covered patio that is dog friendly, and on warm summer evenings, you can't beat a cold limoncello and some wood fired pizza!
Shilshole Bay Marina, Seattle
While the beaches at Golden Gardens Park at the north end of the marina are a no-go for pooches (this is true of all Seattle saltwater beaches), just a short walk up the hill behind the park reveals a busy dog park. There's not really dog-friendly "dining" within walking distance per say, but from the guest moorage dock at Shilshole, you're only a five-minute walk south to the cravable Cuban delights at Un Bien. Whether you sit in their street-side tables for a few minutes of sublime sandwich enjoyment, or bring dinner back to the boat with you, there are always dogs around the famous pink shack.
Poulsbo
Poulsbo may be known as little Norway, but pet parents will have a hard time pulling off Scandanavian stoicism with such a variety of shoreside fun for them and their dogs to smile about.
Right at the top of the busy marina ramp in Poulsbo you'll find not one, but two(!) dog friendly restaurants. At JJ's Fish House they will welcome salty sailors and our furry first mates. JJ's even has a dog-specific menu, not to mention some excellent fish and chips! And one step even closer to the marina is the rich italian cuisine and a pup-friendly patio at That's A Some Italian Ristorante.
Frank Raab Park is not exactly close to the lovely marina in downtown Poulsbo. It is, however, a great park with eye-popping views and a real off-leash area for your doggo to run. Settle in and consider the 25-minute walk with a bit over 300 feet of elevation gain the exercise for you to get your boat dog to the place where she can run off a bit of pent-up energy.
Edmonds
At the south end of the Port of Edmonds Marina is the Off-Leash Dog area at Marina Beach Park. Whether you're throwing sticks into the water for your crazy canine or just strolling the beach, the views and the experience are worth the stop.
A 15-minute walk toward downtown Edmonds from the marina is Girardi's Osteria. Here, you'll find a dog-friendly patio and yummy italian cuisine! Be sure to check out early and late happy hour options, and don't miss the bacon-wrapped dates.
Cap Sante Marina, Anacortes
If you're looking for a fenced dog run near a marina, you can't beat the proximity of the one that's on Port of Anacortes property at Cap Sante. A port representative told me that it was (and still is) set-up only as a temporary use of space; yet, it has been there for five years, and it's not going anywhere in 2020 (or maybe longer).
As for dining, a very good bet is walking your hungry self and your happy pup over to Secret Cove. It's a 10-minute walk from the marina. We recommend the second-level patio for views out over Guemes Channel, but Secret Cove is pet friendly inside and out. They have a pretty broad menu, but specialize in seafood and specialty cocktails. Some of the 48° North Cruising Rally crew had our closing dinner at this spot and loved it.
Another classic Anacortes watering hole is the Brown Lantern Ale House, which is known for its beer selection and actually serves one of our favorite burgers anywhere in the cruising grounds. Northwest sailors have been sauntering to (and perhaps stumbling home to the boat from) the Brown Lantern for ages—since 1933 in fact! What you may not know is that your pooch is welcome on their back patio.
Friday Harbor
Few cruises in the San Juan Islands are complete without at least a brief stop in bustling Friday Harbor. There are a number of small city parks right downtown, and with a bit of a walk (about 20 minutes) you can make it to Eddie and Friends Off-Leash Dog Park for some puppy play time. This two acre facility has lots of room to run and an optional-use area for small and older dogs.
If you're looking for food and drink with your pupper, Friday Harbor offers a number of excellent options. Right in the heart of downtown, Friday's Crabhouse's terraced decks overlooking the harbor welcome dogs. There are a number of other dog-friendly patios that are walkable from the marina, including Cask & Schooner, The Restaurant at Friday Harbor, and Cynthia's.
If you're in the mood for a hoppier vibe, San Juan Island Brewing opened in 2017 and is home to a rather epic patio where dogs are most welcome "as long as they're leashed and well-behaved." Head there for a variety of locally crafted beers—a local summertime favorite is the Beachcomber Belgian White IPA. To pair with the beers, San Juan Island Brewing is known for their pizza and massive, seriously tasty piles of French fries.
Bellingham
If you boat into Bellingham, you're sure to be at Squalicum Marina. There's a lot of green space around the marina to explore with your pooch. Squalicum Beach Park is a 14-minute walk. It's not legally off-leash but many dogs run free there. A little further on (a 24-minute walk) is Little Squalicum Park, which has designated off-leash areas with separate zones for large dogs and small dogs. You might skip the dog-park if it has been raining a lot, because it has a tendency to get pretty muddy and flooded.
There are many dog friendly dining options around Bellingham, but the closest to the marina are Web Locker Restaurant and Chuckanut Brewing, which each offer patio seating.
Marine State Parks – Pretty Doggone Awesome
There are way too many great options to list, but our Washington State Marine State Parks have to be included among dog-friendly stops. They may lack in shoreside amenities, but they boast something way better in the eyes of any dog: beaches and trails and remote beauty. One personal favorite is Stuart Island, which of course offers two harbors with docks, mooring balls, and lots of anchoring space, as well as a fabulous three-mile hike out to Turn Point Lighthouse that any fur baby would love.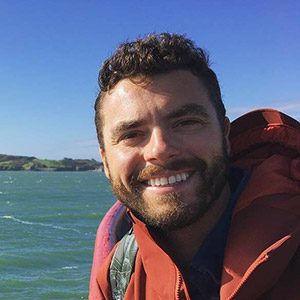 Joe Cline has been the Managing Editor of 48° North since 2014. From his career to his volunteer leadership in the marine industry, from racing sailboats large and small to his discovery of Pacific Northwest cruising —Joe is as sail-smitten as they come. Joe and his wife, Kaylin, welcomed a baby girl to their family in December 2021, and he is enjoying fatherhood while still finding time to sail, make music, and tip back a tasty IPA every now and again.