From the September 2010 issue of 48° North by Marissa Beach
Four shipmates survived hurricane force winds, thunderstorms, "Red China," barely missing a potential "show down" with Chinese pirates and armed Indian soldiers, as they sailed from Hong Kong to Miami in their 41-foot yawl in 1960-1961.
In October of 2009, these shipmates—Stephen (Steve) Jackson, 75, Paul Cardoza, 83, Walter (Walt) Banks, 78 and George Todd, 78, reunited for the first time in 49 years in Seattle, aboard the schooner Mallory Todd. They reminisced about their travel adventure and talked about their forthcoming book, The Seas of the "Suzy Wong."
"We thought the Mediterranean was going to be beautiful sailing and girls at every port," said Steve, "but we were wrong.  We experienced storms and almost no waiting females."
The men sailed a total of 26,000 miles ("if you count the waves," laughed George) from 1960-1961, visiting 36 countries along the way. They had no kids, no Global Positioning System (GPS), no real radio transmitter, and no refrigerator (just an icebox – good for the first three days out of port).  Instead, they had a 4-month old, black tongued, white Chinese Chow pup named "Gou" (Cantonese for dog), five guns, a sextant, a knot log – and yes, the occasional bottle of whiskey for parties.
Often their diet consisted of "spamghetti" and "tunaghetti," ship-made fried cookies prepared on their homemade alcohol stove. Eventually the oven attachment of the stove was thrown overboard due to excessive heat and awful fumes.  They had U.S. Navy and U.S. Embassy contacts, swapped paperbacked books with other ships in port, and experienced the generosity of many local nationals along the way.
"What was the secret of four inexperienced guys succeeding in making such a trip when everyone they asked advice from advised against it?" asked Paul's son, Tony Cardoza, 47, who grew up hearing ship stories from his parents. Paul's response, "It just seemed like the thing to do at the time and looking back 49 years later, it was!"
Although they were advised that their trip was foolish, "one of the advantages of youth is that listening to sound advice has little meaning," said Steve.
"Nothing like having your money on the table," responded Walt, referring to their $18,000 investment in Suzy, including an $8,000 debt.
Designed by Sparkman & Stevens of New York, and built in Hong Kong, the Suzy Wong was an ocean-racing yawl with a fixed keel and measured 41-foot on the deck, 27-feet on the waterline with a 6-foot draft, a 55-foot mast and a weight of 9.5 tons.  Its top speed was around seven knots. The crew named her after a 1957 novel and play turned 1960 Paramount movie, "The World of Suzie Wong" staring William Holden and Nancy Kwan.
The crew shared three things in common: college degrees, recent military service, and some spare change to invest in the Suzy Wong. The idea of sailing on a boat started in 1959, when George popped a question to Steve at 2:00 a.m. in a small frequently visited bar in Manila.  He said, "How would you like to build a boat in Hong Kong and sail it home to the United States?"  After at least 15 seconds of careful thought and hesitation, Steve said, "Sounds good George, let's do it!" Nearly 10 months and many struggles later, a crowd gathered at the Royal Hong Kong Yacht Club dock on March 6, 1960, to wish the crew and their four-legged friend, Gou, farewell.
"With firecrackers and flash bulbs popping, it was like a second Chinese New Year.  We sailed out of the harbor as probably the most publicized and least experienced crew to leave Hong Kong in many a moon," wrote Paul in a 1960 Christmas letter. "Six days later we arrived in Manila, crossing the South China Sea. In that first week of sailing we were set upon by pirates and experienced several days becalmed at sea. We were able to extricate ourselves from the pirates by showing them our weapons smuggled into Hong Kong months earlier. Manila turned into two weeks of work, hot weather and parties."
Suzy with her crew departed Penang, Malaysia for Ceylon just before the burst of the monsoon, which hit while they were in the Bay of Bengal.  With difficulty they were able to shorten sail and make the crossing. While the crew lacked real sailing experience, they had practical knowledge and a lot of common sense that pulled them through situations that otherwise might have proven fatal.
Previously a naval aviator on an aircraft carrier in the Pacific, Walt, a Tennessee native and mechanical engineer, had built a "hot rod," a 1936 Roadster on the outside and a high-powered Buick V-8 engine on the inside. George, a Virginia native and Haverford College alum, was in the U.S. Navy. Steve, a New York native and Yale University alum, was an industrial engineer. Paul, a Palo Alto native of Azores heritage and San Jose State alum in Business Administration, had been drafted into the army at the end of WWII.  Paul had never sailed in his life and didn't even know how to swim.  Not a problem, though, since the other crew members tied a rope around his waist and had him swim from stern to the bow in the South China Sea.  In other words he was "drown proofed" on the job.
Steve had joined the Royal Hong Kong Yacht Club so they would be welcomed at yacht clubs around the world. That turned out to be unnecessary as they were shown friendship, courtesy and assistance throughout their trip. Although they were advised that their trip was foolish, "one of the advantages of youth is that listening to sound advice has little meaning," said Steve.
Perhaps the most important reason for the success of their voyage was that they had each other to rely on when conditions became dangerous.  They divided responsibilities into two teams: Walt and George, Steve and Paul, with individual specialties.  Walt took charge of the engine and most mechanical duties; George and Steve acted as master sailors; and Paul as supply officer/food service provider/chef par excellence, he said. Once every four days a crewmember had what was affectionately termed "hell day," when you had the responsibility to cook and clean the dishes all day.
"Within a family, you can blow up but still get along," said Steve. "You learn to keep your cool – know each other's quirks and live with it." Gou was undoubtedly a part of the crew's family and a huge part of the story.  "Chinese dogs instinctively do not urinate in front of people," said George.  "These dogs need privacy." Gou, who initially lacked shipboard potty training, at the first port in Manila, peed on every tree in sight.  From then on, Gou found a spot near the bow and they all gave him the "space" to relieve himself.
Gou had his own food and beverage preferences too. "He didn't like martinis and he hated tomatoes," said George. "He would spit tomatoes back at my face." Gou did snack on Peanut Butter once in awhile though.
"Fresh water was a precious commodity on board.  Sea water was used instead to boil rice, but not for potatoes and spaghetti," said Paul.  The crew took baths using only a cup of fresh water. They would lather up with the fresh water and then rinse with a bucket of salt water after which they would dry immediately. Salt water won't lather and leaves salt residues on the body.
Fixing Suzy Wong and communicating with friends and family often required creativity as well. When the propeller shaft broke enroute to the Maldives Islands, the crew used a British sugar biscuit tin to jury rig a temporary solution.
Other happenings aboard the Suzy took different forms – some lucky and some just plain unfortunate. Their memorable adventures included tours of the Omar Ali Saifuddin Mosque in Brunei, an exception since Christians were normally banned; the Snake Temple in Penang, Malaysia and the Great Sphinx in Cairo, Egypt. On the unlucky side they confronted poisonous sea snakes in the South China Sea near Borneo; Walt being thrown in jail when he purchased a pack of cigarettes with a dollar bill in Sudan and their being six weeks late in leaving Hong Kong which meant they ran into the Southwest Monsoon in the middle of the Bay of Bengal and had to change their route across the Indian ocean.
In all, their investment paid off, not so much in intrinsic terms, but in experience that, even to this day, they reflect upon.  They recouped their dollar investment mostly from the eventual sale of Suzy to William F. Buckley and to a lesser extent in publicity dollars from Paramount Pictures, at $50 per article for every mention of the Suzy Wong along with the name of their movie of the same name.  Paul broke even.  Steve paid off his graduate school tuition, and George and Walter used their money to purchase a historic hotel in Seattle.
Before landing in Miami, the crew ridded themselves of some medical supplies. During the sail, if they needed to have an emergency operation at sea or stitch up a wound in case of an accident, they had medical morphine, medical books, a scalpel, a hemostat, and many things picked up in Hong Kong. They didn't want to take these somewhat illicit items through Customs, therefore, the questionable contraband items were filed at the bottom of the Atlantic for safekeeping.  The crew drew straws over who would get Gou. Paul won that one.
During the journey, two of the crew, Paul and Steve, met and married the women of their dreams.  Walt and George moved to Seattle and went into business together.  Paul and his new wife started a travel agency.  George later founded the Sailing Heritage Society that offers trips on his schooner, Mallory Todd to vulnerable or terminally ill populations. Steve, after obtaining his graduate degree in finance, worked in humanitarian development in both Africa and China. For a stretch of 17 years he was the Chief Financial Officer of the Baha'i National Assembly in Wilmette.
"The ocean is a marvelous place," reminisced Walt.
Indeed it is.
Published September 2010 48° North Sailing Magazine
Update: George Todd unfortunately passed away this summer. Fair winds to you George!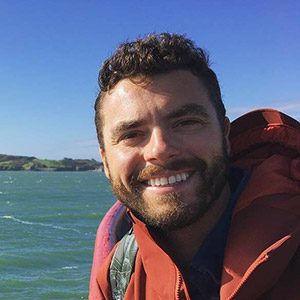 Joe Cline has been the Managing Editor of 48° North since 2014. From his career to his volunteer leadership in the marine industry, from racing sailboats large and small to his discovery of Pacific Northwest cruising —Joe is as sail-smitten as they come. Joe and his wife, Kaylin, welcomed a baby girl to their family in December 2021, and he is enjoying fatherhood while still finding time to sail, make music, and tip back a tasty IPA every now and again.